Back in 2015, Nick Cave teamed up with Australian skateboarding company Fast Times to produce a limited edition skateboard featuring the artwork of San Francisco artist Chuck Sperry, and includes lyrics from "Nature Boy", which appeared on 2004's Abattoir Blues.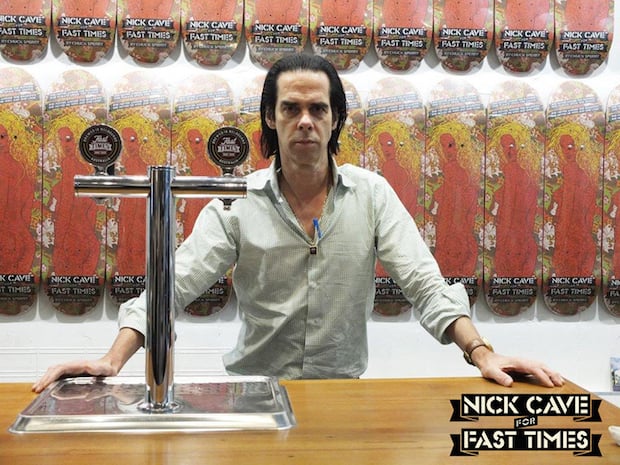 Now Cave, Sperry, and Fast Times have collaborated again on another board, this time taking inspiration from the Grinderman track "Heathen Child."
The board comes in street and cruiser deck styles, with the top of the board adorned with a banner featuring the track's song lyrics: "Hey little Moo Moo, light as a rainbow."
The artwork, not unlike that which appears on the "Nature Boy" deck, features a long haired woman with red toned skin against a floral pattern background—a background which is omitted for the t-shirt version.
Watch below Melbourne based videographer Neihana Tonkin's footage of team riders Jimmy Roche and James Hall in promotion of the new board.
Order both the t-shirt and the skateboard over at Fast Times here