On August 17th, 1987 New Order released their singles compilation SUBSTANCE. As the 200th release on Factory Records (Catalog number FACT 200), Substance compiles all the Manchester area band's singles released to that point in their 12-inch versions.
Prior to the release of Substance, all of New Order's most popular tracks had been issued on 45s, and generally, the single releases and albums were kept separate in the Factory Records catalog.
Each of the 11 singles released up to that point had their respective B-sides included in the CD edition of the compilation.
The record also included the recently released single "True Faith", which was recorded as new material for Substance, and is the 12th track on the first disc of the compilation.
Both the singles "Temptation and "Confusion" were re-recorded in 1987 specifically for Substance and none of the original versions appear, and the version of "Ceremony" included in the tracklisting is the one recorded in September of 1981, after Gillian Gilbert had joined the band.
Tracklist
Ceremony
 Everything's Gone Green
 Temptation
 Blue Monday
 Confusion
 Thieves Like Us
 Perfect Kiss
 Subculture
 Shellshock
 State of the Nation
 Bizarre Love Triangle
 True Faith
The CD version of Substance included all the b-sides from the single releases:
Disc 2:
In a Lonely Place

Procession

Cries and Whispers

Hurt

The Beach

Confused (instrumental)

Lonesome Tonight

Murder

Thieves Like Us (instrumental)

Kiss of Death

Shame of the Nation

1963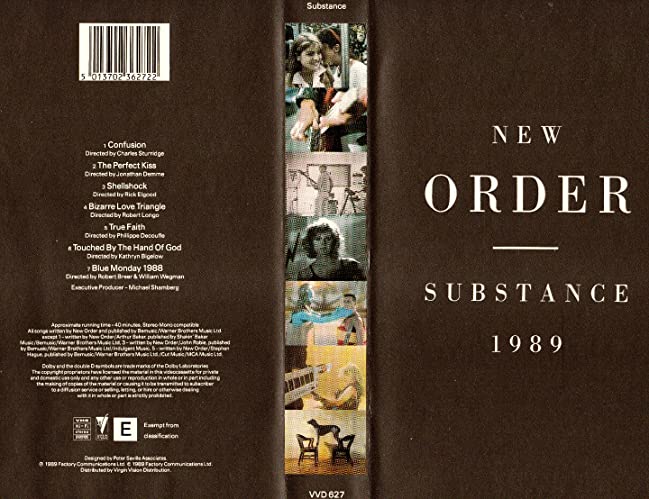 A video version of the compilation titled Substance 1989 was released two years later. It contained the music videos for the tracks:
"Confusion", "The Perfect Kiss", "Shellshock", "Bizzare Love Triangle", "True Faith", "Touched by the Hand of God", and the video for the 1988 remix of "Blue Monday".