In celebration of Nervous Gender's first show in the east coast – or anywhere else outside of California – I got a chance to talk to the band about their history as synthpunk pioneers and also about NG some-thirty years after the band began.  My knowledge of the band began during my research for my book, Some Wear Leather, Some Wear Lace, because of their deathrock style: the tattoos, piercings, death hawks and punk clothing caught my attention immediately.  Even more so, NG's sadistic music video for "Cardinal Newman" which involves nuns, crucifixes, hot candle wax and beautiful deathrockers was enough for me to fall in love.  Actors from the video and frontman Edward Stapleton made it into the pages of my book and became a fine addition to the worldwide scope of the scene.
Synthpunk – which replaces guitars with synthesizers while maintaining an aggressive punk feel – began in the mid-1970s and was particularly prominent on the west coast with the likes of bands such as Nervous Gender, The Units and The Screamers.  Founded in 1978, NG put out their album Music from Hell in 1981, a menacing, raunchy album full of punk spirit and electronic riffs (the album even includes a song with guest vocals from Alice Bag of The Bags – "Alice's Song").  Besides Music from Hell, NG has put out a few live albums and a 7" release in 2010 of re-recorded songs written in 1979 (Gestalt/Green Tile Floors).  Even thought of as an early industrial band, NG worked with industrial pioneer Z'EV and even opened for pre-Wax Trax! Divine.  All this, with incredible style fit for Rozz Williams and Dinah Cancer?  Hard to believe they have never crossed California state lines to perform… until now.
Currently, Nervous Gender is Edward Stapleton, Mike Ochoa, Joe Zinnato and Tammy Fraser.  They will play alongside the EBM band Vomito Negro and techno performer, The Horrorist on December 5th in Brooklyn, New York (links and more information to follow the interview).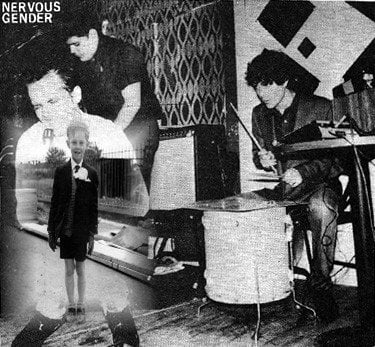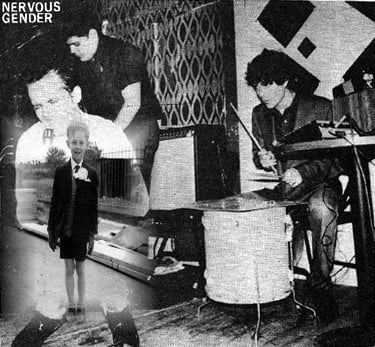 Can you tell me a little bit about the beginnings of Nervous Gender?
Founding members Michael Ochoa and Gerardo Velasquez (deceased) met in school in East Los Angeles. They bonded over an obsession with Jesus Christ Superstar and shared an interest in electronic music. Their first instruments were Magnus Organs, cheap toy-like things, and they'd play them onto cassette tapes, looping and re-recording to get odd sounds.
Their first band was called The Snappers with two guys from their high school. One was into metal and the other into avant garde San Francisco bands like The Residents. The Snappers played their first and final show at LACE Gallery. That night, Gerardo met Edward Stapleton who had seen them around at punk shows. He informed Edward "my band is playing tonight, but I don't like it." On that note, Nervous Gender was born.  Edward and Gerardo began jamming at Gerardo's mother's house. Gerardo quickly suggested Michael join in. Edward had met Phranc and based largely on her androgynous appearance, invited her to join.
NG's first show was opening for notorious drag queen, Divine. She decided she didn't want to go on last, so she ended up opening for us.
Phranc left in early 1980, and we had various personnel changes and Nervous Gender has had members from other bands including The Germs, The screamers, 45 grave and The Castration Squad. At one point we had a seven year old drummer.
The band would collapse and reform over the years. From 1983 to 1986, four members of Wall of Voodoo played in an aberrant guitar driven version.  Edward played his last show in 1988 and in 1990 Gerardo, Michael and Joe revived it as a trio, a leaner meaner Nervous Gender. At the time, Gerardo was fighting AIDS and working with the band was a way of coping and keeping occupied. We broke up, seemingly for good When Gerardo died in 1992 at age 33.
What was the LA punk scene was like (in the late 70s and early 80s)?
The original punk scene in L.A. was largely made up of artists, homosexuals, and misfits and leftovers from the Sunset Blvd Glam-rock scene . It was a very mixed, close-knit and open minded scene, not at all like the Orange County hardcore, skinhead scene that came later.
Why did you choose to utilize synthesizers for your sound? Why did synthesizers make more sense in your band's aesthetic than guitars?
Almost every punk in those days would readily admit to loving Bowie, The Velvet Underground, and The Stooges, but a lot of them were also closet fans of prog, which used a lot of synths. For NG it was mostly just a love of electronic music – Michael's first record purchase was Switched on Bach; Edward was a big fan of Hawkwind and Van Der Graf Generator; Joe is one of the few people on the planet who genuinely enjoys listening to Lou Reed's Metal Machine Music.
Also, at the time synths had been these huge, unobtainable expensive contraptions for awhile, but with the Arp Odyssey and Mini-Moog, they suddenly seemed within reach of mere mortals. There had also been a ton of disco recording studios with synths that were starting to go out of business, whether through the death of disco or the rise of coke, we can't say, but there were some cut-rate synths on the market from failed studios.  That's how Edward got his. Add to that the punk aesthetic of non-musicians taking to the stage, and the idea of an instrument that could make other-worldly noise with the push of buttons and the turn of knobs was very appealing.
Would you call yourselves pioneers in the deathrock look?  I know in your video "Cardinal Newman", the look was quite apparent. Where did you get your visual inspiration from? The LA scene had elements of the goth aesthetic before "goth" was even around.
There was a certain element within the punk scene of people who were interested in taking fashion, as well as music, to extremes and using it to make statements or express their individuality. There was a sort of proto-goth look forming within the scene. Mary Sims [Dinah Cancer] of 45 Grave and Castration Squad was certainly one of the pioneers of what became known as goth.
The look in the NG "Cardinal Newman" video, which is a song about Catholic School abuse is a mix of Catholic damage and deviant S & M sex. It was basically what we were wearing then – Edward had been to design school as well as Catholic school and was going for a demented altar boy thing, and Gerardo was usually going for a punk leather man look.
It was the period of time that we were hanging out with Rozz from Christian Death and Ron Athey and all those other people, and combined with our esthetic, it affected the way the video went.
Now fast-forward to current times, what has NG been up to? Do you see your fan base growing since the advent of YouTube and Facebook?
The internet in general has been helpful. It has put us in contact with people from all over who like our band that we would not have been able to reach previously.
In 2006, Joe had put up a Myspace page for the band, mostly so old friends could get in touch. But people kept asking questions and, since Joe has stewarded a sizable NG archive, he and Michael decided to put up an informational website to make some of the material available. It has allowed us to release 3 live recordings and remix and re-master our Music from Hell album. There was more interest than we had imagined and people kept asking us to perform.
Joe and Michael reached out to Edward and eventually decided to do a show for someone's birthday. It was our first live gig in 17 years and it was extremely fun for us and we were well received After that, to our surprise, people kept asking us to play. To our shock, people also kept showing up. So now we play if something comes along that sounds like fun and interests us, and if the timing is right for our schedules. That seems to be occurring about once or twice a year now. We also released a new vinyl single, Gestalt / Green Tile Floors, in 2011.
Have you ever played outside of LA?  Why not?
We've played a lot in San Francisco. Back then, the audience up there was more receptive to us. Subterranean Records put our album out and we were in the Live at Target video/LP, so we're often mistakenly identified as an SF band. We also played one infamous night in San Diego where we got paid more than we ever had before when the staff took up a collection to pay us to stop.
But other than that, No, we've never played outside of California, mostly due to work schedules and finances.
With the upcoming NG show in NYC, you've surprised many fans by coming to the east coast. What do you have planned for them?
Our fast, violent, noisy synth-punk stuff. The usual. But the fans can't be more surprised than we are – we're still alive and we're showing up. That's shocking.
What can we expect from NG in the upcoming year(s)?
We are currently working on a retrospective package. We've been obsessively documenting the band for 30 plus years through all its different permutations. It will include live recordings, various alternate song versions and some choice early rehearsals with Phranc . Next year will be spent in our studio recording an albums worth of material including songs from the 70s and 80s that were not previously recorded.
We also have a fantasy of perhaps one day playing in Paris and Berlin. New York used to be on the fantasy list, but now it's actually happening, so who the hell knows what's going to happen next.
---
Nervous Gender will play on December 5th at Cameo Gallery, Brooklyn, NYC.  
For more information: https://www.facebook.com/events/640798396029276/