New York's premiere minimal electronic duo Xeno & Oaklander have been one of the longest-lasting and prolific projects this side of the Atlantic. For those unfamiliar, the duo of Liz Wendelbo and Sean McBride have been recording together since 2004, with a vast discography under their belts which includes seven LPs, a healthy amount of compilation and single tracks, and a slew of masterful remixes and collaborations. The duo have recorded for Ghostly International, Wierd Records, and most recently, Dais, with 2021's Vi/deo topping my own personal best-of list for the year. Over the years, Xeno & Oaklander have remained immensely consistent, combining a mastery of analog synthesizers with engaging, icy songcraft, updating the sonic tapestry that artists such as John Foxx, Twice a Man, and Linear Movement laid out before them. As such, the duo (along with Sean's own Martial Canterel project) have helped to usher in a new wave of interest in dark synth and coldwave sounds.
While the band's studio recordings are among the best that the genre has to offer, Xeno & Oaklander's live show is an equally captivating affair – a real treat for the senses that combines sound and visual effects to reach dizzying heights. With that in mind, we're pleased to announce that the duo are gearing up for a robust North American tour, kicking off at the end of March in Washington, D.C.. Opening each night will be McBride's own Martial Canterel, serving as a double dose of minimal electronic bliss that's not to be missed. The tour ends with a pair of dates supporting recently reformed French coldwave stalwarts Martin Dupont, with DJ support from yours truly for their homecoming show in NYC.
Check below for the full list of dates, and be sure to check out Xeno & Oaklander on the web and on Bandcamp.

Dates:
3/31 Washington, D.C. @ Pie Shop
4/1 Winston-Salem, NC @ Monstercade
4/2 Atlanta, GA @ 529
4/3 Savannah, GA @ Lodge of Sorrow
4/4 Miami, FL @ Gramps
4/5 Orlando, FL @ Will's Pub
4/7 Houston, TX @ White Oak / Upstairs
4/8 Denton, TX @ Rubber Gloves
4/9 Austin, TX @ Mohawk
4/11 El Paso, TX @ The Reagan
4/12 Mesa, AZ @ The Nile Underground
4/13 San Diego, CA @ Casbah
4/15 San Francisco, CA @ DNA Lounge
4/17 Portland, OR @ Holocene
4/18 Vancouver, BC @ Wise Hall
4/19 Seattle, WA @ Substation
4/22 Denver, CO @ HQ
4/24 Kansas City, MO @ The Record Bar
4/25 St Paul, MN @ Turf Club
4/26 Chicago, IL @ Empty Bottle
4/27 Detroit, MI @ Sanctuary
4/28 Toronto, ON @ Monarch Tavern
4/29 Montreal, QC @ Bar Le Ritz PDB
4/30 Cambridge, MA @ Middle East / Upstairs
5/19 Los Angeles, CA @ Globe Theater *supporting Martin Dupont / No Martial Canterel
5/28 Brooklyn, NY @ Brooklyn Monarch *supporting Martin Dupont / No Martial Canterel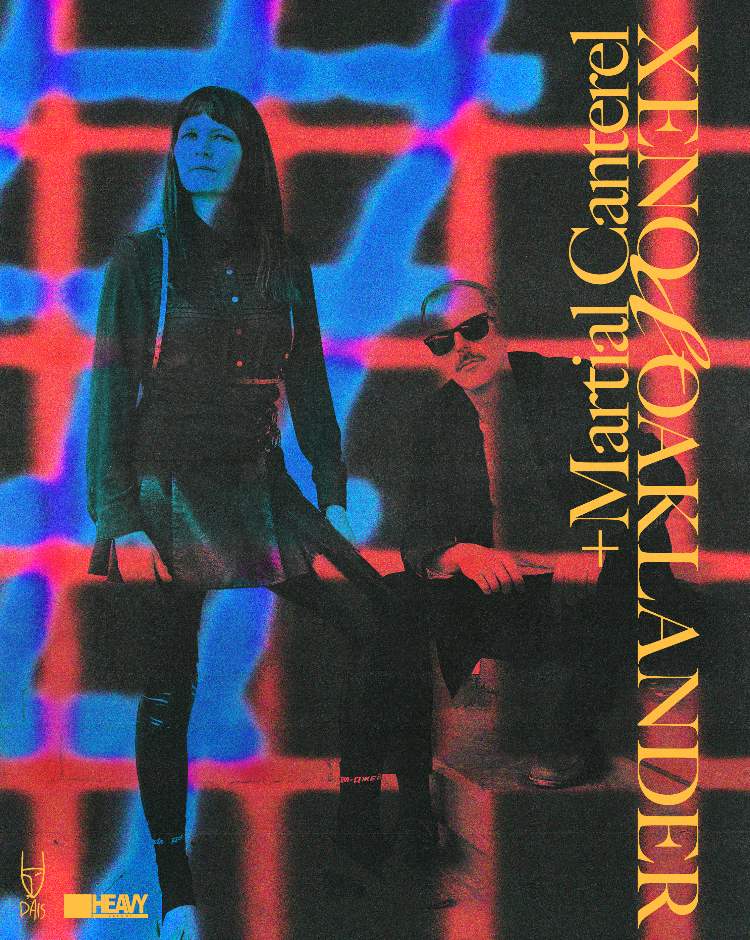 Photos by Thomas Weidenhaupt. Tour flyer by Jean Lorenzo.