Legendary alternative rock band Love and Rockets are set to continue their reissue series with an expanded vinyl edition of their 1996 classic, Sweet F.A., slated for release on June 9th via the esteemed Beggars Arkive label. Alongside the reissue, a companion double-CD set of rare outtakes, dubbed My Dark Twin, will also be released, offering fans a treasure trove of six previously unreleased tracks and eight alternative versions from the Sweet F.A. recording sessions.
The Sweet F.A. expanded edition has been meticulously remastered at the legendary Abbey Road Studios and includes four songs previously exclusive to the limited edition Love and Rockets vinyl box set unveiled last year.
My Dark Twin, a captivating 22-song collection, will be available in both digital and 2CD set formats. It traces the band's arduous journey during the creation of Sweet F.A., beginning with initial sessions helmed by producer Andy Taub, which lacked the quintessential Love and Rockets magic. Enter John Fryer, who took the reins as producer and added a distinctly "English" edge to the recordings, breathing new life into the project. The band also recorded several additional songs that ultimately didn't make the cut for the final album.
Notable tracks on My Dark Twin include:
"Shelf Life," featuring David J's response to MCA not picking up his solo contract option, with Bruce Kaphan (American Music Club) lending his extraordinary pedal steel skills.
"Ritual Radio," an improvised rehearsal room jam that resulted in a spooky 18-minute piece.
"U. O. ME," a raw, spontaneous jam between Love and Rockets and Genesis P. Orridge, included as a testament to its significance despite its rough and unrehearsed nature.
"California (Have A Nice Apocalypse!)," a single-take recording featuring guest musicians Chuck Prophet on guitar, Bruce Kaphan on pedal steel, and Steve Carter on piano.
"Sweet F.A.," inspired by one of Daniel Ash's many motorcycle journeys, with the melancholic lyric written in a motel room.
"Spanish Stroll," a spontaneous, loose cover of the 1977 Mink DeVille classic, recorded on an old boombox with Kevin employing unconventional percussion and Daniel on guitar and lead vocals.
This exciting release follows the recent vinyl reissues of Seventh Dream of Teenage Heaven and Express. Fans can also expect new vinyl editions of Earth, Sun, Moon, and Love and Rockets to arrive soon.
Don't miss your chance to pre-order the Sweet F.A. reissue and uncover more details here. To whet your appetite, an exclusive digital mix of "My Dark Twin" is available now.
Pre-order Sweet FA here.
-This is a double black LP with a gatefold sleeve
-Expanded with four extra tracks:
D1. My Dark Twin * previously unheard song outside of box set
D2. Butterfly * previously unheard song outside of box set
D3. Venus Child * previously unheard song outside of box set
D4. Pick Yourself Up * previously unheard song outside of box set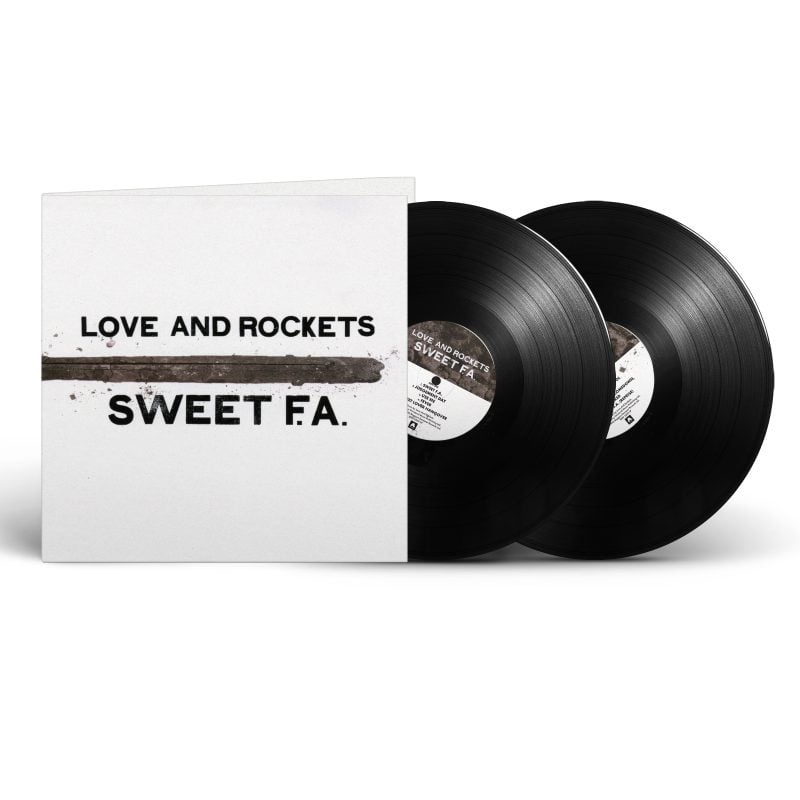 Pre-order My Dark Twin  here.
DISC ONE
The Fever (First Version) *
That's Progress +
Sweet Lover Hangover (Edit)
Bomber's Moon +
Words of a Fool (First Version) *
Libido Talking +
Pearl (First Version) *
Shelf Life (First Version) *
Sad And Beautiful World (First Version) *
Returning +
Ritual Radio
U. O. ME. + 
DISC TWO
The Glittering Darkness
California (Have A Nice Apocalypse!) +
Butterfly
Venus Child
Here Come The Comedown (Rough Mix) *
Pick Yourself Up
Sweet F. A. (Rough Mix) *
Sweet Lover Hangover (Remix)
My Dark Twin
Spanish Stroll % *
*previously unreleased version
+ previously unreleased song
% previously unreleased cover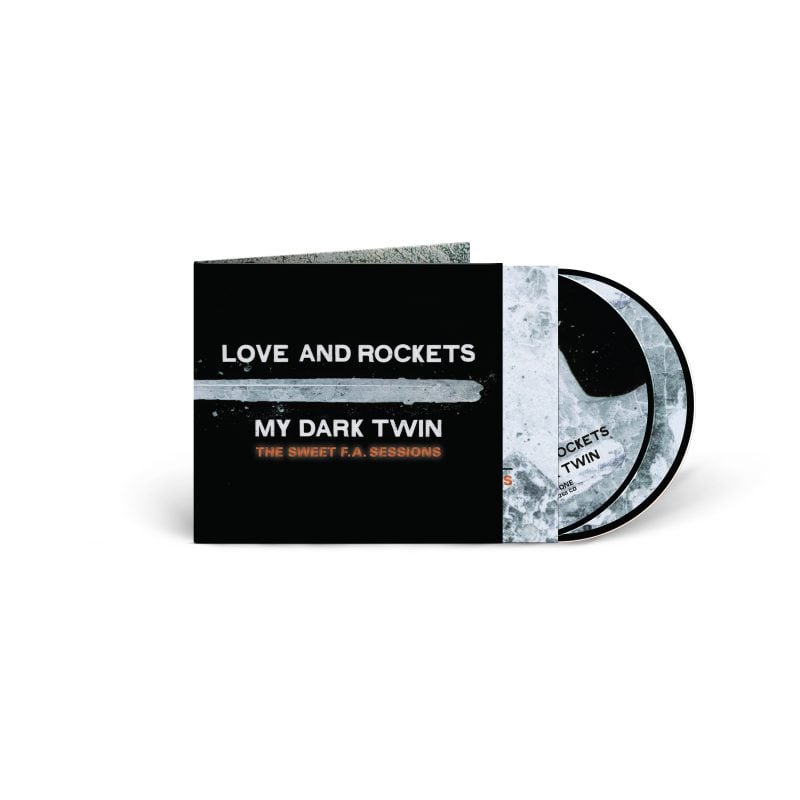 Love and Rockets are gearing up for their highly anticipated reunion tour, marking their most extensive run of dates in 24 years. The tour will kick off with a bang at Pasadena's Cruel World festival in May, a goth and new wave extravaganza. Catch Love and Rockets at a city near you:
Love and Rockets 2023 US Tour Dates:
May 20: Cruel World Festival, Pasadena, CA
May 21: Fox Theater, Oakland, CA (Tickets)
May 24: Sandy Amphitheater, Salt Lake City, UT (Tickets)
May 26: Roseland Theater, Portland, OR SOLD OUT
May 27: Roseland Theater, Portland, OR (Tickets)
May 28: Moore Theater, Seattle, WA (Tickets)
June 5: Palace Theatre, St. Paul, MN (Tickets)
June 6: Riviera Theatre, Chicago, IL (Tickets)
June 7: Royal Oak Music Hall, Royal Oak, MI (Tickets)
June 9: Kings Theater, Brooklyn, NY (Tickets)
June 10: Fillmore, Philadelphia, PA (Tickets)
June 11: Fillmore, Silver Spring, MD (Tickets)
June 13: Coca Cola Roxy, Atlanta, GA (Tickets)
June 15: Factory in Deep Ellum, Dallas, TX (Tickets)
June 16: ACL Live at The Moody Theater, Austin, TX (Tickets)
June 17: Boeing Center at Tech Port, San Antonio, TX (Tickets)