Defying both conventions and expectations by boldly hurling each out of the window, Los Angeles-based post-punk band Sextile have made an international name for themselves by fusing the raw political kick in the teeth of 70's punk with the minimalist structures of 80's synthwave. Comprised of Melissa Scaduto, Brady Keehn, and Cameron Michel, the genre-defying outfit bursts forth once again with their stunning double-feature romp through the seedy underbelly of the City of Angels.
Since forming in 2015, Sextile has undergone several incarnations during the A Thousand Hands and Albeit Living album eras, paring down to the core duo of Scaduto & Keehn by the time of 2018's more Industrial/EBM leaning EP 3.
After mounting tensions led to the band's hiatus, both Scaduto, and Keehn, took time to explore their own creativity with two new projects respectively – S Product, an industrial synth-punk partnership between Scaduto and Kyle Harmon (Arkitect), and Keehn with the multimedia cyberpunk project Panther Modern.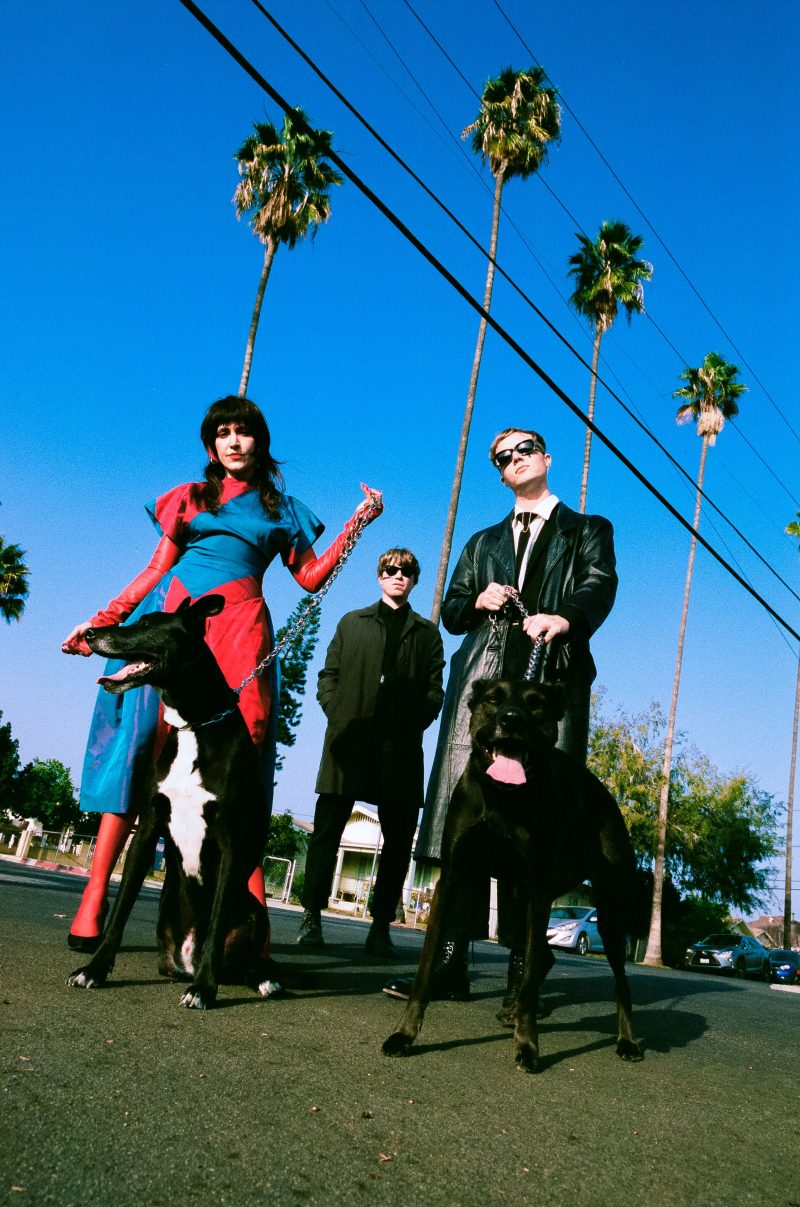 Following the tragic loss of founding member Eddie Wuebben, Sextile reunited with another former bandmate, Cameron Michel. The time was right to music together once again. This led to the recording of mind-tripping Modern Weekend / Contortion, a two-track EP that navigates the entropy, inertia, and unfiltered exuberance of our digitally and physically divided world—a world that is slowly gathering itself for either a dramatic collision or brand new cohesion. In the two new songs, we hear elements of D.A.F., Surfbort, and Boy Harsher in their sound, as well as The Soft Moon, PIL, Cabaret Voltaire, Cold Cave, and The Pop Group.
The video combines both songs into one, painting the perfect picture of their collective energy. "Modern Weekend" is a swaggering anthem of staccato beats, melding garage, and noise guitar over a detached vocal. Updating the robotic delivery of Kraftwerk with the indifferent narration of Pet Shop Boys' Neil Tennant, the track is illustrated in the accompanying video clip by a teenage joyride bordering on (less violent) Clockwork Orange chaos. The video was influenced by the Smashing Pumpkins' "1979." With the flip of a tape, the evening begins and the crew of jubilant misfits cruise over to a DIY space where they've found their people, their community.
Sextile find their bliss as they enter the space, where we hear the party heating up as "Contortion", a more EBM-flavoured track, blares to a packed crowd and weaves the narrative of an unforgettable night on the town. "It's time once again to sweat those frustrations out and search for collective joy," says the band.
Watch the back to back videos for "Modern Weekend" and "Contortion" below:
Modern Weekend / Contortion is out now via Felte.  You can order it here.
Sextile are playing Los Angeles' Cruel World Festival and hitting Mexico for the first time this summer.
Meanwhile, catch a Sextile DJ set at Restless Nites and End Overdose's Nobody Else Has To Die event featuring Black Marble, Drab Majesty, HEALTH, and more.
TOUR DATES 
05.02 @ Cruel World Festival * 
06.03 Ciudad de México
06.04 Querétaro 
06.05 Monterrey, MX 
06.10 San Lusi Potosi
06.11 Guadalajara, MX 
06.12 Tijuana, MX 
* w/ Bauhaus, Blondie, Devo, Echo & The Bunnymen, Public Image Ltd., et al 
Follow Sextile:
Follow Felte: