Rising Los Angeles new-wave stars Sacred Skin have fallen into our hearts with their glitch-laden video for "Earthbound, a new single from their forthcoming debut album The Decline of Pleasure, due out this spring via NYC label Synthicide.
With production channeling Phil Collins via Genesis' Invisible Touch and Howard Jones via Dream into Action, "Earthbound" is part John Hughes and Michael Mann. If Miami Vice Goth is a thing, this belongs in its Wikipedia entry.
With the warm and rising synths of a Prophet 5, "Earthbound" swells with passionate vocals brimming with unfettered romance—leading into a brilliant and cascading guitar solo that crashes like waves upon a neon-lit beach as the song reaches its climax.
The clip, Directed by Davis Stewart, is shot on a vintage Sony Handycam, and features lo-fi psychedelic VHS graphics framing both Brian Tarney and Brian DaMert as they jam out on synths, guitars, and vocals. Overlaying this session is Actually Huizenga, who makes a shadowy cameo, swaying in silhouette.
Watch the video for Sacred Skin's "Earthbound" below:
Sacred Skin were formed in the Spring of 2020 by friends Brian Tarney and Brian DaMert. They were brought together by their shared love of the kind of earnest new wave music that was the soundtracks to their childhoods. Songs with warm production, yet unabashed with raw emotion and fraught with heartfelt meaning. Songs from the song catalog of artists like Peter Gabriel, Talk Talk, and New Order. Songs that still resonate today.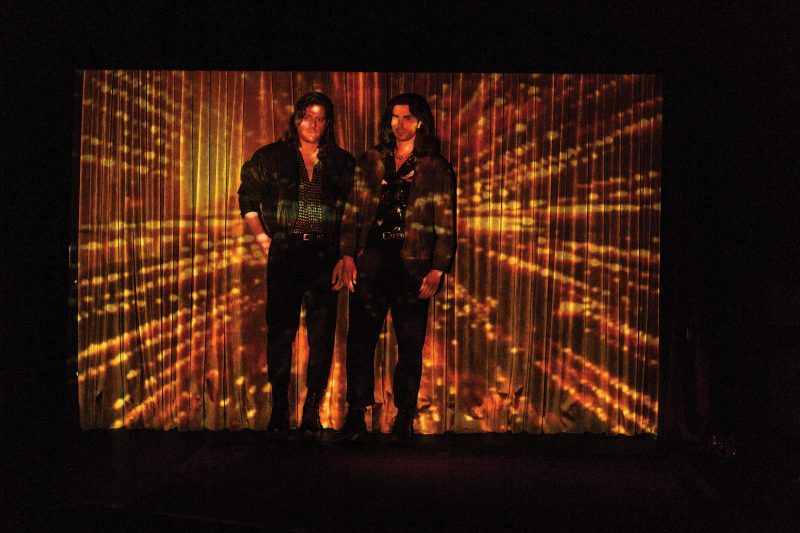 Unlike the post-millennial lens of nostalgia, Sacred Skin sincerely recreates the soundtrack of the mid-80s. Their songs are the kind of electric dreams that fall when sunsets beam through the Venetian blinds and palm trees of Brutalist beach house, setting the scene for a noir crime drama circa 1986.
Following the self-release of several digital singles, Sacred Skin recently signed to Synthicide—a label, club night, and concert event in NYC established in 2014.
Sacred Skin's The Decline of Pleasure, due out this spring, is sure to be one of the best releases this year, and will likely sell out several times over.
Follow Sacredskin: