The industrial musician, MVTANT, never slows down. With Low Culture Metal Bodies—out on July 7th—the Texas-based artist just announced their remixes and covers album on Dream Recordings alongside an extensive North American spring/summer tour (dates below). The album is stacked with remixes by prevalent players in the dark scene such as Spike Hellis, Kontravoid, Physical Wash, Kris Baha, Multiple Man, Blank Hellscape and Dread Risks—all guaranteeing to bring their own specific aesthetic of EBM, industrial or noise into the foggy MVTANT realm.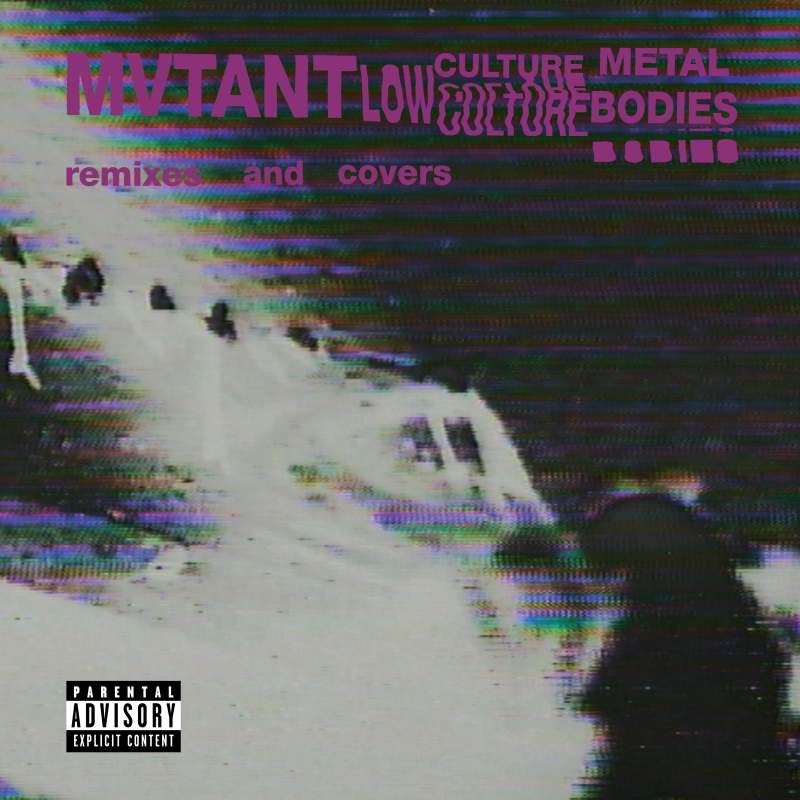 Alongside remixes, the LP includes cover songs performed by MVTANT. (We all remember their reinterpretation of Suicide's "Ghostrider" with its steady pulse and sultry atmosphere.) The post-punk band, Gang of Four, with their 1978 track "Damaged Goods" seems fitting to be the subject of MVTANT's newest endeavor. Originally upbeat and danceable, "Damaged Goods" is now altered into a gruesome electronic ballad that could be a love song—but only in some deranged dimension.
MVTANT's transformation of the song, brought on by its sensual vocals and detuned synths, adds an eeriness to the song's very foundation. In doing so, the lyrics that perhaps weren't originally so overt in their perverseness, now border on the obscene. Your kiss so sweet, your sweat so sour.
Listen below:
Pre-order it here on cassette or digital.
Tour dates:
4.28 TULSA – THE WHITTIER BAR
5.2 DENVER – GLOB
5.3 SLC – INTERNATIONAL
5.7 RENO – HOLLAND PROJECT
5.8 CHICO – NAKED LOUNGE
5.12 VANCOUVER – VERBODEN
5.15 OLYMPIA – CRYPTOTROPA
5.17 OAKLAND – GOLDEN BULL
5.18 SAN DIEGO – THE MERROW
5.19 TIJUANA – BLACK BOX
5.21 EL PASO – 101
6.8 NASHVILLE – COBRA
6.9 INDIANAPOLIS – BLACK CIRCLE BREWING $#
6.10 DETROIT – LELAND CITY CLUB $#
6.11 TORONTO- SEE SCAPE #
6.13 BOSTON – O'BRIEN'S PUB $#
6.14 NORTHAMPTON – RED KROSS $#
6.15 KINGSTON – BLACKBIRD INFOSHOP $#
6.16 NEW YORK CITY – ST. VITUS $#
6.17 RICHMOND – FALLOUT $#
6.18 WILMINGTON – ANGIE'S RAINBOW ROOM
6.20 ASHEVILLE – STATIC AGE
6.21 ATLANTA – THE EARL
6.22 GAINESVILLE – PORTAL 4 RECORDS
6.23 TAMPA – NEW WORLD
6.24 MIAMI – GRAMPS
6.25 ORLANDO – WILL'S PUB
6.27 NEW ORLEANS – THE GOAT
6.28 HOUSTON – BLACK MAGIC SOCIAL CLUB
COMFORT CURE $
SEMANTIX #