After 2021's sprawling Next Wave Acid Punx compilation, the Berlin by way of New York City extraordinaire, Curses (aka Luca Venezia), returns with DEUX. The 49-track release—jammed into three CDs and three double LPs—packs a serious punch of dark dance; with an array of genres that include minimal synth, new beat, electro and italo body music, there's something here for everyone. DEUX will be out on October 20th via Eskimo Recordings.
Next Wave Acid Punx DEUX is a mining of music meant for dance spaces, an archival of electronic music from its very birth to the current wave. It takes the listener on a journey from industrial and EBM innovators, Throbbing Gristle, Absolute Body Control, Nitzer Ebb and Cabaret Voltaire, to the underground royalty of The KVB, The Hacker and Essaie Pas, to today's most revered artists such as Boy Harsher and Zanias. From the post-punk emotional volatility of Sad Lovers & Giants' classic "Things We Never Did" up through the goth-doused mechanical dance of Buzz Kull, the release introduces and reconnects old loves with new.
Venezia's romance with the nightlife shines through on DEUX:
"DEUX is a celebration of that music let loose on the world, the thrill of music performed live, the smoke and strobe filled clubs you'll hear it in and the artists you'll find on those stages," says Venezia. "I wanted to celebrate those bands and artists, past and present who, to me, represent that spirit. Both full live bands and makeshift electronic duos alike, the kind of acts that you might have found wedged between DJs back in the day at The Hacienda in the 80s, Trash in the 00s or today at nights like Berlin's MILK ME, EXBTN in Paris, Night Terrors + SC&P in London, New York City's Synthicide or Ukraine's Worn Pop."
While part one Next Wave Acid Punx was more of a personal journey through his music discovery during the pandemic, DEUX is the reflection of his immersion into physical aspects of music: the strobe lights, the fog, the sweat on the dance floor. And if you've kept up with Curses' DJ sets, he's been teasing some of his edits that appear on the compilation (including the EBM gem, "Body On Body" by J.W.B. Hits the Beat). But his reinterpretation of Nuovo Testamento's "Hearbeat" from the trio's incredible 2023 LP, Love Lines, is a club-ready anthem. Listen below:
If you're ready for it, check out the DEUX tracklisting and album art from all three volumes below (the 26 tracks with a * are previously unreleased):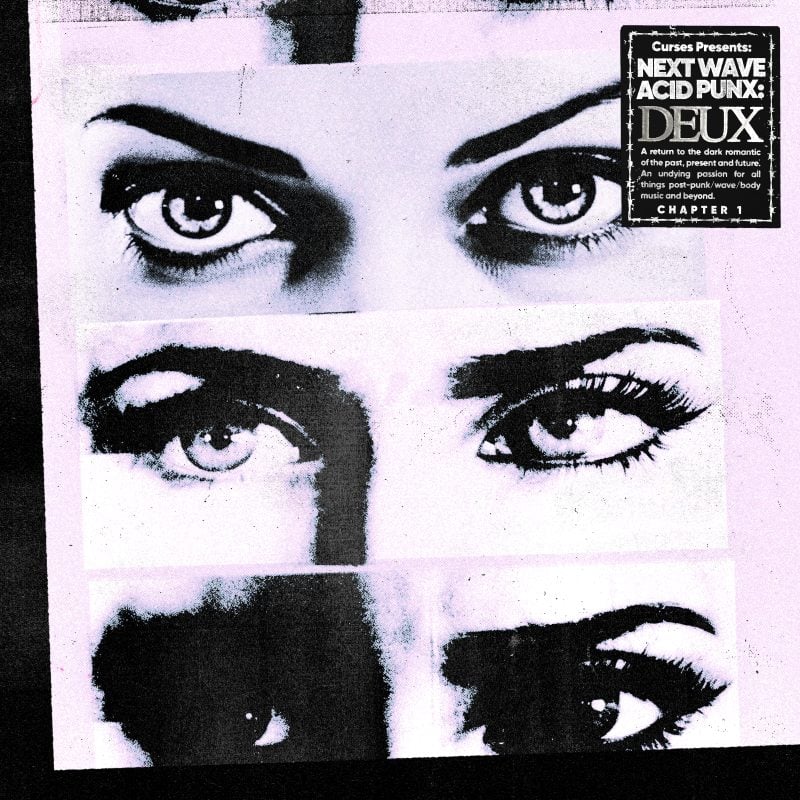 Chapter 1
1. Throbbing Gristle – Distant Dreams, Pt. 2
2. Mary Möör – Pretty Day
3. Sad Lovers & Giants – Things We Never Did
4. Malcolm McLaren – Madam Butterfly (Un Bel Di Vedremo)
5. Big Audio Dynamite – The Big V
6. Cabaret Voltaire – Blue Heat
7. Nitzer Ebb – Hearts and Minds (Mix Hypersonic)
8. Clan Of Xymox – Obsession
9. In Sotto Voce – In Sotto Voce
10. Psyche – Prisoner To Desire (Single Mix)
11. Propaganda – The Murder Of Love
12. DAF – Brothers (Gabi Mix)
13. Vicious Pink – Cccan't You See
14. Book Of Love – Modigliani (Lost In Your Eyes) (I Dream Of Jeanne Mix)
15. Absolute Body Control – Total Control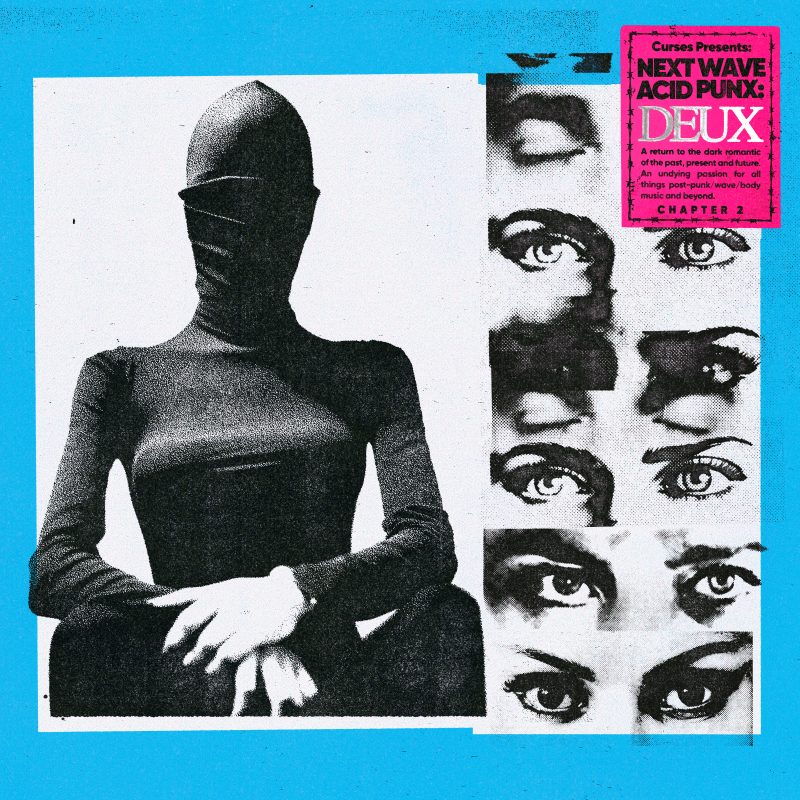 Chapter 2
1. Boytronic – Voloczny *
2. The KVB – Still Warm (2023 version)
3. Cardinal & Nun – Freak And Weak *
4. Jennifer Touch – Altars *
5. Matrixxman – Assembly Line *
6. Years Of Denial – It Sucks *
7. Silver Tears – Always Shine (Wait For The Rain) *
8. Essaie Pas – Retox
9. Aili x Transistorcake – Dansu
10. Dina Summer – Darkness *
11. Patriarchy – Suffer
12. Maelstrom & Louisahhh – Hate Machine *
13. Dame Area – Buon Cittadino *
14. Kris Baha – Into The Dark
15. Desire – Love Races On *
16. Blind Delon feat. I Hate Models – Flashback *
17. Poison Point – Altered Beats *
18. Roe Deers – Muscles *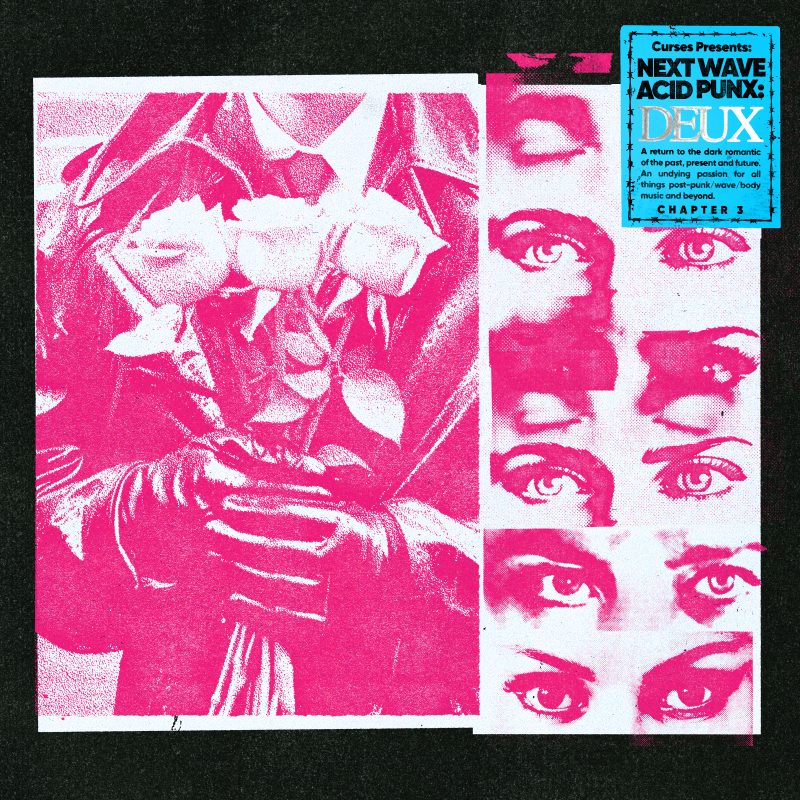 Chapter 3
1. Boy Harsher – Machina (feat. Mariana Saldaña) (Dark Remix) *
2. Silent Servant – Non Fiction *
3. J.W.B. Hits The Beat – Body On Body (Curses Revamp) *
4. Hungry Boys – Toi *
5. Autumns – Repeat Prescription *
6. Nuovo Testamento – Heartbeat (Curses Remix – Edit) *
7. Buzz Kull – A Place (That's Meant To Be) *
8. Soft Crash – Dolce Morte *
9. Dame Bonnet & Mufti – Pleasure Dreams *
10. Ultra Sunn – Night Is Mine
11. Neu-Romancer – Burning Eyes *
12. EVA – Industrial Hope *
13. Andi vs Randolph & Mortimer – Formidable Truths *
14. Zanias – Tryptamine Palace *
15. The Hacker – Monopoly *
16. Paradox Obscur – Evo-Devo
Buy DEUX here and the DJ sampler here.
DEUX parties:
Thu 26/10/2023 | Curses Next Wave Acid Punx DEUX listening party @ DreamBabyDream, Berlin, DE
Sat 28/10/2023 | Curses Next Wave Acid Punx DEUX release party @ Fuse, Brussels, BE
Follow Curses on IG and FB.
Follow Eskimo Recordings on IG and FB.