Get in the car. We're going on an existentialist ride to the great nowhere, on a hunt through the dark forests of the soul, the place and time to commit the perfect crime.
Laura Carbone's poetic, haunting Nightride satisfies a yearning, a hunger – a lust for blood and the end of innocence with The Most Dangerous Game."Soft and slow, the river flows", the song languidly winds through the dark forest of desire tingling just below the skin, stalking an elusive prey, unhurried, deliberate, at the pace of a heartbeat. Who's the hunter, and who's the prey? Sometimes the tables turn. And sometimes, hunter and prey join forces, to hunt bigger game. With the psychedelic elements of Jim Morrison and the darkest of Lee Hazlewood storytelling, this live single version of Nightride celebrates the official North American physical release of Laura Carbone's latest album, Laura Carbone – Live at Rockpalast, recorded in October of 2019.
The effect is mesmerizing: a film noir set to spellbinding lyric; a dark mystery unfurling on the long and winding road. Carbone's silken voice spins a good old fashioned campfire mystery.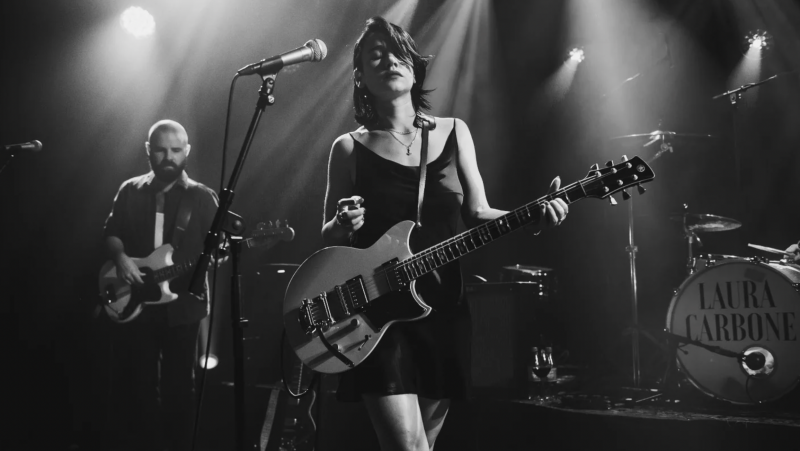 The live video footage from the same concert was simulcast across Europe on TV and online worldwide on Germany's prestigious TV show, Rockpalast. Additional footage was conceived by Laura and acclaimed graphic artist Olya Dyer (Underground Youth). Olya directed and shot the footage on a dark, moonlit night in June 2021 in a sinister forest outside Berlin.
…And the dark stranger? Mystery solved: he was portrayed by none other than Olya's husband Craig Dyer, frontman of The Underground Youth.
Laura and Craig also have a bittersweet surprise coming up in the autumn, but they're keeping their secrets for now.
Pre-order the album here.
Follow Laura Carbone: