Halloween is drawing near, and personally, I haven't found a fitting soundtrack for the upcoming celebrations. Until now, that is… Hot on the heels of March's Mausoleum Saturnalia, Vain Warr is due to release a new full-length record this Friday via Primal Architecture Records. Titled Maleficia Carnalia, the new album is a seasonally appropriate blend of black metal, early deathrock, and Leeds-based pummeling hooks, all run through a perfect satanic filter, continuing the project's balance of earnest dark explorations and playful flirtation with wicked hedonism. With all of that in mind, we're honored to premiere a full stream of the record a few days in advance of its release. Listen below:
Maleficia Carnalia is ten tracks of brutal, razor-sharp fury that flirts with several different styles, all unified by Josh Strachan's core instrumentation, distortion-drenched vocals, and newcomer Jason Garnett's driving bass work. The record kicks off with the John Carpenter-esque "Strix (In Body and Mind)," one of two instrumental passages that set the tone for what's to follow. "Maleficia" begins with a filtered sample before blasting into overdrive with a steady drum machine pattern, throbbing bass, and incisive guitars. As the record progresses, we're treated to a variety of textures and tempos – powerful blasts of rhythm and abrasive scrapes of sound and fury. While it's easy to trace threads to Red Lorry Yellow Lorry, Christian Death, and even Samhain, there's a more flirtatious, fun aspect to the record that's hidden just underneath the surface. There's a palpable sense of urgency to Maleficia Carnalia that stems from the duo's writing process. Strachan explains:
We were booked to play the big post-COVID reopening week at Saint Vitus. My old friend Jason Garnett, who comes from a much more DC punk background than I do musically, had learned all the songs for the Brooklyn show. Then we had to cancel. We'd put all this energy into the band and were enjoying playing together so we decided to write a few songs. We had a lot of fun doing it, he'd bring these really Fugazi style riffs and I'd ask him to change this note or that to make it a little darker. The songs came together quickly, but that was almost an ethos: no second takes, no second guessing. It was originally going to be "Mausoleum Saturnalia Vol. II," which I thought since Jason was more of a punk guy and that record was kind of the most punk thing I had ever made, could dovetail nicely. We hit a stride and just started banging out a couple tunes a week.
We started in early September, then woke up in late September and realized we had an LP's worth of songs. I had been talking to Jason about Big Black, because he's kind of an Albini guy and that seemed the perfect bridge to the Sisters of Mercy. But the first tune we wrote was "The Passion of Hausmännin" and something about how I think about guitar in Vain Warr mode made it sound really kinda deathrock. We just rolled with it.
As the song titles may imply, the lyrics on Maleficia Carnalia flirt more with mischievous concepts and sybaritic rock and roll, most notably on lead single "Fuck in the Fire," which stands as the record's catchiest track, chock full of building tension and melody, with a chorus that's so good it's printed on a recent t-shirt offering. That said, despite Vain Warr's more unrestrained energy, there's a healthy dose of political consciousness running throughout Strachan's lyrics and concepts, a unifying thread between Vain Warr and many of his other projects (Blacklist, Meridiane, Azar Swan, Vaura). Strachan explains more about the album's lyrics and themes:
I'm really fussy about humor and cartoonishness in darker art, both the things I make and things I consume. Doesn't mean I don't have my favorite Type O Negative songs or that I haven't seen "John Dies At The End" dozens of times. But I make a lot of music and a lot of it is deeply serious, so Vain Warr has always been kind of a space of letting go. Initially that had a lot to do with the fact that I've always had these desires to make more overtly Satanic-themed work, but never any bandmates that were interested. So the first Vain Warr was a chance to let myself go there. But of course ideas and politics and serious themes eventually sneak in whether I mean for them to or not.
With the first Vain Warr, the Satanic stuff was very Miltonian (hence the project name) sort of along the lines of William Blake and the poets who thought of Satan as a symbol of Enlightenment. With this one, I started out joking with Jason that I'd write a chorus lyric about demon sex, "fuck in the fire." Then I stumbled across this book called "Demon Lovers: Witchcraft, Sex, and the Crisis of Belief" by Walter Stephens. It's a legit academic text but a wild one, with chapter titles like "Illusion and Reality: Witches Who Steal Penises." So what begins as a lark becomes semi-serious. Suddenly I'm reading this book, and it's kicking in my mode of Slutist commentary, where witches are political figures.
And I think this plays into being back in VA and some of what I said about the last Vain Warr and QAnon. Jason and I don't really share the classic urban leftist notion that religion is sort of nice for people who are into it, and that you shouldn't be critical about it. This is not a deep red state, but there's also a huge amount of militia activity here, and Liberty University is just down the street. So for us, who are both deeply committed antifascists, this connection between the Republican Party becoming neofascist and its Christian nationalism is extremely real. Which makes symbolic representations of Satan worship and baby munching witches sort of depressingly contemporary and relevant.
QAnon reminds me what Sagan once said about alien abduction, that those were how a technological society retells the story of incubus and sucubus visitation. QAnon is how a technological society replays blood libel and witch persecution. And look, there are dozens of academics who are going deep into that idea, but we are a couple of guys with guitars who grew up on Guns 'n' Roses. If we're going to have a new internet Satanic Panic, we're going to make the songs for people that want middle finger anthems to racist pastors. Somebody should! So we have found ourselves in territory that's not unlike Blacklist – the lyrics can just be heard as sort of fun fuck-off stuff, or you can extract the academic history of accusing people of being Satanic sexual deviants and relate it to the present nightmare. Either way, Happy Halloween!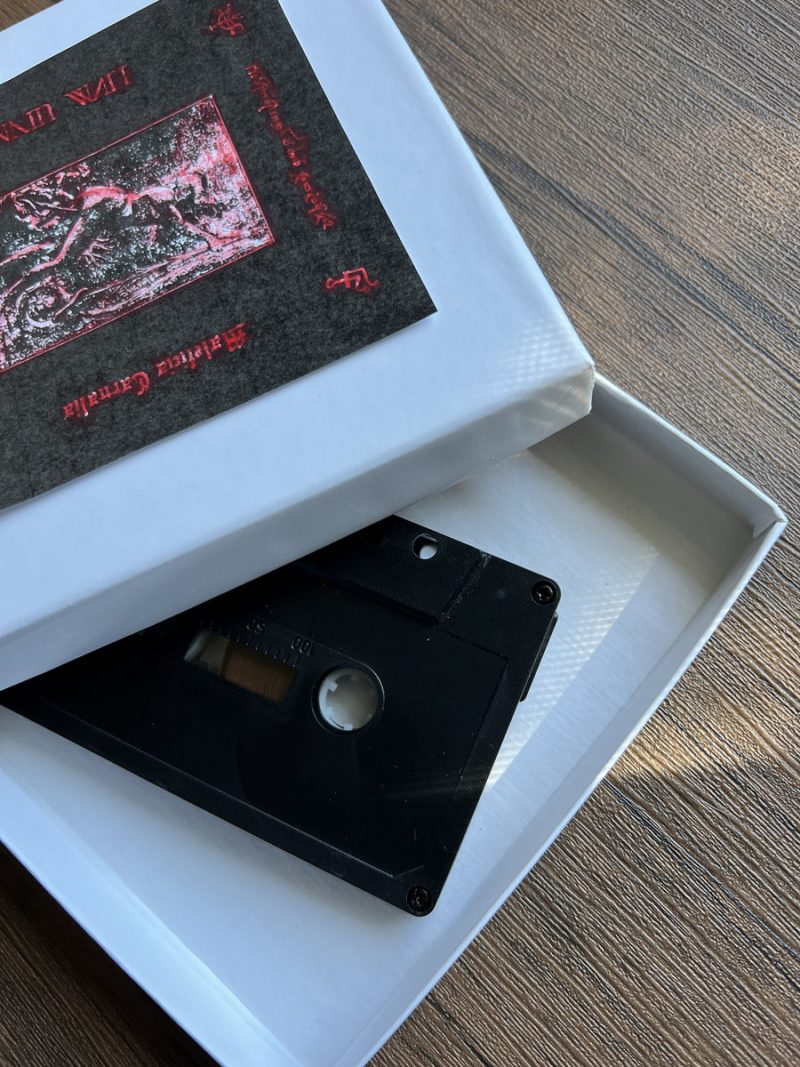 Maleficia Carnalia drops this Friday and is available as a limited standalone cassette box (currently sold out), t-shirt + cassette bundle, and digital format, deliciously priced at $6.66. If you haven't already rushed off to pre-order a copy, all of the relevant details can be found via Bandcamp.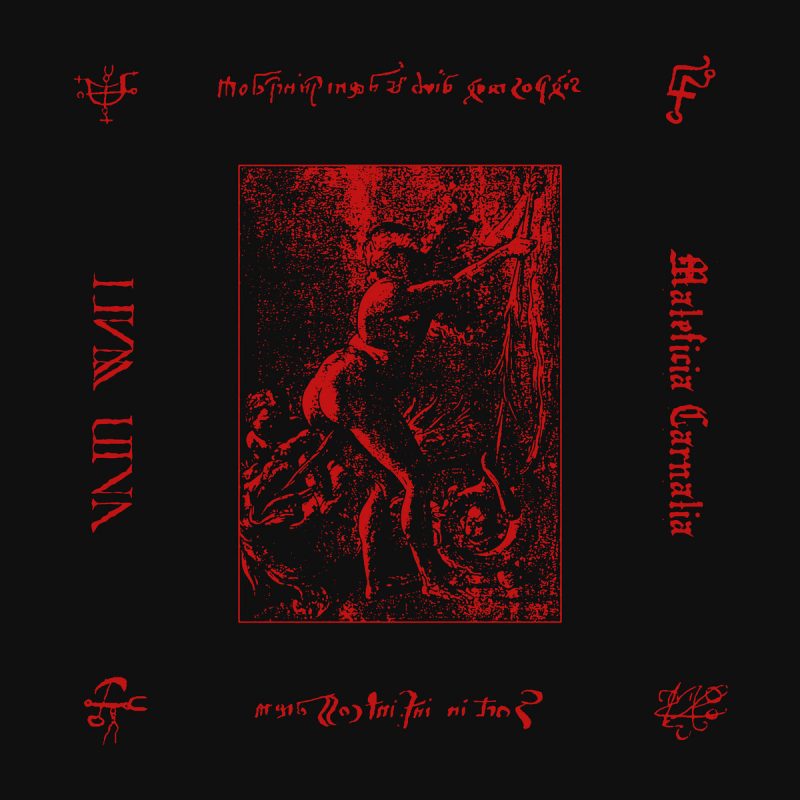 Band photo by Laura Speaks