Alternative pop artist Jenn Vix returns with the shimmering brilliance of "You Are a Star", a shiny new single that sees her partner with A Flock of Seagulls' drummer Ali Score who makes his triumphant return to music with the celestial retro wave anthem.
Following a prolonged hiatus, Score's presence is a glowing light, bringing to the collaboration all the songcraft and technical prowess that helped launch the Grammy award-winning A Flock of Seagulls into the stratosphere as one of the most popular and influential bands of the 80s new wave era
"Well, 'You Are a Star' is a love song. It's a tribute to someone who worked as an astronomer, and an astrophysicist. The music happened very late at night, as I was sitting in front of the keyboard, practicing, and then the lyrics drifted into my mind shortly after I wrote the music…. We're all made of stardust," says Jenn Vix.
As was the case with her previous single 'PTSD', Vix worked with Grammy-nominated mastering engineer Chris Gehringer (Dua Lipa, Lizzo, Lady Gaga, Twenty One Pilots, St. Vincent).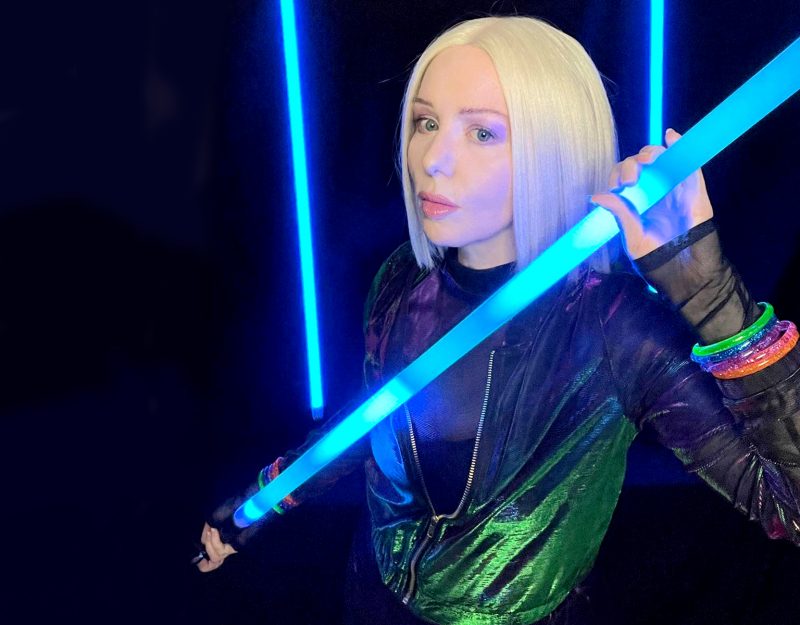 Jenn Vix explains how this collaboration came to be: "When I was a kid, I moved to NYC from Miami. One of the most wonderful things about NYC at the time, was the record shops located around the city. I would spend my weekends crate digging, and finding new music. One of my friends at a shop downtown played me a single titled "Talking" by A Flock of Seagulls, that he got from the UK. I couldn't even buy it at the time because there was only one copy in the shop. I was amazed, because I'd never heard anything like it! A little while later, I saw the video for 'I Ran' on MTV and, at that moment, I knew what I wanted to do with my life. I also wanted to one day play music with the drummer of A Flock of Seagulls, and here I am now, working with him! It's a dream come true!"
"I got the conversation going with Ali through a mutual friend, who works on the band's sites and social media pages, and we took it from there. I was one of the first fans of the band here in the states! Ali is not only a brilliant and highly skilled drummer, but he's an incredibly kind and caring person. I consider him not only a collaborator, but a dear friend."
"You Are A Star" is a new wave love song wrapped in space-age nostalgia, highlighting the luminous talent of both Vix and Score.
Listen " below:
Getting her musical start in Providence, RI, Jenn Vix also made a name for herself in NYC during her teens, crossing paths with the likes of luminaries like Iggy Pop. Her first venture as a vocalist was with 1980s one-off band Disco Donut (with Adam Horovitz of The Beastie Boys and singer-songwriter Nicole Willis). A decade later, Vix broke out on the national scene.
As an indication of her ever-evolving approach to her craft, in recent years, Vix has been performing both as a solo artist and also as a drummer (on an electronic drum kit) and vocalist, in Boston-based post-punk/electronic rock duo Feeney Vix.
Over the years, Jenn Vix has collaborated with Reeves Gabrels (The Cure, David Bowie, Tin Machine), John Ashton (Psychedelic Furs), Andy Anderson (The Cure, Iggy Pop, Hawkwind), Danny Chavis (The Veldt), Marco Pirroni (Adam Ant, Rema Rema, The Models, Sinead O'Connor), Dirk Ivens (Absolute Body Control, The Klinik and Dive), and Rodney Anonymous (The Dead Milkmen).
As of February 25, 'You Are A Star' will be available online everywhere, including Apple Music, Spotify, Tidal and Amazon.
You can also find Jenn Vix on TikTok.
Keep up with Jenn Vix
Website | Store | Facebook | Twitter | Instagram | Soundcloud | Bandcamp | YouTube | TikTok | Spotify | Apple Music | Tidal | Amazon 
Photos by JFIVENINE Media and Linda Score