Digging in the dirt…to find the places we got hurt.
Silken-voiced Janita, an iconic music figure in her native Finland, has enjoyed critical acclaim and commercial success alike throughout her varied career as a musician and recording artist. Long rooted in New York City, the singer and songwriter has seen the world…and borne it on her shoulders.
During her last performance at Mercury Lounge in 2019, Janita's rich, emotional voice and fiercely commanding stage presence stunned the audience as she played an array of her past work, and introduced some of the new songs from her album, Here Be Dragons, including a powerful cover of Peter Gabriel's classic track, Digging In The Dirt.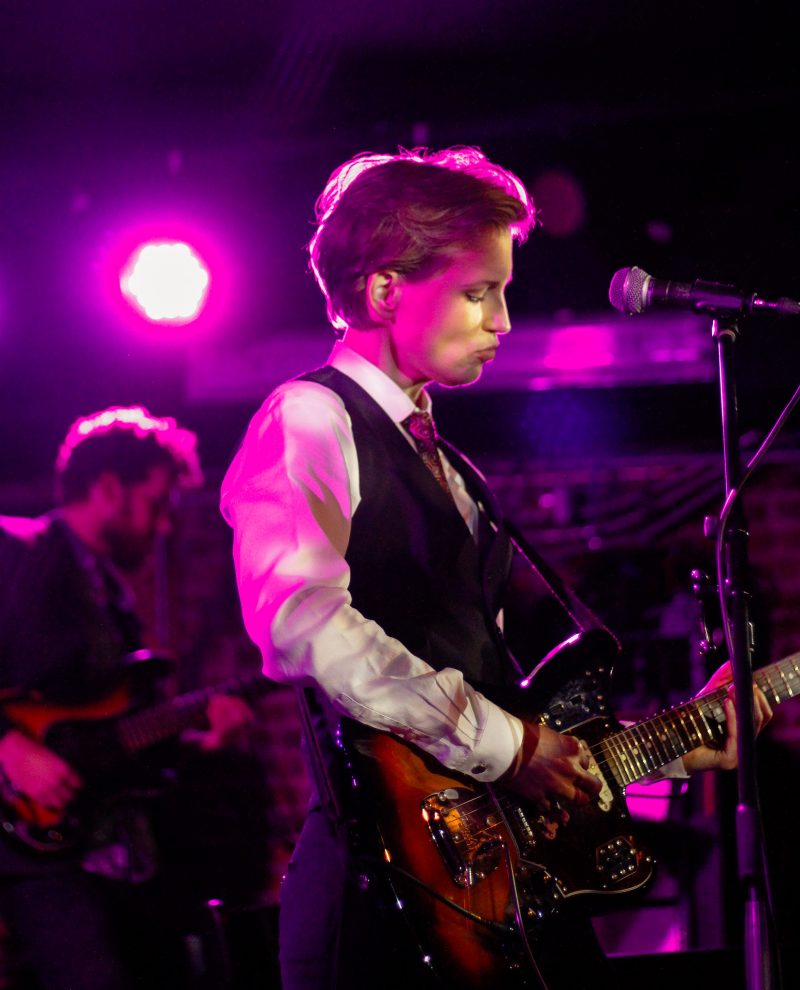 Janita's mesmerising, androgynous presence and piercing, curious eyes recall Annie Lennox and Bowie's Thin White Duke, while her soothing croon is a balm to bruised hearts. Digging In The Dirt originally appeared on Peter Gabriel's 1992 album Us, following with a more intense alternative performance on his eleventh album, Secret World Live. Janita does the song electrifying justice, taking it from Gabriel's 'dark night of the soul' and rejection of toxic masculinity, to a woman picking up pieces of a fractured mirror and examining the fallout.
Here Be Dragons is now available everywhere via ECR Music Group. The album was produced and recorded by indie-music luminary Blake Morgan, who leads the #IRespectMusic campaign, a grassroots movement galvanizing musicians on their right to get paid for airplay.
Janita (pronounced "YU-nee-tuh"), it cannot be understated, is a badass offstage. Representing the #IRespect Music campaign since 2014, she has helped to push for crucial legislation changes to the music industry in favour of the artists who create it. Janita herself took the cause to Representatives Marsha Blackburn, Jerrold Nadler, Doug Collins and Ted Deutch, as well as representatives of the National Music Publishers' Association and RIAA. In 2015 the movement's hard work was rewarded with a bill introduced, proposing federal legislation that broadcast companies must be forced to begin paying artists and record labels for songs played on terrestrial radio.
Watch the stunning black and white performance video for Digging In The Dirt, directed by Anthony Friend, below.
In an interview with Janita, she describes the connection to the song and putting her personal spin on it.
Did Digging In The Dirt hold a personal resonance with you before writing the album?
I've loved Digging in the Dirt since it was first released. Initially I responded to the music––the lurking mysteriousness of the track, and the different emotions the song evoked. It's at times brooding and menacing, at times defiant and aggressive, and at times vulnerable and sweet. (Good luck writing a song like that!) Later on in my life, I connected deeply with the lyrics, having done some deep diving myself. Coming back to a great piece of art again and again can be very interesting: one experiences it differently each time having grown and changed in the interim. The art doesn't change, you do.
What attracted you to covering the song and what personal spin did you want to give to it?
In addition to loving the song, I thought it would be powerful to hear it being performed by a woman. That in itself alters the meaning of it, and allowed me to put my own spin on it. It's also timely, as the message of the song is particularly resonant in the #MeToo era. "I'm digging in the dirt / To find the places I got hurt / Open up the places I got hurt". Hard to express the sentiment better than that. Singing these words to this music, having lived in this (patriarchal) world as a girl, and as a woman––it's pretty heavy.
What are your hopes for the album?
My hopes and wishes for Here Be Dragons are already coming true, actually. Over the last year as I've released a series of singles off this album, and since the album's release, I've been experiencing a wave of success unlike any I've experienced before. I've been getting deeply personal responses from people to this music, with long emails from strangers expressing how a particular song or video has affected them, and how they identified with what I was saying in my lyrics. And many have shared their personal stories with me. It's evident that through this music I'm reaching many new people, and having a deeper connection with my listeners than ever before, which is the best reward that I as an artist can imagine. So naturally I hope to reach as many people as possible. Something powerful is afoot with this album. I can feel it.
Has Peter Gabriel gotten to hear the track yet?
Funny you asked, I'd like to know the answer to that question too!
How has the experience of being a musician during a pandemic inspired or changed you?
Interestingly, the pandemic has actually allowed me to take some valuable time to prepare for this new record's release. My label and I dropped a number of singles and music videos throughout the year ahead of the release of the full album, which gave us the opportunity to make each of them an event. That's allowed me to connect more personally to my listeners throughout this year. So despite its obvious awfulness, this has been a fruitful year for me. It's also really helped that I've stayed faithful to my routines, kept myself in top shape as a musician, and kept the channel open for writing new music too. I kept trucking, and I'm proud of that.
What projects are on the table for you next?
I'm looking forward to promoting Here Be Dragons all year long: we've got a new music video release set for June 16th, and concerts set for my hometown of Helsinki, Finland in October, and New York City in November. We'll also be releasing the vinyl version of this record in the fall, which I'm really excited about. In the meantime, I'm writing new music. The way I see it: it's always good to have one project out, and another one in the works.
Follow Janita: