Eight men have all the money. Eight men have more than half of all the money than everyone else in the world, combined.
Yuck. NYC dance-punk queen Leah Hennessey is, quite rightly, pissed off. Hennessey's latest release, 8 Men, is a fiery call-to-arms, hi-tempo protest song, name-checking the Bastions of Greed hoarding the planet's resources. Part electroclash, part Bertholt Brecht, part ZE Records, Hennessey rips their material from the headlines and fuses topicality with sharp wit and a very real passion for the betterment of humanity.
The release is verily crackling with synchronicity, dropping mere days after a Wall Street scandal where savvy Redditors brought devious hedgefunders to their knees and exposed the utter sham controlling the economy. Synth artist EJ O'Hara and guitarists Noah Chevan/Malachy O'Neil, sharing duties, bang out tasty hooks over Leah Hennessey's droll delivery of a call for wealth redistribution. She paints a cosy picture of a calmer world with simple joys and equality for everyone.
Eight stinkin' men, friends. Out of 7.8 billion Earthlings.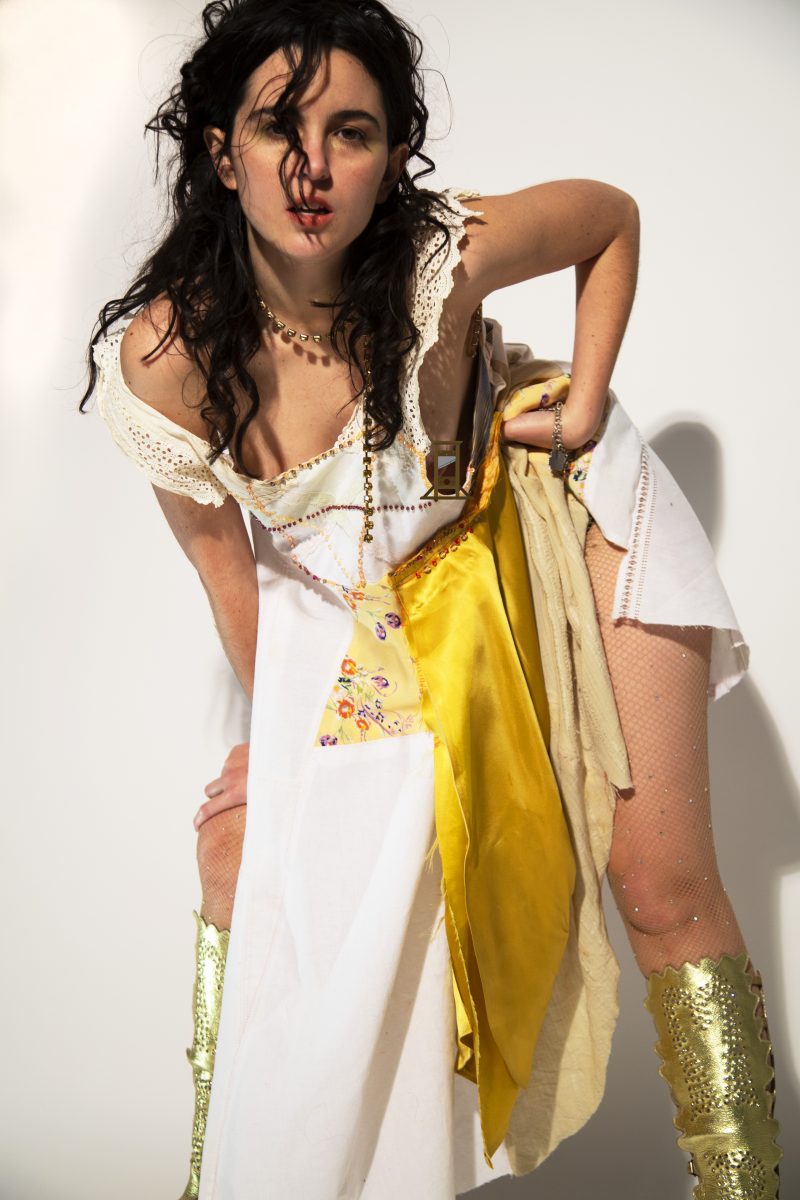 "The brutal fact of that insane wealth inequality can sometimes make any kind of faith or hope feel futile: how can I believe in ideals of fairness and equality when things are so corrupt and distorted and beyond the repair of revolution?" She wryly adds, "I'm too poor to have a dog, let alone ever dream of owning property! But it's funny. The song is funny."
It certainly is, but despite a call for the guillotine, the song reflects an exasperation bordering on the absurd, felt by multiple generations hitting wall after wall.  "But Bill Gates paid for my high school" is an especially poignant lyric. Selective philanthropy to ease guilty consciences, exploiting vulnerable populations with free software in a thinly-disguised push for brand loyalty. We could all have high school. We don't need to be bribed into technological slavery. But as the homeless population soars in her hometown, a direct correlation to corrupt values and Profits Over People, as the pandemic has forced millions of young unemployed back home with parents, as dreams lay dormant and dying, the words of 8 Men hit our weary souls hard. And really, all she's doing here is reciting the news to a high energy backbeat.
Hennessey, daughter of legendary New York Doll David Johansen, carries on the family tradition of trashing the status quo with persistent hopes of a brighter future. An artist through and through, she frequently collaborates with a collective of intellectual, creative minds (including Ruby McCollister, who contributed to the video), fusing together performance, visual art, avant-garde theatre, fashion, and Absurdist influences. 8 Men is no exception: the video was also shot as a collaboration with designer Lou Dallas.
The accompanying video, directed by Max Lakner and filmed at The Freehand Hotel, is a fabulous pisstake on  the glamour and artifice of fashion magazine shoots celebrating the 1%.  Headshots of über-billionaires are torn to pieces between shots of the trio posing hammily for the camera as one would for Vogue.  The messages are constructed like sinister ransom notes…indeed, these eight men have the entire world held hostage. Band members wear shirts emblazoned with "Think Otherwise," riffing off of the long-retired Apple slogan, "Think Different." The track is smart, snarky, and a welcome anthem of hope and justice for all.
Tear that shit up, Hennessey.
The single is out now via Velvet Elk Records.