[dropcap]The Present Moment[/dropcap], currently one of Los Angeles best dark electronic acts,  distill an anachronistic and dystopian romance through their droning bass and funereal synths.
After last year's release of their 3rd Studio album, "Cruel", to fanfare and critical acclaim Scott Milton is ready to return the band to Europe for a series of dates, and to perform at this year's Wave Gotik Treffen—but he needs your help to make the tour a success! Order a copy of "Cruel", or a signed 2-CD package with all the music from the first three records (including tracks nobody has ever heard before)—Plus if you will be at Wave Gotik Treffen or any of the other European shows, the band will deliver your copy to you in person!
Below, is my interview with Herr Doktor Milton where we discuss what exactly is "The Present Moment"…
---
When did The Present Moment begin?
The idea began to start working on a solo project around Feb 2009 but it wasn't truly official until the beginning of 2010
Is it just me, or with album titles such as "Loyal To A Fault", "The High Road", and "Cruel", the band name seems a bit ironic in the face of painful memories and betrayals?
Yes that's true, It was if I was looking into a crystal ball and knew what was coming for me in regards to how things were coming to a end on many levels, so I wrote about it, sadly all the premonitions I had did came to be true, I think we all posses that gift, if we choose to listen, and as much as we try to steer the course of a situation or relationship for the better, sometimes the dye is cast!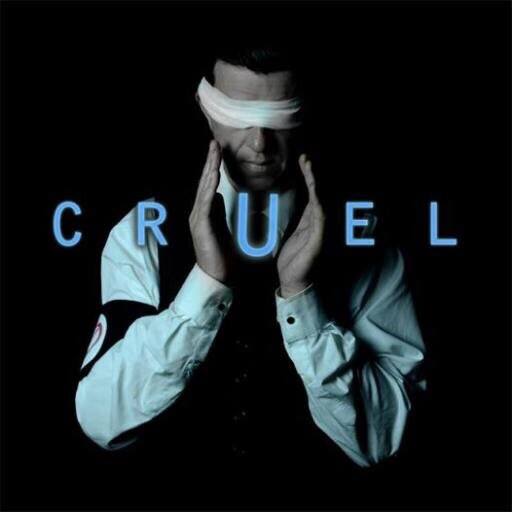 Is the music purposefully composed to score moments in time imagined or real? I can't shake the cinematic impression I get from listening, especially on the latest record "Cruel"…which couldn't be more evident on the fantastic track "General Relief".
All the songs I write are autobiographical, they are deeply personal. General Relief was a song written about survival really—coming out out of a divorce and broke, general relief is a term used here in Los Angeles for those seeking government aid in times of crisis. It also had a bit of a fascist overtone, which I used as a catalyst based on a real dire situation, a character quite fitting as a "General" offering relief under " certain conditions" which I liked considering the state of our own government and the controlling aspects I was escaping from aka certain people and relations that had reached their end. I wrote that track initially in a day, and got the lyrics together and worked with Ross Totino in LA and hashed it out, and really in away we tried our best to express that track as a homage to the Sisters as well!
The video for 2011's "Intrique" was fantastic and extremely well produced, especially the Philip K. Dick alternate history. Any plans to produce a video from any of the tracks off of "Cruel"?
We really wanted to do that, there was just a lot going on that got in the way, there is some footage on the indie a go go campaign video that was part of the shelfed video for General Relief, perhaps we will do something more with that In The future, but I'm already moving forward and thinking of a new album, we shall see. I'm a big fan of "fan videos" so if anyone out there is reading this, feel free to make one 😉 There is a video by a fan In Greece for The Start off of the Loyal To A Fault record, it still stands as my personal favorite!
Are you Doctor Strangelove? I kid, but it's interesting to see such Film Noir and classic German film star sensibilities in a band from Los Angeles, especially since The Present Moment appears to be embedding in the California Deathrock scene.
Ha ha, well I am a big fan of Peter Sellers and Kubrick and that's such an amazing movie that really is still sadly so relevant in these times, I'm afraid but always hopeful that we can turn this around, there's too much war and madness in the world by people and corporations who profit , such high level new cold war games are being played out again…the game continues, I feel personally in our lifetime we will witness a serious nuclear senerio, scary times indeed!
There is far more a electronic scene in LA than a deathrock scene, but everyone hangs out really together…Here people tend to drop their guards and get back to the music, it's really the only hope for survival anyone has, no need to divide!
Speaking of Germany, you seemed to to have been quickly invited here after the band's inception to the enthusiasm of many European promoters. What was the reception from the fans, and what places do you look forward to returning to on this upcoming tour?
Yes it was truly a great experience, I am Still very much looking forward to playing WGT in Leipzig, but truth be told,I feel in love with Czech Republic the last time I was there, I'm looking forward to going back there, if someone would just sweep me off my feet and save me from the clutches of Los Angeles Id be happy to move there … One can dream, right, is that not why we create music in the first place…?