In 2008, Shawn and Christine Terry united their creative forces in San Antonio, sparked by their mutual admiration for esoteric music. With a vision to merge Christine's poetic verses with Shawn's driving rhythms, they brought to life their project Guilty Strangers, which later became the creative vehicle of their music-made matrimony.
Shawn and Christine's musical journey was a symphony of diverse inspirations that intertwined to create Guilty Strangers' unique sound. Drawing upon the dissonance of No Wave, the gloom of deathrock, and the defiant cry of early punk, they crafted a powerful and passionate sonic experience. After a brief sojourn in San Francisco, the duo returned to their home state of Texas, where they unleashed their ferocious energy to impassioned audiences across the Lone Star State.
As the band's journey unfolded, they delved into themes of emotional catharsis, dark beauty, tragedy, heartbreak, and the soul's yearning for connection. Their personal struggles with addiction and depression were woven into the fabric of their music, fueling their creativity with a raw intensity that made their music a unique experience.
"We went through periods where the music came out like a violent torrent, and others where it was beautiful and tragic," Christine Terry reflects. "We always had many different sounds and textures. I feel his energy now just as strong. His death changed me irrevocably, and the newest songs carry this. They are sad. They communicate feelings of loss, extreme grief, regret, and pain."
In a tragic turn of events, Shawn Terry passed away in 2015, leaving Christine to navigate the future of the band on her own. With a heavy heart, she eventually found herself in Los Angeles, where she met guitarist Daniel Munoz in 2020. Together, they embarked on a new journey, determined to complete the album that Shawn had been working on before his untimely passing.
The result of their collaboration is "Memento Mori," a heart-wrenching tribute to Shawn – and a beautiful reflection of the band's evolution. Munoz's guitar skills brought a new dimension to Christine's musicianship, allowing her to complete the project that was so dear to her heart. As Guilty Strangers continues to create and perform, they honor Shawn Terry's memory and legacy while forging a new path in the world of "post-everything gloom rock" with a Southern Gothic flair.
The "Undertow" music video, directed by Amy Leonard, pays tribute to Shawn and the band's journey. The Dante's Inferno storyline showcases a soul's journey into the underworld to find a lost love, with Christine in a spell circle surrounded by photos and Shawn's ashes. It is a funeral ritual, an offering to love and creation, and a poignant tribute. With the new band members playing roles in the video, it represents an emergence from the embers of grief; a new form of creation and wisdom, and the eternal power of love.
Watch the video for "Undertow" below:
"Memento Mori" delves into the darkness of Guilty Strangers' past works while showcasing a softer, more introspective mood throughout. With the addition of Lisa Lex on synth, John Sikora on bass, and Matt Sherin on drums, the lineup boasts experience from notable bands such as Egrets on Ergot, Panthar, The Weirdos, and Fancy Space People.
Munoz's friendship and support also allowed Christine Terry the space and opportunity to grieve this immense loss through the artistic process. Guilty Strangers is a band that refuses to be defeated by tragedy, and instead, they channel their pain into something beautiful, a testament to the healing power of music.
"He had great respect for the importance of the project and we became best friends through it," says Christine. "He had to sit there while I cried and raged, and he barely knew me."
Munoz became instrumental in the process of sorting through Shawn Terry's archive and creating something from his files. "We saved as much of Shawn's actual playing as possible," she says. Munoz took some song ideas that Shawn had given Christine, and fleshed them out. "Undertow is a perfect example of this," she says. "It was three little pieces of music that Daniel turned into a whole song, and I think Shawn would have loved it.
Daniel produced and mixed, and recorded all of Christine's vocals except "Final Silence" and "Blue Hearts," the last song the Terrys ever recorded together. "The lyrics almost are foreshadowing in a weird way," she muses.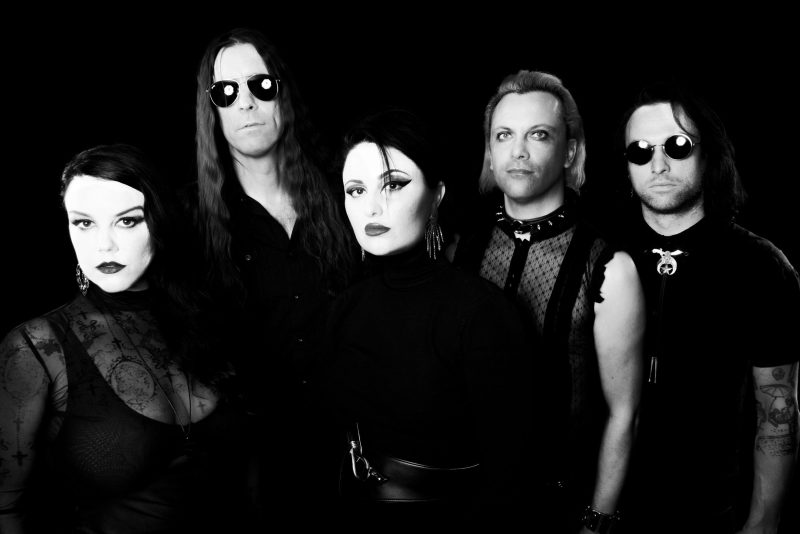 Guilty Strangers will soon have some live gigs and new merch, including an incredibly special red gatefold vinyl pressing. "A very limited amount will be pressed with his ashes," she says. "The center will have a dedication in Latin, And it will unfold with a photo of him, and it is going to be such a glorious tribute."
Christine Terry hopes that this album can connect with people who don't have an outlet for their longing, loss and pain. "I hope it can help them process the feelings like it did me," she says. "I hope they can see and hear the beauty in the music…immortalized love that was pure."
Follow Guilty Strangers: