"Will you still be there to hold me
When I am trying

 


When I am losing
And when I lose?"
Asheville, North Carolina Gothic post-punk outfit Secret Shame has returned with the intense new track "Luxury Bitch", the lead single from their forthcoming second full-length studio album, Autonomy, due out on October 28th. A blisteringly personal confessional, Secret Shame's vocalist Lena Machina penned the lyrics during the height of the pandemic about one of her deepest fears: losing loved ones because of the fallout of mental illness.
"I was at one of the lowest points in my life," she says. "I've always felt that if I opened up to anybody about my trauma or mental illness that it would be too much for them to handle and they would leave me. I've always felt like I was making my problems up or being lazy for not getting better. So I've spent the majority of my life pretending to be happy and shutting myself off. That is, until things inevitably reach a breaking point and I have a meltdown…a cycle of acting like nothing's wrong and then emotionally dumping. Most things reach a breaking point when you build the pressure for years. To some extent, I did get better. But mental illness is chronic, and I haven't consistently stayed better since then. Something I've learned to accept about myself is that there will always be ups and downs. There will always be triggers and days that I can't get out of bed and days that I can't get in bed, and nothing is going to just dissipate forever."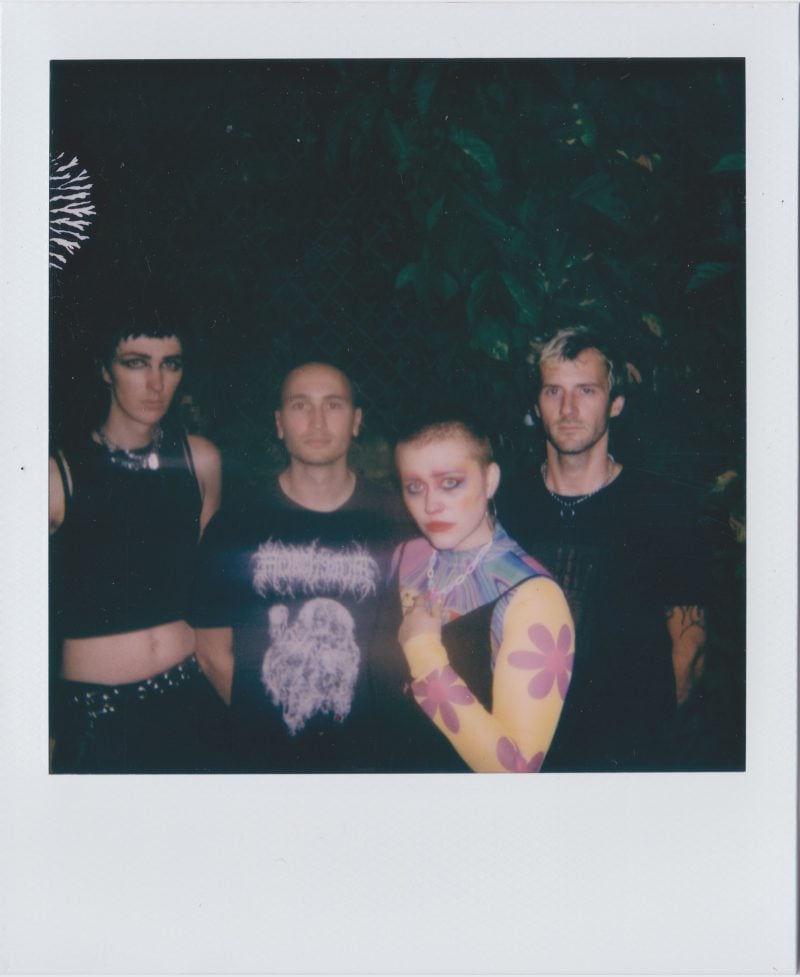 Secret Shame pull from a wide range of influences, including post-punk, deathrock, shoegaze, and dream-pop. There is a sonic tension between rage and melancholy, the beautiful and the bleak, that finds resolution in how the music reflects the mood of the lyrics. So too does the dynamic range of Lena's distinct voice, and the emotion is palpable in "Luxury Bitch".
Lena Machina admits she has grappled with publicly speaking about sensitive issues, but hopes her honesty about the content of Secret Shame's music can help others find paths toward dealing and healing. If someone responds positively to these struggles, she says, speaking the brutal truth is worth the risk. Ultimately, she did face her fears laid bare in "Luxury Bitch" and learned an important life lesson in the process. "In any type of relationship, when things get hard, it's easier to walk away….ultimately, even if people have to walk away, it doesn't necessarily mean they don't love you or they're out of your life forever. But the thing that I really learned through this entire experience of insecurity, lack of self worth, and mental illness, is that I am worthy of love. And the person that I need to focus the most on loving me is myself."
Listen to "Luxury Bitch" below:
Secret Shame formed in the summer of 2016, releasing their self-titled EP the next year. Their 2019 debut full-length Dark Synthetics received widespread critical acclaim. They have opened for Xiu Xiu, Wednesday, Soft Kill, Choir Boy, and Vision Video.
Secret Shame recorded Autonomy at Asheville's Drop of Sun (Wednesday, MJ Lenderman, Animal Collective) with engineer/producer Alex Farrar. The band is embarking on a month-long full US tour to support Autonomy, sharing east coast dates with the goth-pop band Vision Video.
Autonomy is out on October 28, 2022.
Follow Secret Shame: