The Arkansas River Valley is admittedly an unusual haven for the gothically inclined, but Ozark Mountains-based art-rock duo, Dover Lights, continues to find inspiration in the mystical beauty of their homeland.  Lyricist/composer Daniel Brinker, and producer/arranger Andy Moore discuss their creative collaboration in an interview with Post-Punk.com, as well as their self-titled debut album, Dover Lights, life as fish out of water in Arkansas, and their inspirations.
Did the relative inaccessibility to more mainstream punk shows cause you to innovate using other genres? Who inspired you?
We live in the Arkansas River Valley, which divides the Ozark Mountains from the Ouachitas — far enough away from the Little Rock metro area to be out of its direct orbit of influence, but close enough to drive in for music at any time. I've seen a lot of bands come through Little Rock, from Black Rebel Motorcycle Club and Nine Inch Nails to Vincent Gallo (performing his music from his days on Warp Records). The drive to Little Rock is a little over an hour. My home town had its own music scene due to the distance. Punk rock was the drug of choice in these parts during the early 2000s, and almost every one of my friends was in at least one band. We used to throw house shows every week, and we had a de facto venue called "Fort Delicious" — a large apartment in the middle of the industrial zone of our town; it was just a space rented out of the back of an old man's upholstery shop. My brother lived there for a while, and it seemed like one of my friends was always living there, so it remained the local underground venue for several years. Being away from the residential zone, no one ever gave any noise complaints.
There are a lot of people and musicians who have inspired me over the years, but the mountains are the most inspiring thing. My dad owns an auto salvage (a car junkyard), and it's up on a hill aimed at Mount Nebo — a lone mountain plateau in the distance. I used to roam the junkyard all the time as a kid, always looking out to that mountain. In the summer, it was basically like roaming through a desert filled with old cars — something like a scene from Mad Max. Also, my brother Christian and I used to find warped cassette tapes in the junk cars; we found several Cocteau Twins cassettes out there — among a lot of other interesting things. I still think those warped tapes sound better than the digital versions. Driving through the mountains also plays a huge role — and night-driving the backroads. Those types of things are my main inspiration.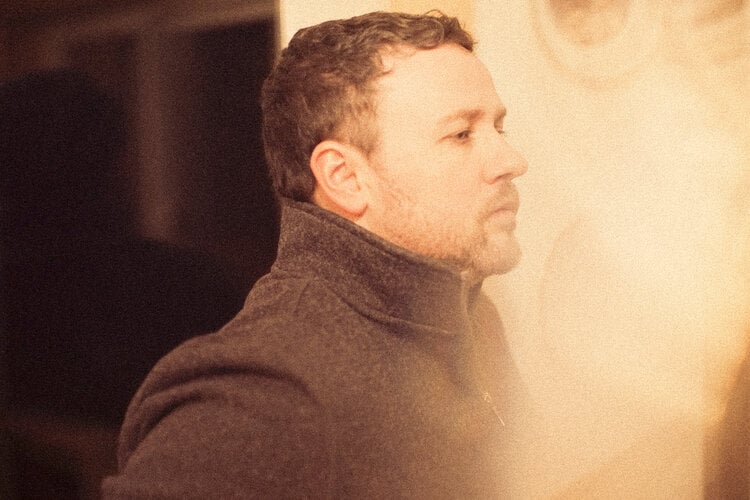 Can you tell us about your love for old-school goth, 4AD, and This Mortal Coil?
Driving around, with my brother when we were teenagers in the early 2000s, we used to visit all of the local pawn shops; it was the era of CDs. When I was 18, my brother found the 4 disc set of This Mortal Coil on one of our CD outings. I did not realize it came from the eighties when I first put it on for a listen. At that time, my musical knowledge of the eighties revolved around the big hits. My Dad was a music lover, and he had a room full of CDs — music from the 50s through the 90s. My exposure to the 80s was in the form of bands like Tears for Fears, Robert Palmer, and Blondie — all great in their own right — but Goth and British cult music from that era was something entirely new to me. When I heard the first disc, It'll End in Tears, I thought it was a strange chamber music group who were a sort of esoteric offshoot from Industrial music — my only reference point of similarity being NIN. When I looked at the dates on the discs, I was astonished that This Mortal Coil came from the eighties. The Goth world of the UK was so distant in time and space from rural Arkansas that, in my mind, it was like a mythical realm. From This Mortal Coil, my brother and I got into Dead Can Dance, Cocteau Twins, and several later bands on 4AD like Red House Painters, The Pixies, Blonde Redhead, and Piano Magic.
What are your thoughts on This Mortal Coil in particular, and the way the act popularizes a lot of Folk rock from the 60s and 70s through its
covers?
Of the four-disc box set of This Mortal Coil, the key ingredient was the disc labeled Original Versions. That's the mind-blowing part — that a producer (Ivo Watts-Russell) who made gothic/ethereal/industrial music had covered so many folk songs from the 60s and 70s. Coming from a wide musical background (thanks to my Dad's music collection), at the time I didn't think anything of it; it didn't seem weird to me that Folk had been terraformed into such a dark, elemental, and at times, electronic, style. Music was music — on a continuum. Looking at it now, I don't know if something like that would happen in our current age; it seems too surreal. As an aside, I should mention that, to me, Nick Drake's Pink Moon is lumped together in my mind with Gene Clark, Roy Harper, Chris Bell, and Alex Chilton — the Folk and Rock artists covered by This Mortal Coil. I was getting into Nick Drake's music at the same time that I was listening to the artists on the Original Versions disc. So, there's a what-if element to the Dover Lights album. I write in an elemental style, lyrically and sonically — and I think it bears some resemblance to Nick Drake's music. To me, our music has a sound that might be described as "what if unreleased songs by Nick Drake were to be covered on the 4th installment of This Mortal Coil." Sounds funny, but I think it's a good description that captures a side of our sound — one major side of it, anyway.
There seems to be a Bowie-esque crooning vibe to the vocals. Peter Murphy meets Brian Eno's work with John Cale, or even Scott Walker. Can you tell us what the emotion conveyed through vocal performance means to you?
You hit several big influences. John Cale's Paris 1919 is a strong one for me, and of course Bowie. The human voice is a powerful thing. It can have the power of an orchestra — the strength of strings (to reference Gene Clark). Seeing an orchestra live almost always brings tears to my eyes (when I can sit close enough to hear the actual stringed instruments and not just the PA speakers). The rolling chamber strings in the song My Father from This Mortal Coil always hit me viscerally, causing me to weep. I listen to those records sparingly for that reason. How can you deliver something as intricate as an orchestra of people playing their instruments in unison? The human voice can do something similar yet more personal; it is immediate identification — you know who it is you're listening to, and you're connecting with that one person. What you lack in number with one voice, you make up for in intensity and experience. A friend recently told me that my vocals on the song Terrors of the Night reminded him of Roy Orbison. When I sing, I don't sound so much like Roy, but I do think we allow a similar vulnerability. Orbison is a hero of mine for that reason; he lived in an era of stoic masculinity, but he was able to convey vulnerability with an elegance that others dared not reveal; he was an elegant man. There is another influence over my singing, a man whose voice is angelic, masculine, endearing, and also vulnerable — the voice of Dominic Appleton from the band Breathless. I first heard him on the original song Tarantula from This Mortal Coil. He is a bit of a mystery. I haven't been able to find much about him on the internet (although I haven't been digging in a long time), and I haven't poked around the music community because he seems like the kind of chap who values his privacy. Mr. Appleton, if you read Post-punk, I want to say thank you. I am brought to tears every time I hear the Breathless song Over and Over. I wish you many blessings wherever you are.
You have mentioned William Blake as an inspiration in your lyrical poetry. What do you think connects him to your own mindset?
William Blake stands out to me because of the way he saw the world, as an illuminated manuscript of sorts. He was a visual artist as well as a poet. I'm highly visual in the way I make music, so I feel a kinship with him. He sees what is more real than real, a true romantic poet/artist. He was regarded as crazy by many people throughout his life, and he saw a lot of things that other people were convinced were not there. He firmly believed it and lived it, and showed the world what was going on within him and around him. I respect that, and I relate to it. Another poet who saw a great many things but wrote about the world in starker terms, W.B Yeats, is a direct influence on my lyrical style. And there is certainly an element of time travel on this first record, in a spiritual sense, along the lines of something Jorge Luis Borges would write.
The name Dover Lights reference a sort of X-Files phenomenon near where you grew up. Tell us more about them.
The Dover Lights overlook is the kind of place you drive out to alone. Put on some Boards of Canada, or some other eery tunes, and drive out there when the sun starts to go down. You wind up at an overlook above the Piney river — a desolate view. If you wait long enough, lights may appear in the valley below, orbs that float around, sometimes flying at high speeds. People have given some scientific conjecture as to what these things could be, but to my knowledge no one has ever empirically studied them. I prefer the folklore explanation that they're the ghosts of the Spanish conquistadors, still wandering the valleys looking for treasure.

Does folklore from your area of the country play a part in your songwriting?
Not really (other than our band name), but locations do. On this album, there are references to Greers Ferry Lake and the Ozark mountains, but there is also a lot of allusion to other locations around the globe. The record is heavy on the idea of travel, and how your own idea about yourself changes depending on where you are and the people with whom you're keeping company. There are several European places cited on this album in Germany, France, and especially Ireland — which is cited multiple times. Jerusalem is cited in the song Stone (about a vision of standing with Christ in the very moment that he foresaw the fall of Jerusalem and wept over it). Before its release, I sent our record to Marty Willson-Piper, from The Church, to get some input. He described our sound as "A hybrid machine with organic parts. Like a vision of the future from a distant past." He didn't know the backstory of any of the songs, so I'm happy that the ancient yet futuristic elements came through. I'm pleased about the way the album turned out and that it conveyed what I intended as several people have made similar remarks independently.
Your sound bounces back and forth between a more synth-laden vibe to acoustic. What determines how you approach the track and have you experimented with those sounds by switching it up?
There are no limits, musically. Each song calls for something unique, and I think about each song in terms of the entire album. The songs turned out to be introspective in nature, but they played out like an expedition through multiple worlds viewing one's own identity through the eyes of others. I think that idea set the stage for experimenting with so many sounds. For the album, as a whole, I knew the time-length I wanted — between 38 and 42 minutes. My favorite records tend to hit somewhere between those marks, so I imagined those to be the magic numbers; Dover Lights finishes at 42 minutes. I kept all of that in mind while writing the songs, and I thought that sometimes you need a change — a slight diversion on the journey. For example, we go hard with the first three songs: Prisoners, Terrors of the Night, and Memory Dissolves. Those songs are loud and electric, so the fourth song is an instrumental track Carrauntoohil I that lets the listener come up for air.
Yes, we did experiment with style and which role a song should assume. Most every song came to me clearly, but the song Carrauntoohil II changed abruptly toward the end of our sessions. It was originally a Post-punk banger, somewhere in the realm of U2's Steve Lillywhite production era (Boy, October, War). But after listening to the demo, I decided it wasn't the sound that the song needed, so I stripped it back and rewrote it in a few hours, we recorded it the next day, and Andy added in his intricacies.
Which of your own songs hits you the hardest?
Carrauntoohil II hits hardest. It's a dedication to my neighbor, Stephen Kyle Wilshusen, who committed suicide on New Year's Eve, 2015. The song has three movements, almost like three songs. Andy had a powerful role in the sound of that one. I played the fingerpicking on a 1965 Guild M20 acoustic guitar, and Andy used a slide on his Telecaster through a Marshall amp, constantly rubbing the strings — make them sing, getting those ghostly tones, making a sound between that of a slide guitar and a theremin. It is also the only song on the album that features Andy's voice. You can hear him singing background vocals on the chorus. I added distortion at the end of his vocal chain, and it gave each reverberation a cavernous effect. I love everything about that song, and was glad that the production and arrangement was such a collaborative effort with Andy. The songs Stone and Howling Man may come next in line as they are very personal. Howling Man is about an encounter I had with the devil (posing as my grandfather in a dream). Prisoners is also hard hitting. That might be my favorite one production-wise, and I would say it's our Tears for Fears song, almost a reimagining of Shout.
What would you like to continue exploring with your band?
Everything. This first album has a dark undercurrent, but the next one may not. I think that our music will retain the feeling of exploration — searching out the vast expanse of the unknown in the natural world, human nature, and emotion. I'm not sure we will be releasing any top 40 hits under the Dover Lights name, but you never know. The Cure is a band who I like to use as the ultimate example of what's possible. Hellish goth on one album, light-hearted pop on the next. Or, they may have those extremes on the same album. I'd like to think we'll get there at some point.
Your last album helped raise funds for sex trafficking victims. What would you like to do in the future to continue making efforts to help the community?
The album is still helping to raise funds. We have albums available for sale on our website [www.doverlights.com]. Every profit from the sale of the records goes to charity to fight human trafficking. You can get a copy on vinyl, CD, or digital. We are currently a studio project, although we're trying to get a live act together for some shows later this year. In the future, we'll likely organize some benefit shows and donate the profits from the ticket sales. We may even do some live stream concerts in the future. Keep an eye out on our Instagram and Facebook pages where we make all of our announcements. Thanks for having us, Alex. We hope to be back for more interviews in the future.
Order the album on vinyl, CD, or digital via www.doverlights.com and on the band's Bandcamp page.