German post-punk legends Pink Turns Blue present a poignant new video for their track There Must Be So Much More.
The introspective clip depicts people around the globe – gazing wistfully into the distance, faces scarred with sadness, but ever hopeful for something better. There are closeups of tears, thoughtful smoke breaks, clasped hands, passengers waiting on empty train platforms, all wishing for something better in their own individual capacities. The concept is simple, but heartfelt and true to the message of the song. It is a universal trauma for the collective, and this song hits home on so many levels.
The band describes the song as "a warning of complacency. An urgent call to refine oneself and to make the world a better place. There must be so much more." There Must Be So Much More is a melancholic lament to the state of being, remaining ever-optimistic, with a plea for humanity to restore faith in itself. The timeless message is driven home with the perfect balance of melody and imagery of eager eyes staring out a rain obscured window…waiting for the storm to pass.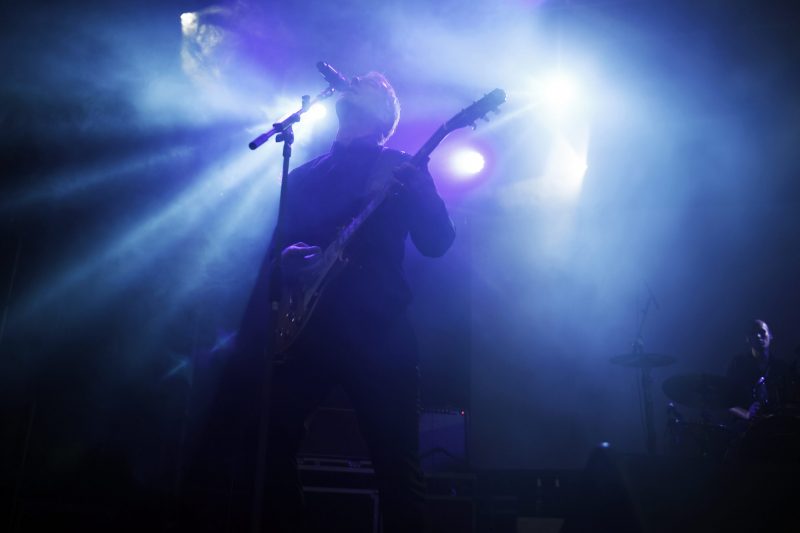 Pink Turns Blue formed in 1985, becoming part of the first generation of gothic rock in Germany. Originally a duo consisting of Thomas Elbern (vox, guitars), Mic Jogwer (vox, bass, and keyboards). and a drum machine, the band named themselves after a Hüsker Dü song and initially oriented themselves after The Chameleons, Clan of Xymox, and The Cure, taking the sound into a new direction entirely.
Their first LP, If Two Worlds Kiss, gave the new wave sound dark undertones, developing the sub-genre of darkwave, becoming a seminal album in the post-punk genre. Contemplating the fear and uncertainty during the Cold War under a divided Germany, the band longed for a more romantic side. The band went on to produce eleven full-length releases in total, most recently with 2016's The AERDT – Untold Stories (Orden Records).
Their songs remain a fixture in clubs, and they are still going strong, headlining genre festivals worldwide, topping genre charts, and appearing on radio. Since their world tour between 2018-2020, the three-piece has grown a global fan base with strongholds in the US, Mexico, Germany, UK, and Brazil. Last year, their single Something Deep Inside was used in Matthew Berkowitz's thriller The Madness Inside Me.
Watch There Must Be So Much More below:
For more information on new music and live shows, visit PinkTurnsBlue.com