Music pioneer Gary Numan first put his stamp on electronic music history in the late 1970s.  His achievements over his four-decade career (and counting) are remarkable for an artist who never made any concessions to mainstream success. Always remaining true to himself, often perplexing others in the industry, Numan racked up seven top ten singles, seven top ten albums, and numerous accolades for his innovation, notably the Inspiration Award at the prestigious Ivor Novello Awards.
In a career that spans over forty years, the music evolves and the themes change, but fans remain fascinated by Numan for the very fact that he's so uncompromising. Born Gary Webb in West London in 1958, Numan shot to fame at the tender age of 21 fronting Tubeway Army, when 1979's Are 'Friends' Electric? became the first synthesiser-based number one hit of the electronic era. Embarking soon afterward on a solo career, he gained further acclaim with the classic Cars, created a ghostly interpretation of Erik Satie, and took his music to the stratosphere. Numan's bizarre, dissociated performances, eccentric personality, lyrical material mined from a whole library of sci-fi novels and self-help books, and charmingly unique voice have cemented him as a legend in the world of electronic music.
Despite early stardom, by the mid-1980s tastes had changed dramatically and Numan fell into a creative slump, facing challenges with the industry and the tumultuous toll it took on his mental health. Things changed for Numan when he met the woman who would become his wife, Gemma O'Neill, who helped revitalize his spark and move into new waters.  He hasn't looked back since.
Numan's curiosity and zeal for discovery continue to serve him well. "I still get excited about what's around the corner," he told Side-Line in 2015. " We work in a very exciting genre of music, it is technology-driven and so, by default almost, is itself constantly evolving and progressing in a way that no other type of music can possibly hope to match." He recently released his twenty-first album, Intruder, in May 2021.
Gary Numan's fans have long requested a singles collection, and now Beggars Arkive delivers the goods, straight from the future past.
Remember, remember the fifth of November: 'twill be the day the Arkive releases a stunning bespoke retrospective box set, containing 15 singles from 1978-1983. Each will appear on translucent coloured vinyl, the singles are boxed in a white vinyl wrapped DJ case, complete with laser foiled details, chrome corner caps, latch and handle. An extensive 64-page tri-color booklet completes the set and contains front and back sleeve images, notes, recording, and original release information for each single plus and archival images.
The box set is limited to 2000 numbered copies worldwide, and is available from the Beggars Arkive web store and Gary Numan's webstore.
PREORDER HERE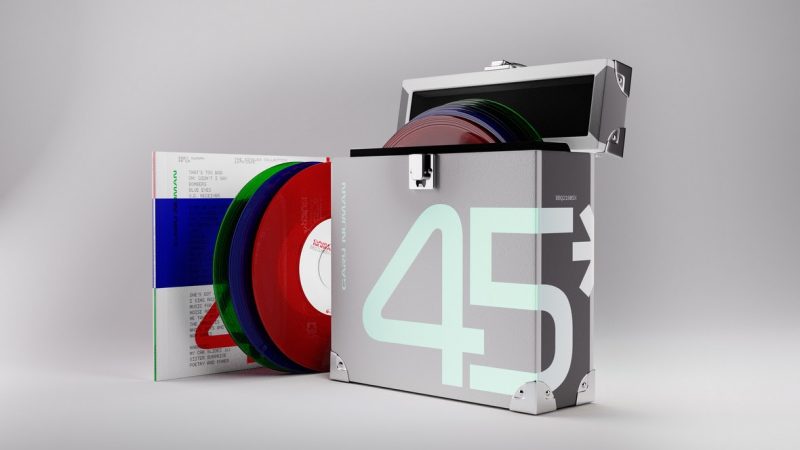 ON RED VINYL: 1978:
That's Too Bad/Oh! Didn't I Say (Tubeway Army)
Bombers/Blue Eyes/O.D. Receiver (Tubeway Army)
ON BLUE VINYL: 1978-1980
Down In The Park/Do You Need The Service (Tubeway Army)
Are 'Friends' Electric/We Are So Fragile (Tubeway Army)
Cars/Asylum
Complex/Bombers
We Are Glass/Trois Gymnopedies (First Movement)
I Die: You Die/Down In The Park
This Wreckage/Photograph
ON GREEN VINYL: 1981-1983
She's Got Claws/I Sing Rain
Music For Chameleons/Noise Noise
We Take Mystery (To Bed)/The Image Is
White Boys And Heroes/War Games
Warriors/My Car Slides (1)
Sister Surprise/Poetry And Power