Rich Good, the current guitarist for The Psychedelic Furs, has been busy leading up to and following the release of the first Furs album in nearly three decades, Made of Rain. To celebrate the release, and the band's return to touring, Good announced a collaboration with Dowd Records and California pedal designer Ben Milner for a limited edition signature Furs Face guitar fuzz pedal.
A Best of Roxy Music cassette purchased 'somewhere in Wales on a childhood holiday' started Good on his musical path. Upon moving to Northern California in 1998, he founded The Pleased with Grammy-winning producer Noah Georgeson (Devendra Banhart, Cate LeBon, Joanna Newsom). The band released several records and toured extensively; culminating in a tour with the Psychedelic Furs in 2004. After parting ways with long-standing guitarist John Ashton in 2007, Good joined the Furs. After a pandemic hiatus, the Furs will be continuing their world tour in support of the album in 2022.
Good spoke with Post-Punk.com about growing up, his start in music, his inspirations, and joining The Psychedelic Furs.
Your love of music started with buying a Roxy Music cassette? What are your favorite Roxy Music songs?
I think my love of music started with a 7″ single of "These Boots Were Made For Walking" we could play on my mum's old record player from the 50s… But yes, I was probably 12 and feeling like being a grown up – I liked the look of the Roxy Music: Streetlife Greatest Hits album cover in the window of a record store. My dad turned it up loud to hear the quiet beginning of Virginia Plain and then we all got blasted… Favourite Roxy songs: "Beauty Queen," "Ladytron," "In Every Dream Home a Heartache," "For Your Pleasure," "Manifesto…" too many to choose!
What other music did you listen to growing up?
Growing up in our house there was a lot of classical music and then Elvis, The Beatles, Jean-Michel Jarre and the Shadows. More Stravinsky than Zeppelin…! So I learned all that big guitar music; Sabbath, Hendrix, Neil Young, The Faces etc later. I was really into Van Halen at one point and then I saw BB King play in Croydon and I realized that great guitar playing was not necessarily to do with speed… Later I saw Stereolab open for Pulp and that really set me on a tangent…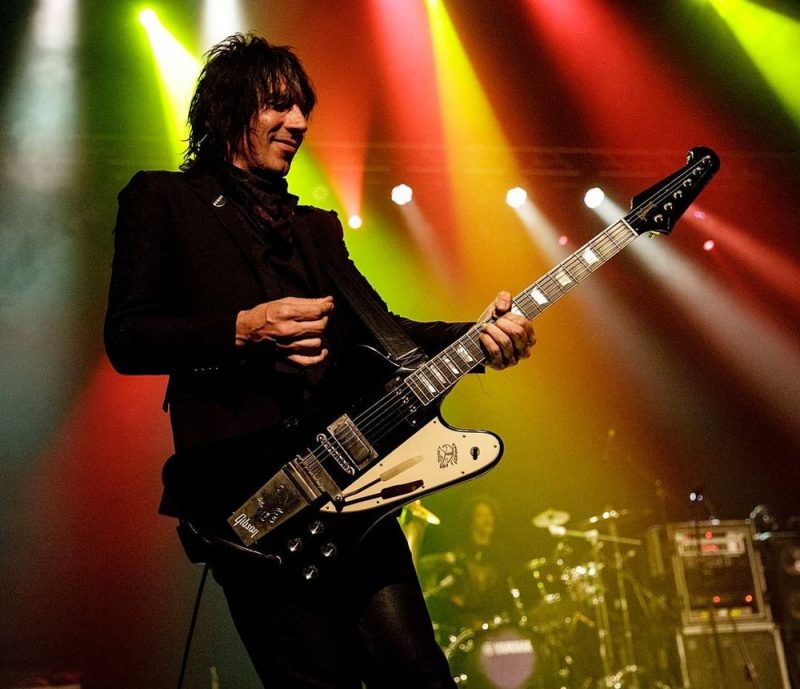 Did you have any guitar heroes you wanted to emulate?
I don't think I really had a hero I tried to play like – that seemed to be what set my heroes apart – they didn't sound like anyone else. I always loved Peter Green's playing – Then Play On has quite a few of those lightning-in-a-bottle moments… I think I've been chasing good notes or sounds more than wanting to be one player in particular… – moments like this long controlled feedback Carlos does on Incident at Neshabur (Santana), or Mick Ronson at the end of "Moonage Daydream," Ron Asheton's all too short break on "I Wanna Be Your Dog…" Those are the highs we chase as musicians… The Flaming Lips had this great guitar player named Ronald Jones and I loved the musical chaos he created within the songs… I saw them at an NME Brat Awards thing in 96 and it was pivotal. I think that set me on a journey so perhaps he was my guitar hero? Listen to "Slow Nerve Action" or "Psychiatric Explorations of the Fetus With Needles." These days I listen to a lot of not necessarily guitar music… like Beak>
Can you tell us what inspired you to form The Pleased?
I moved to Nevada City, California in the late nineties and was met with an inspiring musical scene… more than you'd expect from a tiny gold rush town. Interesting stuff – even experimental stuff… My friend Noah was in a cool band named True Lipstick and I made terrible demos on a 4 track and called it The Indiana Experiment… We had talked about doing a project together for a couple of years and then we finally got around to it. He lived in San Francisco which made practice a long commute but we used time efficiently and wrote some sharp songs… tightly wound stuff. The lineup pretty quickly filled out with Luckey Remington, Genaro Vergoglini and Joanna Newsom. We practiced in a room with a sagging floor in my house – I put up green Christmas lights to bring the atmosphere. The songwriting came out of these angular jams in that room – it was interesting because we were all very different players.
What was your experience like touring with your former band with the Furs in 2004?
So much fun. The Furs were great to us – Frank let us use his drums. I can't believe we even asked to do that. By the end of the tour(s) we were good friends and somehow I ended up playing Virginia Plain with them on the last show. I think that was my audition.
How were you asked to join The Furs, and what can you recall was your reaction to being asked to join the band?
Their manager called and left me a couple of non-specific messages and I thought they wanted a designer to make posters or a website. When he finally got me on the phone he asked how I was doing and how I'd feel about playing guitar for the Furs. I remember thinking it must be some mistake. I said yes, I can do that.
What are your favorite classics Psychedelic Furs songs to play?
"Soap Commercial", "Sister Europe", "Dumb Waiters", "Only You and I", "Alices House"… Honestly, there's not really any I don't like playing. I love playing "Love My Way" – it's such a great song.
What are your favorite songs to play on Made of Rain?
"Don't Believe", "No-One", "Ash Wednesday"… "This'll Never Be like Love". Again, 'all of them' would be an accurate answer.
Can you tell us about how you approached working on the music for the Furs first new album in 30 years?
'Don't fuck it up' was my approach 🙂 We had some ideas floating around for years while we were touring… songs came and went but the last few years from 2017 we focused more. I think Paul and I pushed each other to write things and Tim and Richard already had some tunes up their sleeves. because we all live in different places it was sort of disjointed. I'd send RB ideas and he'd add vocal melodies and ideas. But once we got in the studio it became something else – something more communal. And the songs became Furs songs. I think the biggest aesthetic choice was to make sure it was great – Tim and Richard were not interested in recreating anything from the past. I'm glad we didn't remake an old record. It's not pretend Furs…
How did your partnership with Dowd records come about?
Jay joined The Pleased for the last couple of years and we've always stayed in touch. I'm impressed by his vision with the label – I'd love to release a record with them.
What are your favorite guitar pedal effects?
I love this Dual Delay I just got from Mike at Analogman, the Thermae by ChaseBliss is just incredible and today I'm really digging my '1981' distortion.
What was important for you with the development of the Furs Face pedal?
Well it was important to respect Ben's original design because its a great pedal as he designed it. We used many different fuzz/noise pedals on Made of Rain so we tweaked the pedal to help me get some of those sounds out of one pedal. I'm a visual designer so it had to look good too – I borrowed heavily from Kevin's album cover design 😉
Can you describe some of the features on the pedal for those who are not gearheads?
Well, there's a thing that happens to pedals when the batteries die – they sputter and fade. Ben has a way of simulating that with a gate and it's fun to try and work with. I love classic effects but sometimes it's cool to use things that are so extreme in their manipulation that the guitar disappears.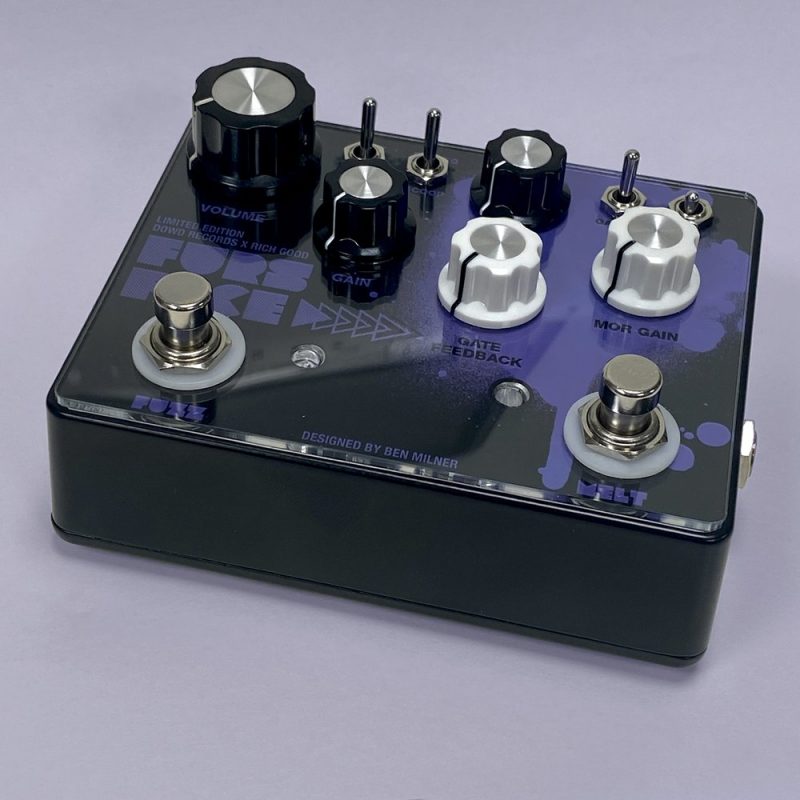 Here is a description of the pedal from Dowd Records x Rich Good:
The pedal is an original touch sensitive silicon fuzz with two footswitchable fuzz channels, plus an Octavia effect and a controllable circuit bending gated feedback loop. To make this limited edition handmade pedal even more special, the pedal graphics are designed by Rich Good.
With the release of Made Of Rain – the first Furs album in almost 30 years – came the need to cover many new guitar tones during live performances and Rich has worked with Dowd Records and northern California pedal designer Ben Milner to create a pedal that will help round out his live pedalboard.
To realize this vision Ben has updated his locally loved double fuzz design to have more volume, more pronounced tones, more clarity and to be more widely usable live. The pedal has been updated with a new chipset, +4.8db of output volume, the Octavia effect has been revoiced and moved to the low gain fuzz side of the pedal, the gated feedback control has been finessed for more reaction and finally, a dual color LED has been added to show on a dark stage whether the fuzz or gated feedback loop is active when using the high gain fuzz channel.  Built with quality components and classic construction where it counts- Powder coated paint, Switchcraft jacks, metal film resistors, film capacitors for the audio path, jacks and footswitches wired separately from PCB for better reliability and repairability.
Fun technical fact – the U.S.-made circuit boards themselves are purple in honor of the release of Made Of Rain.
Technical specs on the pedal are available on the Dowd Records site with a review coming from the amazing team at Pedal Of The Day. Dowd Records and Ben Milner will be releasing a series of collaboration fuzz pedals over the upcoming months. Here is the link to them, if you want to bring your guitar work to the next level.
Made of Rain is out now on all streaming services and limited edition vinyl. 
The Psychedelic Furs will be touring North America with LA punk titans X this summer in support of their latest album Made of Rain, which you can order here.
The 23-date run begins in Huber Heights, Ohio on 6 July and continues until 12 August in St Helena, California. Tickets go on sale to the public at 10:00 AM local time on Friday, April 1, but a presale starts at 10:00 AM on Wednesday, March 30. Check out the band's website for full details. Read more about the tour here.
Follow Rich Good: