Life is hard and strange these days, but art prevails in the realm of darkness. Adversity and growing pains are crucial moments, leading to growth… but who said they need to hurt so much? Enter art collective Flesh Prison, featuring a bevy of artists and musicians. What's on the slab?
First up: HAVING TO TALK DESTROYS THE SYMPHONY OF SILENCE, a special edition four-way compilation featuring Richard Ramirez, Hive Mind, VOMIR, and Astro (A/K/A Hiroshi Hasagawa and Rocoh). This is a limited special edition of 50 box sets, pro-dubbed on red/white cassette shells, cased in a black box, and set with black leather obi strips. An edition of 500 2LPs will be announced for order in the new year.
Flesh Prison also announces the release of their first art book, "Unfinished, Decomposing and Re-Assembled: The Fashion Works of Richard Ramirez. NOT to be confused with the serial killer of the same name, Richard Ramirez is a prolific musician, widely recognized as a leading pioneer of the Industrial subgenre known as harsh noise. Ramirez uses predominantly homemade noise sources, using things from the earth, like rocks and human-made, decomposed, and repurposed steel and metal. At times, the piece works in conjunction with extremely well-crafted controlled feedback – and at other times, sporadic squealing feedback.
Although known predominantly for his work in the sonic realm, he is also a brilliant fashion designer. Ramirez began designing clothing in the '80s. As a child, he learned sewing skills watching his bedridden paternal grandmother's handicrafts. In homage to her, he named his fashion line Richard Saenz. 
THE FASHION WORKS OF RICHARD RAMIREZ
Informed musically by goth-rock and the local club scene, Ramirez has worked with the likes of Merzbow, The Haters, Con-Dom, Smell & Quim. Most recently, Ramirez has collaborated with Thurston Moore, which will soon be available in a powerful LP. Unfinished, Decomposing and Re-Assembled is out and available internationally, as well as alongside the book release, there will also be a limited edition of 25 hand-dyed long sleeve shirts, each unique to their own; as well as 10 crop-top shirts.
Hive Mind is the solo project of multidisciplinary LA-based artist Greh Holger (Chondritic Sound). Hive Mind blasts low-frequency oscillation and filter sweeps, giving the listener a hypnotic, trance-like experience. Holger collages sub-bass and grumbling classic MS-20 growls, concluding with pure content, silence.
VOMIR is the project of Romain Perrot, a noise artist based in Paris, France. With over 300 releases to his name, VOMIR is a pioneer of the harsh noise aesthetic. He describes his brutal monolithic sound as:  "No change, no development, no ideas, no remorse." For this release, VOMIR offers his own repetitive, atmospheric harsh noise wall. The frequency of the resulting sound is determined by resonance frequencies and the acoustics of the room, the directional pick-up and emission patterns of the audio signal loop between the speaker, and the distance between them.
Astro is a Japanese noise unit that began in 1993 as the solo project of Hiroshi Hasegawa, who is best known for being a founding member, along with Mayuko Hino, of the legendary noise group C.C.C.C. (Cosmic Coincidence Control Center). In 2013, Astro became a duo with the addition of Rohco (Hiroko Hasegawa). Hasegawa pays homage to the concept, A Challenge to the Opposing Concepts of Silence and Noise. 
Japanese noise artist Psychiatrist, aka Yasuyuki Uesugi, is young yet extreme. In Uesugi's words, "Experimental noise sounds are made by pedal effectors. These noise sounds portray my state of mind. Therefore, I am a 'psychiatrist' who analyzes the mind." Each cassette is limited to 25, printing on O cards and bonded in leather cases with a steel FLESH PRISON logo emboss.
2 PIGS UNDER 1 UMBRELLA – TECHNIQUES OF PLEASURE
The final addition to the batch is a collection of twenty-five special edition box sets from 2 Pigs Under 1 Umbrella, setting the scene for a soundtrack for your darkest desires. The Viennese duo is known for its rough and dark electronic tunes, as well as their distinct aesthetics using and playing with BDSM clichés. Techniques Of Pleasure includes tracks from limited edition cassettes, compilations, and unreleased material recorded for this release. 2PIGS create an electronic atmosphere, informed by EBM and the likes of Chris & Cosey.
The special edition will include pink glitter cassette shells housed in a black latex casing, wrapped in pink fishnet seals, and a pink leather obi strip. The remaining 75 edition will be available in a few weeks, pro-dubbed and pad printed in boxsets with a consumer-grade obi-strip.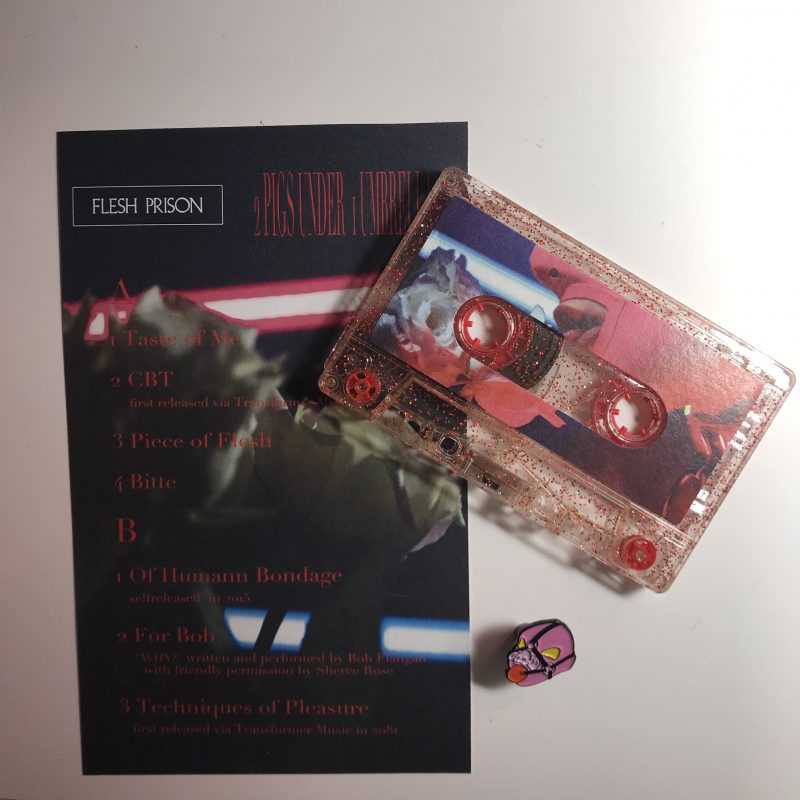 FIT TO FASHION is a plus-size line by Edley ODowd. This collection for Flesh Prison includes XL-XXXL shirts that are dipped, dyed, bleached, and bolted, each unique to its own. Each piece features a classic Flesh Prison logo by J.S. Aurelius. Bleached black tote bags will also be available in a limited edition of 20 – and a limited number of black shirts in the same bleach splattered manner. Finally, we have 10 Flesh Prison mugs, printed by our friends at What We Do Is Secret.
As we move into 2022, we move onto our vinyl catalogue that will include our FP014 compilation on vinyl Vl/A – "The Shaft, the Blade, the Tip of the Spear" ft. Richard Ramirez, Pod Blotz, Vomir, Hive Mind, Test Dept, The Body, the Rita, Brighter Death Now, SPK, Sprung Aus Den Wolken, Tone Generator & Laibach. 
We are also very excited to release the aforementioned Richard Ramirez/Thurston Moore LP, as well as re-issue of SPK's first single from 1979 –Mekano/Slogun on 7" vinyl.  We have also welcomed Ralf Wehowsky/P.16.D4, Kouhei Matsunaga and Bastard Noise.
Find all of these releases and more at the Flesh Prison Store.