"Lost in a maze of unbeknown parts, where is the exit? Too many guards."
Ukrainian/British duo tAngerinecAt announce a new single and accompanying music video, House of Shards. Based in Wales, tAngerinecAt is comprised of producers and seasoned multi-instrumentalists Eugene Purpurovsky and Paul Chilton. This is the second single from Glass, a concept album based upon Eugene's personal life: a queer, multiethnic refugee activist with intense life experiences surviving acute poverty and the Chernobyl disaster.
The song's laboured production spans post-punk and experimental genres, with hints of techno and even doom metal. The disconnectedness of the song, which begins as a primal chant, lends itself well to the nonlinear narrative of the video, as Eugene frolics through space and time. The concept comes from one of his dreams about a house in which objects from the past were mixed up with the present. The gloriously surrealist clip, directed by Ray Moody (on a script by Eugene) serves as a visualization of the human memory itself, with Eugene as the central figure clutching a hurdy-gurdy (a medieval mechanical string instrument). He pops into various dreamscapes, interacts with dream figures, and becomes the disembodied soul of the subconscious.  The video is replete with symbolism, containing traditional Ukrainian garments and photographs of Eugene's grandparents. It is a ceremonial attempt to collect, in Eugene's words, "fragments of personal and generational history into a single whole as a process of healing from trauma and a journey into the self."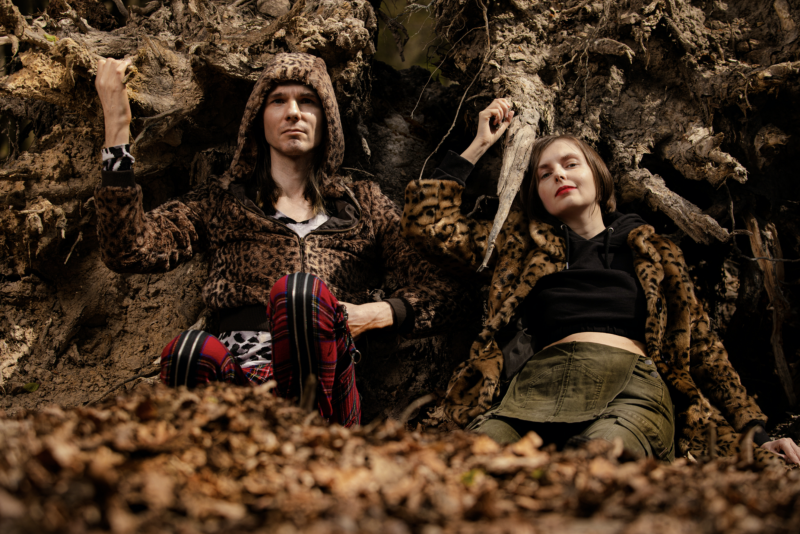 Delving into performance art, ritual and classic storytelling, the video draws out the cinematic potential that many listeners have already noticed in tAngerinecAt's music, culminating with a sequence of rapid cuts in which Eugene delivers a dizzying performance on the hurdy-gurdy. The lyrics address confusion and disconnectedness, as well as the labyrinth of the subconscious through personal healing. Eugene's genre-bending vocal delivery utilizes a wide range of techniques, spanning angry hoarseness io purer notes in the second part of the song, accompanied by an effect-laden Carpathian bagpipe drone, and heavily delayed vocal echoes that circle around the stereo field similar to a ritual choir.
​Eugene Purpurovsky and Paul Chilton began collaborating on various music and theatre projects in 2003 in Ukraine, releasing Fáinne Geal an Lae, Rise of the Underworld and Kuolema as Dark Patrick.  tAngerinecAt launched in 2014. Ardent DIYers and self-producing, both artists are multi-instrumentalists who generate passionate compositions that double as ceremonial healing rites.
A pilgrimage to the Ukraine's Carpathian Mountains to study with local musicians and singers such as Mykhailo Tafiychuk led Paul down a rabbit hole: in these hills dwells the last remaining maker of the duda (Carpathian bagpipes). This artist taught Paul the instrument, which significantly shaped their style of playing on woodwinds, mixed with influences from Soviet punk, rock, and post-punk bands such as Grazhdanskaya Oborona, Kino, Kalinov Most, Aquarium, Zvuki Mu, and Venya D'rkin. Other musical stimuli include Gesaffelstein, Son Lux, The Haxan Cloak, Pink Floyd, The Doors, Nick Cave, Merzbow, Rokia Traoré, My Dying Bride, Paradise Lost, Haldolium, Sergey Kuryokhin, Son Lux, Nirvana, Joaquín Rodrigo's Concierto de Aranjuez, Fever Ray, Sigur Ros, Brendan Perry, and Portishead, along with an array of drone and electronic music from all over and the films of Sergey Parajanov.
tAngerinecAt is breaking down barriers and the time-space continuum.
Follow tAngerinecAt: