Tongue's tied for you
Waiting all the time
Dripping down into
A pool of lies
Julia Gaeta (Dreamwheel, Albez Duz, Restless Ghosts) lands a perfect debut with her new release, "Weight Of You". Drawing from her background in heavy music and a love of pop, the native Californian straddles the veil with ethereal sensuality, driving beats, and sultry grit.
Needing a break from her other projects to develop her own sound, serendipity played a role in facilitating change.  After a feeling of stagnation crept up on her life as an expat in Berlin, Gaeta began experiencing pain of all forms. Chronic and debilitating neck pain, paralyzing anxiety, a fog of sadness that didn't seem to lift. A move to Paris offered a change of scenery, but the city promptly went into strict lockdown. Confined to her apartment, she spent late nights gazing out into the sprawling, gritty metropolis.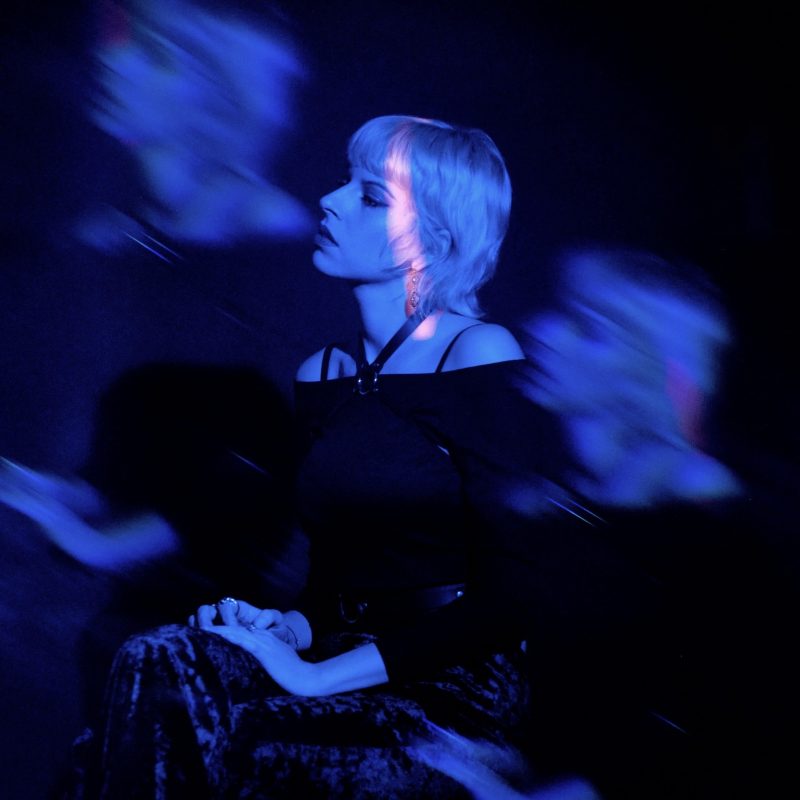 "A dreamy, dark quality was palpable on those nights – a kind of bird's eye vantage point of the city's collective struggle," she explains. Gaeta wonders if the ghosts of Wilde, Chopin and Morrison may have lent their energies from Pere Lachaise cemetery in the back yard. Or maybe it was the strange neon-and-leather decor left behind by the owner of her temporary abode – a lamp that cycled through infinite neon colors; stains on the bed sheets; leather curtains and fetish boots in the closets. 
"Weight of You engulfs the listener in a tempting world with no clear resolution," she says. "It's really about the alluring addiction to painful love, whether with a person or a thing. If that something you love is broken, all you want to try to do is fix it. But it never works." The song, bringing to mind the sounds of Massive Attack, Portishead, and Zola Jesus, was mixed, mastered, and produced by James "Perturbator" Kent 
The dreamy, Lynchian video was shot in the Pigalle neighborhood of Paris, famous for sex clubs and cocktail bars, aimed as an homage to the auteur's sensual darkness in cabaret settings.  It is also a love letter to Paris itself, which serves as a generous muse to Gaeta.
"The coupling of music and visual aesthetics are also very important to me," she says. "Moving to Paris put me in touch with a blend of urban grit, dreamy neon and film noir cityscapes. The concept of chiaroscuro has always resonated, with the shadows being just as important as the light. '90s films like Lost Highway, Heat, Casino do this so well. As do films like Charles Laughton's Night of the Hunter or Hitchcock's Rebecca, Rear Window. And of course, painters like Caravaggio."
Watch the video for "Weight of You" below:
Gaeta's upcoming EP, tentatively set for late 2022, is an exploration of pain in various forms. 
Follow Julia Gaeta: