New York City/Philadelphia avant-garde outfit Laikamorí, an enigmatic Peruvian audiovisual pair, delves into the nuances of ethereal wave, psychedelia, and avant-garde electronic tunes. With an adept touch, they weave atmospheric harmonies and synthesized vocals, crafting a realm that seems both ethereal and otherworldly. The meticulous attention to the visual facet amplifies the transcendent essence of their oeuvre. We hear shades of Sigur Rós, Mogwai, and Radiohead in their aural invocations, as well as The Soft Moon, Moral, and Solid Space, but not quite like any of these artists, altogether conjuring a distinct sound that seems to drift into our reality straight from the ether.
Amid the Festival of the Virgen del Carmen in July emerges a performance with 19th-century roots in the Cusco region of Peru. This dance, inspired by the sacred "Mamacha Carmen" paintings, is a playful homage to the Virgin. "Saqra", meaning mischief and agility, sees dancers beguile the devout with audacious moves, all while avoiding direct eye contact with the Virgin—a sign of reverence. Cloaked in animal masks like pigs and bats, the Saqra dancers remain anonymous to protectors of the "Mamacha Carmen." Legend holds that the Virgin shields these dancers during the festival; however, respect dictates that their masks be removed to enter the church's sanctum. This dance embodies the interplay between temptation and unwavering faith, hinting at the devil's whimsy but always showcasing the prevailing devotion to the Virgin.
Evoking the ephemeral drift of phantoms meandering through graveyards, railways, and forested terrains, Laikamorí's latest music video is steeped in nostalgia, reminiscent of vintage found footage, thanks to the grainy patina of aged 8 mm film. The duo, ever-passionate, has ventured deep into the realms of post-punk, ethereal wave, and avant-garde electronics, ensuring that their haunting visuals are in harmonious tandem with their sound. Saqra comes from their third album, entitled "△ △ △", independently released earlier this year.
The eerie, cobscure video for Saqra channels that supernatural energy, directed and edited by Manuel Bayo Gisbert. It, too, has a playfully mysterious origin story, making us wonder if they're in cahoots with the Blair Witch herself.
"An 8mm film discovered in a metal container in the woods depicts two spectral figures in unknown locations and time. Scientific analysis would involve studying the figures, film quality, environmental conditions, and historical context, while also collaborating with paranormal experts to understand the phenomena. This discovery represents an intriguing blend of science and the unexplained."
Welcome to a monochromatic nightmare, sure to haunt your slumber:
Now that you've been put under the witch's curse, here's the back story about the video: during a chilly winter in Philadelphia, Mexican videographer and photographer, Manuel Bayo, utilized a cache of outdated 8 mm film rolls. The mission was precise: to mold a raw, turbulent visual that harmonized with the song's gritty undertones, wholeheartedly welcoming grainy flaws and sonic interference. Laikamorí, in tandem with Bayo, opted to undertake the laborious task of film processing, fully immersing in the art's unpredictable and messy nature.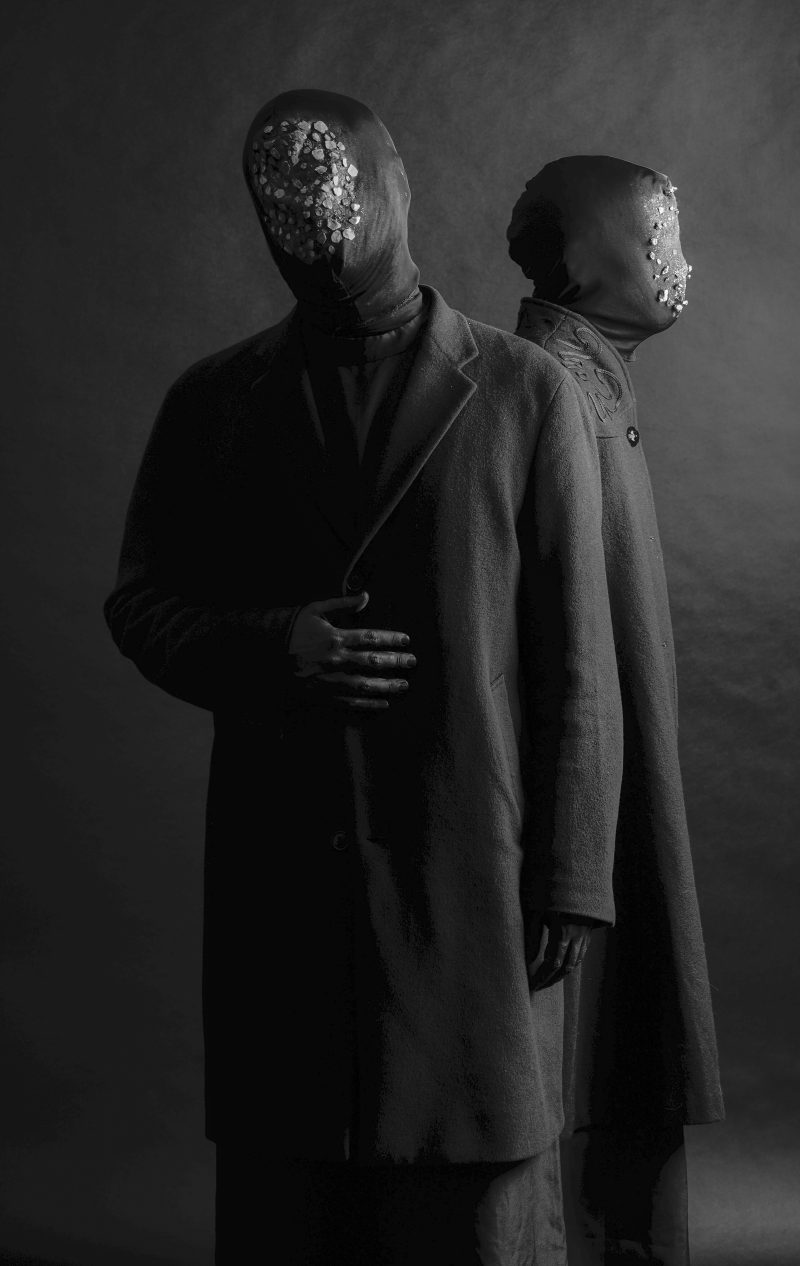 Since 2014, Laikamorí has carved a distinct niche within the underground milieu, boasting three album releases and notable appearances at shows and festivals across Europe and Latin America. Donning masks and disguises, the duo consistently delves into the act of depersonalizing their melodies, maintaining a ritualistic aura around their performances. Their resonant soundscapes have earned them spots alongside luminaries like Future Islands, Drab Majesty, Molly Nillson, Cocorosie, and Mika Vainio.
Stream the album △​△​△ below via Bandcamp, and purchase it here
Follow Laikamorí: