In the late 80s, a chance encounter sparked the formation of Electronic, an English alternative dance supergroup. The brainchild of Bernard Sumner (of New Order) and Johnny Marr (of The Smiths), they crafted a sound that bridged post-punk and electronic dance music, echoing through the '90s and beyond.
From 1989 to 1998, Sumner and Marr were the masterminds of Electronic's singular sound, blending their individual legacies into a kaleidoscope of influences. They collaborated with Neil Tennant and Chris Lowe of Pet Shop Boys, and even former Kraftwerk member Karl Bartos.
Their debut single, "Getting Away with It," released in December 1989, was a shimmering hit that danced its way to the Top 40 in America. It featured ABC's David Palmer and Anne Dudley's elegant strings, and paved the way for a tour with Depeche Mode in August 1990.
Rhino Records will reissue "Get the Message: The Best of Electronic" on September 29th. Both the 15-track, double-vinyl edition and the expanded 30-track, 2CD edition are available for pre-order now. The best-of collection includes tracks from the group's three albums, released between 1991 and 1999, featuring key collaborations with Pet Shop Boys' Neil Tennant ("Getting Away With It," "Disappointed") and Karl Bartos of Kraftwerk ("For You," "Imitation of Life").
The CD reissue includes a second disc with remixes of "Getting Away With It," "Feel Every Beat," "Gangster," and more. It also features tracks like "King of a Day," "Radiation," "Turning Point," and "Lucky Bag."
Pre-order  "Get the Message: The Best of Electronic"  here and listen to "Lucky Bag" below:
Get the Message: The Best of Electronic
Vinyl
Side A
1. "Forbidden City"
2. "Getting Away With It"
3. "Get The Message"(Single Remix)
4. "Feel Every Beat"
Side B
1. "Disappointed" (Single Mix)
2. "Vivid" (Radio Edit)
3. "Second Nature"
4. "All That I Need"
Side C
1. "Prodigal Son"
2. "For You"
3. "Imitation Of Life" (New Edit)
Side D
1. "Out Of My League"
2. "Like No Other"
3. "Twisted Tenderness"
4. "Late At Night" (Radio Edit)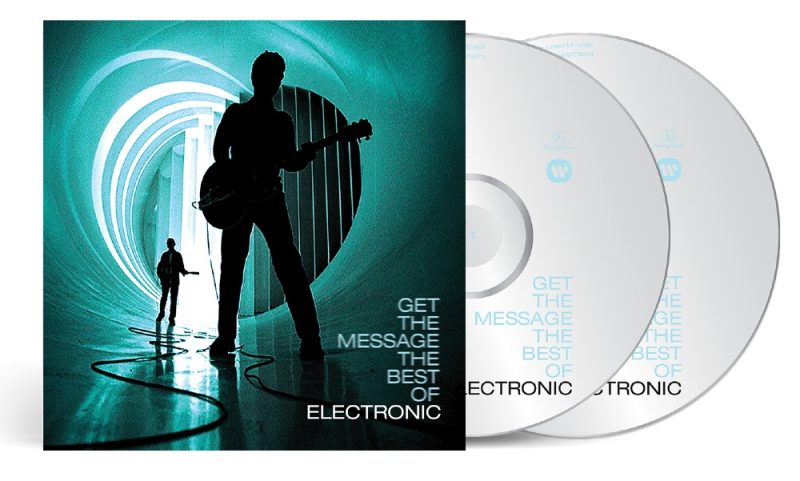 CD
DISC 1
1. "Forbidden City"
2. "Getting Away With It"
3. "Get The Message" (Single Remix)
4. "Feel Every Beat"
5. "Disappointed" (Single Mix)
6. "Vivid" (Radio Edit)
7. "Second Nature"
8. "All That I Need"
9. "Prodigal Son"
10. "For You"
11. "Imitation Of Life" (New Edit)
12. "Out Of My League"
13. "Like No Other"
14. "Twisted Tenderness"
15. "Late At Night" (Radio Edit)
DISC 2
1. "Getting Away With It" (Vocal Remix)
2. "Lucky Bag"
3. "Feel Every Beat" (DNA Remix)
4. "Lean To The Inside" (2013 Edit)
5. "Get The Message" (DNA Groove Mix)
6. "Free Will" (Edit)
7. "Disappointed" (12" 808 State Remix)
8. "Idiot Country Two" (Edit)
9. "Gangster" (FBI Mix)
10. "I Feel Alright"
11. "A New Religion"
12. "Turning Point"
13. "Until The End Of Time" (Fluffy Dice Remix)
14. "King For A Day"
15. "Radiation"