God made man!

But he used the monkey to do itApes in the planWe're all here to prove it
The darker underpinnings of our histories often give birth to profound artistic expression. The origin story of Devo has its roots in the tragedy at Kent State University on May 4, 1970. On this fateful day, the National Guard fired on protesting students, leaving four dead. It was a moment that revealed the chasms and tensions of American society. Kent State student Jerry Casale was a witness to this chaotic bloodshed, a mere stone's throw away from the gunfire. Kent State deeply affected Casale and classmate Mark Mothersbaugh, serving as a catalyst for the band's formation and philosophy, as well as personal awakening.
Casale and Mothersbaugh roped in family and friends, creating an art/music collective called Devo, which revolved around the concept of "de-evolution" — the idea that instead of evolving, society was regressing. This theory became central to the band's ethos and music. Devo had a strong mission to reflect the absurdities and tragedies of modern life, encapsulated in their unique, innovative sound and Kraftwerkian aesthetic.
Donning peculiar identical yellow jumpsuits and 'energy dome' hats, creating avatars such as "Booji Boy," and bringing a much-needed levity in a mainstream music world saturated with sentimental soft rock and macho posturing, Devo brought to light the idea that humanity's pompousness was a ruse, with their biting wit, disdain, and bizarre imagery. They fused art rock, early synthpop, and the avant-garde, even dissecting classic covers beyond recognition. Playing Mick Jagger their bizarre cover of (I Can't Get No) Satisfaction was the stuff of legend:
"He was just looking down at the floor swirling his glass of red wine," Casale recounted in an interview with The New Yorker. "He didn't even have shoes on, just socks and some velour pants. I don't know what his habits were then, but this was early afternoon and it looked like he had just gotten up….he suddenly stood up and started dancing around on this Afghan rug in front of the fireplace…the sort of rooster-man dance he used to do, and saying (in Jagger's accent)—"'I like it, I like it.'
While contemporary critics largely failed to grasp their concepts or (infamously, in some cases) embrace their sound, DEVO did have one commercially successful number in "Whip It." Nevertheless, Devo churned out dozens of clever songs with the same satirical creative fervour of contemporaries Sparks, The Residents, and Frank Zappa – and later acts such as They Might Be Giants. Like the Velvet Underground, DEVO's biggest recognized contribution to music (and music video) has been the imitators they spawned – but their consistent brilliance has never dimmed in their five decades.
They tackled everything from the follies of religion, to the motives of mankind, to ableism in the workplace, long before the words had entered the lexicon or bills had entered the halls of Congress. Many of their songs had performance art clips accompanying them, years before MTV had even been conceived, they already were fluently speaking the visual language, if not creating it outright.
Fifty years have passed since Devo was launched, and as they wind down their touring legacy with their final run, they are giving the world a parting gift in the guise of a new box set, 50 Years of De-Evolution (1973-2023), out October 20th via Rhino.
The collection features 50 songs across four vinyl LPs or 2 CDs, with songs from every era of the band, including hits, deep cuts, and rarities — such as the 7″ mix of "Disco Dancer" from 1988's Total Devo,
"This box set represents a great cross-section of early experiments and later creations," says Mark Mothersbaugh. "I was looking to create a new sound, a concept in art and music that represented a new way of thinking about life on planet earth. With Devo, I think we did just that. Farewell to the first 50, Let's get the next 50 started!"
The Deluxe Edition, which is limited to 3000 copies worldwide, comes in a slipcase with a 28-page book…but the pièce de résistance? A Devo air freshener, perfect for those days when life smells a tad too mundane. To top it off, there's a quaint foldable paper hat, an homage to Devo's unmistakable red energy domes.
In addition to the more extensive four-disc package, there's a 2-LP, 25-song version of this set.
50 YEARS OF DE-EVOLUTION (1973-2023) Track Listing
Mongoloid – Warner Version
Jocko Homo – Warner Version
(I Can't Get No) Satisfaction
Come Back Jonee– Single Edit
Secret Agent Man
The Day My Baby Gave Me A Surprize
Side Two
Smart Patrol
Girl U Want
Whip It
Freedom Of Choice
Gates Of Steel
Working In The Coal Mine
LP Two:
Side One
Beautiful World
Jerkin' Back 'n' Forth
Through Being Cool
Love Without Anger
Time Out For Fun
Peek-a-Boo!
That's Good
Side Two
Big Mess
Here To Go – Go Mix Version
Are You Experienced?
Disco Dancer – 7" Version
Post Post-Modern Man – Macro Post-Modern Mix
Fresh
LP Three:
Side One
I'm A Potato – 1974 Demo
Mongoloid – Booji Boy Version
Jocko Homo – Booji Boy Version
Be Stiff – Stiff Version
Uncontrollable Urge
Gut Feeling / (Slap Your Mammy)
Side Two
Triumph Of The Will
Soo-Bawlz
It Takes A Worried Man
Snowball – Single Remix
Mr. B's Ballroom
Going Under
One Dumb Thing
LP Four:
Side One
Speed Racer
Theme From Doctor Detroit – Dance Mix
Shout
Puppet Boy
I Wouldn't Do That To You
Bread And Butter
Side Two
Let's Talk
Baby Doll – Devo Single Mix
Some Things Never Change
What We Do – Single Edit
No Place Like Home
Watch Us Work It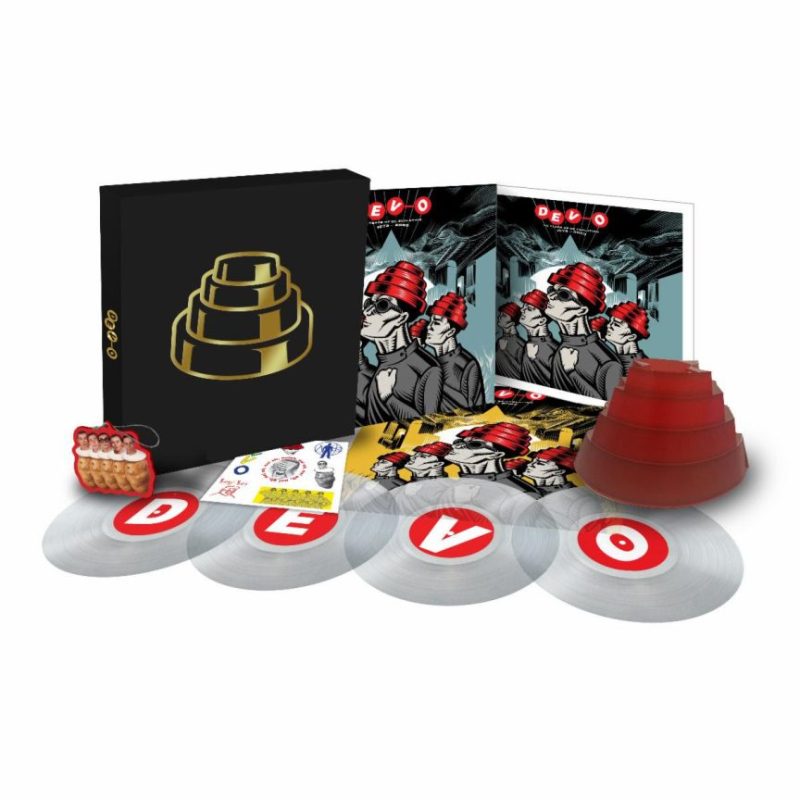 50 YEARS OF DE-EVOLUTION (1973-2023)
2-LP Track Listing
LP One:
Side One
"Mongoloid" – Warner Version
"Jocko Homo" – Warner Version
"(I Can't Get No) Satisfaction"
"Come Back Jonee" – Single Edit
"Secret Agent Man"
"The Day My Baby Gave Me A Surprize"
Side Two
"Smart Patrol"
"Girl U Want"
"Whip It"
"Freedom Of Choice"
"Gates Of Steel"
"Working In The Coal Mine"
LP Two:
Side One
"Beautiful World"
"Jerkin' Back 'n' Forth"
"Through Being Cool"
"Love Without Anger"
"Time Out For Fun"
"Peek-a-Boo!"
"That's Good"
Side Two
"Big Mess"
"Here To Go" – Go Mix Version
"Are You Experienced?"
"Disco Dancer" – 7" Version
"Post Post-Modern Man" – Macro Post-Modern Mix
"Fresh"