"We wanted something that's falling apart."
Anyone else ever have one of those bizarre public restroom nightmares…you know, THOSE kind, where you're exposed to the elements: vulnerable, panicked and grossed out, and embarrassing madness ensues? When the worst you have to offer is overflowing like Niagara Falls from the porcelain throne, and you've gotta explain it to the janitor and other stall dwellers?
Detroit legends ADULT. plays into that paranoia in a new self-directed video performance art piece, showering us with the golden "Fools (We Are…)" a bizarre dystopia of a synth-punk track. It's a perfect metaphor for…*gestures wildly at the world*….everything. Social media. Mental health crises. Environmental disasters. The 24-hour news cycle. Rampant capitalism. In the end, we're all trying in vain to plunge out what's keeping us stuck and overwhelmed. It calls to mind the same paranoia in Tuxedomoon's classic clip for Jinx, the frantic, Sisyphean attempts to clean up a mess we made ourselves.
(Make a mental note to stock up on Pine-Sol after watching this one!)
ADULT., aka Nicola Kuperus and Adam Lee Miller, announces the release of Becoming Undone, their ninth official full-length. Simultaneously rejecting and reflecting planetary discord, they embarked on writing this album in the latter half of 2020, against a backdrop of unprecedented flux and seismic isolation.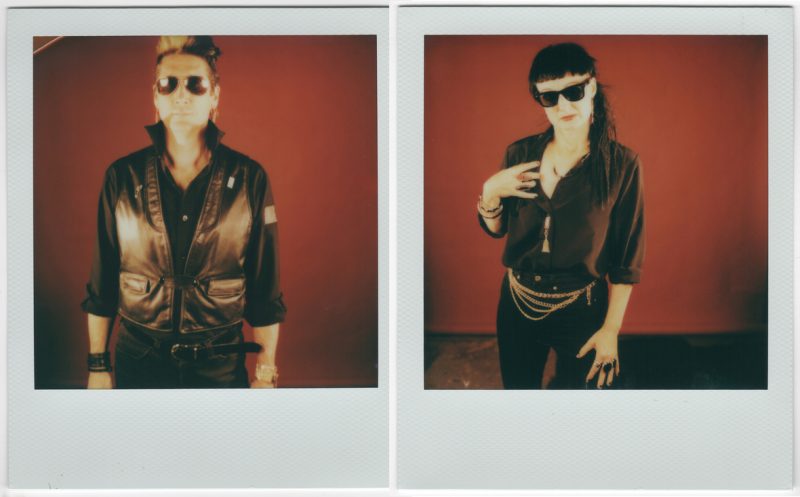 Kuperus's vocals sound alternately indignant and possessed, decrying the crimes, fears, and failings of a deluded world. The band's chemistry crackles with revulsion and strobe-lit dissent, equal parts exorcism and denunciation. "Humans have always been pretty terrible," Kuperus explains. "But every year the compromises of culture just accelerate."
Reconnecting with legacy influences like the politicized industrial percussion of Test Department and the queasy miscreant synthetics of TG's 20 Jazz Funk Greats, the duo sparked a series centered on themes of impermanence and dissonance. "We weren't interested in melody or harmony since we didn't see the world having that," Miller states.
Becoming Undone is also freighted with a more personal pain, as Kuperus' father passed away during the height of the pandemic, just before the album took root. As his hospice caretakers, she and Miller faced the banality of finality, surrounded by objects drained of meaning, "the joy of having a body, but also the drudgery of having one."
Becoming Undone is out on February 25, 2022, through Dais Records.
Pre-order the album above or here.
ADULT. ON TOUR:
11/20: Los Angeles, CA – Rubycon Records
12/31: St Paul, MN – The Overlook at Historic Concord Exchange
ADULT. EU/UK March/April 2022
07/03: Bristol, UK – Thekla
08/03: Glasgow, UK – Slay
09/03: Manchester, UK – White Hotel
10/03: London, UK – Electrowerkz
11/03: Lille, FR – Black Lab
12/03: Brussels, BE – Magasin 4
14/03: Hamburg, DE – Hafenklang
15/03: Malmo, SE – Plan B
16/03: Gothenburg, SE – Musikens Hus
17/03: Stockholm, SE – HUS 7
18/03: Copenhagen, DK – Stengade
19/03: Berlin, DE – Urban Spree
22/03: Lodz, PL – DOM
23/03: Wroclaw, PL – Akademia
24/03: Linz, AT – KAPU
25/03: Wien, AT – Chelsea
26/03: Budapest, HU – Dürer Kert
27/03: Prague, CZ – Chapeau Rouge
28/03: Munich, DE – Rote Sonne
30/03: Yverdon-les-Bains, CH – L'Amalgame
31/03: Lyon, FR – Sonic
01/04: Paris, FR – La Boule Noire
02/04: Nijmegen, NL – Merleyn
w/ Plack Blague
ADULT. North America April/May 2022
04/13: Cleveland, OH – Grog Shop ~
04/14: Pittsburgh, PA – Spirit Hall ~
04/15: Philadelphia, PA – Underground Arts (Black Box) ~
04/16: Brooklyn, NY – Market Hotel ~
04/18: Baltimore, MD – Metro Gallery ~
04/19: Richmond, VA – Richmond Music Hall ~
04/20: Carrboro, NC – Cat's Cradle (Back Room) ~
04/21: Atlanta, GA – The Earl ~
04/22: Orlando, FL – Will's Pub ~
04/23: Miami, FL – Gramps ~
04/25: Tampa, FL – The Crowbar ~
04/27: New Orleans, LA – Santos ~
04/28: Houston, TX – White Oak Music Hall ~
04/29: Austin, TX – The Parish ~
04/30: Dallas, TX – Ruins ~
05/02: Albuquerque, NM – Sister ~
05/03: Phoenix, AZ – The Rebel Lounge ~
05/05: San Diego, CA – Casbah ~
05/06: Los Angeles, CA – Lodge Room ~
05/07: San Francisco, CA – Rickshaw Stop ~
05/10: Seattle, WA – The Crocodile (Second Stage) ~
05/11: Vancouver, BC – Rickshaw Theatre (Verboden Festival) ~
05/12: Portland, OR – Doug Fir Lounge ~
05/14: Denver, CO – Hi-Dive ~
05/17: Omaha, NE – Reverb Lounge ~
05/18: Minneapolis, MN – 7th Street Entry ~
05/19: Milwaukee, WI – Cactus Club ~
05/20: Chicago, IL – Empty Bottle ~
05/21: Detroit, MI – City Club ~
~ w/ Kontravoid and Spike Hellis
Follow Adult.