In the rock 'n' roll timeline, a remarkable moment etched itself on September 12th, 1980. That day, the cosmic troubadour David Bowie unveiled his much beloved and lauded fourteenth studio record, Scary Monsters (And Super Creeps), his swan song with RCA records that immediately followed his Berlin era, and bookended his post-punk/new-wave phase. With a UK number 1 slot, the album effortlessly straddled the line between artistic expression and mainstream appeal.
A broken-nosed mogul are you
One of the new wave boys
Same old thing in brand new drag
Comes sweeping into view
As ugly as a teenage millionaire
Pretending it's a whiz-kid world
The new-wave influence is apparent in the track "Teenage Wildlife." Bowie's lyrical commentary here could be seen as a nod to the likes of Gary Numan or possibly Steve Strange, the driving force behind London's Blitz Kid and New Romantic movement, and the face of Visage. Strange even makes an appearance in Bowie's "Ashes to Ashes" video.
Thematically, "Ashes to Ashes" is a follow-up to Bowie's 1969's "Space Oddity". It reprises the character of Major Tom while also hinting at the reasons behind Bowie's own struggles with cocaine, a habit he had recently kicked during his time in Berlin.
This theme of addiction is also mirrored in the cover artwork of Scary Monsters. It's an expansive collage by Edward Bell that features Bowie in the Pierrot costume from the "Ashes to Ashes" video, combined with Brian Duffy's photographs.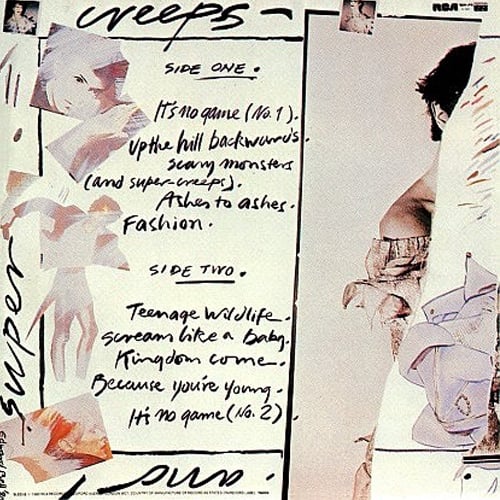 The rear sleeve of the album pays homage to four of Bowie's previous records, notably the recently concluded 'Berlin Trilogy' and 1973's Aladdin Sane, which also featured Duffy's design and photography.
Images from Low, Heroes, and Lodger—the last superimposing Bowie's torso on an image from Aladdin Sane's inside gatefold—are nestled in small frames next to the tracklist. Their whitewashed brushstrokes are said to "symbolize the discarding of Bowie's old personae."
This shedding of past identities is also evident in the "Ashes to Ashes" video, where Bowie interprets the scene of himself and the Blitz Kids marching towards the camera ahead of a bulldozer as a symbol of "approaching violence." Notably, Steve Strange's dramatic bow in the video is, in reality, a quick move to keep his robe from being ensnared by the advancing bulldozer.
Another notable single from Scary Monsters is "Fashion". Its legacy carries a humorous note as the track is often played in the very "fashion world" it criticizes. Its lyrics deliver a biting commentary on the trends that "people from good homes" gravitate towards, buy, and consume.
Here's a snapshot of that irony:
There's a brand new talk, but it's not very clear
Oh bop
That people from good homes are talking this year
Oh bop, fashion it's loud and tasteless and I've heard it before
Oh bop
You shout it while you're dancing on the whole dance floor
Oh bop, fashion
Catch the official video for "Fashion" right here:
An outlier from this period is the track "Crystal Japan". Initially only released in Japan in February 1980, it got its UK release a year later as the B-side of "Up The Hill Backwards". The track was added as a bonus on the '92 Rykodisc reissue of Scary Monsters.
The track also featured in three 1980 Japanese TV commercials for Crystal Jun Rock, a popular Japanese liquor.
Citing Chris O'Leary and his insightful blog, Pushing Ahead of the Dame:
"In early 1980, Bowie did a TV ad for a Japanese shochu manufacturer, Crystal Jun Rock, filming a spot at a Kyoto temple and licensing out an instrumental outtake called "Fuji Moto San" (sometimes incorrectly referred to as "Fuje San Moto"). "The money is a useful thing," Bowie later said, also noting that he got more airplay via TV ads then he did with radio at the time.
Though often referred to as a Scary Monsters outtake, and originally intended to be the album's closer (a Japanese counterpart to "It's No Game (No. 1)"), it's likely that at least some of "Crystal Japan" was recorded prior to those sessions, possibly in Mountain Studios in Switzerland. (It's established that Bowie filmed the ad in March 1980, during a break between the Monsters' recording sessions.) "Crystal Japan" sounds unlike anything else from Scary Monsters, aligning more closely with earlier ambient pieces like "Moss Garden."
While it was a sensible decision to exclude it from Scary Monsters, where "Japan" would have been an even more anomalous LP closer than "Secret Life of Arabia," it's unfortunate that "Crystal Japan" has generally been overlooked, despite showcasing some of Bowie's most enchanting melodies of the era: the childlike motif that begins at :25, the subsequent "choral" melody and development, and the resolution, with a rising-and-falling synthesized bass (almost gong-like), along with the tiny three-note patterns that surface just before the end. It's like a condensed version of "Warszawa."
Take a look at the video below:
For a significant period, Trent Reznor of Nine Inch Nails was accused of lifting the tune of "Crystal Japan" for his track "A Warm Place".
In a chat with Bowie, Reznor himself acknowledged the accidental musical similarity:
Trent Reznor: There was one point when we were doing the record that I came up with this melody and I thought, "this is really good," and that I couldn't have written it myself. So I played it for Flood and he said "that's really good," and I said "that's gotta be somebody else's song.
David Bowie: It's from a gin advert I did in Japan!
Trent Reznor: So I played it for a couple of other people and said "I think this is something off Low, this just sounds familiar…I don't know what it is." So we did it, the record's out, & one day I was talking on the phone and I got Scary Monsters, which came out on Rykodisc finally. And so I put that on and it's got bonus tracks at the end. And I'm listening and this song comes on that, to my horror, it's the same…Crystal Japan.