On September 12th, 1980, the starman David Bowie released his post-Berlin and post-punk/new-wave album Scary Monsters (And Super Creeps). The record was his fourteenth studio album, and his final with RCA records—reaching number 1 in the UK, and finding the perfect balance between artistry and commercial success.
A broken-nosed mogul are you
One of the new wave boys
Same old thing in brand new drag
Comes sweeping into view
As ugly as a teenage millionaire
Pretending it's a whiz-kid world
Regarding the new-wave elements, as referenced in the lyrics in the song "Teenage Wildlife"—Bowie seems to have been making commentary on artists such as Gary Numan, or perhaps even the frontman of Visage, and impresario of the London Blitz Kid and New Romantic scene, Steve Strange—the latter of which appeared in Bowie's video for "Ashes to Ashes".
Thematically, "Ashes to Ashes" is a sequel to the 1969 track "Space Oddity"—directly referring to protagonist of the song Major Tom, while also alluding to the motives behind Bowie's cocaine addiction, which he had recently kicked while in Berlin.
This theme is also referenced through the cover artwork of Scary Monsters, which is a large scale collage by Edward Bell featuring Bowie in the Pierrot costume he wears in the video for "Ashes to Ashes" music video, along with Brian Duffy photographs.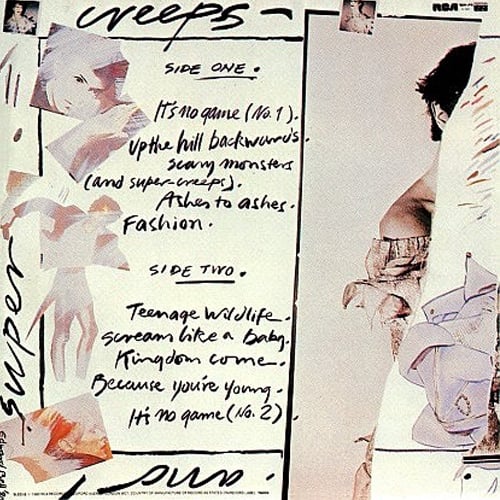 The album's rear sleeve referred to four earlier Bowie albums, namely the recently concluded 'Berlin Trilogy' and 1973's Aladdin Sane, the latter album also having been designed and photographed by Duffy.
The cover images from Low, Heroes, and Lodger—the last showing Bowie's torso superimposed on the figure from Aladdin Sane's inside gatefold picture—were portrayed in small frames to the left of the tracklisting. Their whitewashed brushstrokes was reportedly designed "to symbolise the discarding of Bowie's old personae."
This point of discarding the past is also evident in the video for Ashes to Ashes, where Bowie described the shot of himself and the Blitz Kids marching towards the camera in front of a bulldozer as symbolising "oncoming violence".
Although it appears that in the video that Steve Strange is taking a dramatic bow as he walks behind Bowie, he was in actuality attempting trying to pull his robe away from the ensuing bulldozer in an effort to avoid it getting caught.
The other noteworthy single from Scary Monsters is "Fashion", a song whose legacy is humorous given its unintentionally ironic use in the "fashion world", with lyrics that are a biting critique on what "people from good homes" find trending and ultimately buy and consume.
Here is an example of such irony:
There's a brand new talk, but it's not very clear
Oh bop
That people from good homes are talking this year
Oh bop, fashion it's loud and tasteless and I've heard it before
Oh bop
You shout it while you're dancing on the whole dance floor
Oh bop, fashion
Watch the official video for "Fashion" below:
An anomaly from this period is the track, "Crystal Japan", which was originally released as a Japanese only single in February of 1980. A year later it was finally released in the UK as the B-side of the "Up The Hill Backwards". In '92 Rykodisc included it as a bonus track on their reissue of Scary Monsters.
The song was used in 1980 for three Japanese TV commercials for Crystal Jun Rock, a Japanese liquor.
Quoting Chris O'Leary, from his always excellent blog, Pushing Ahead of the Dame:
"In early 1980, Bowie did a TV ad for a Japanese shochu manufacturer, Crystal Jun Rock, filming a spot at a Kyoto temple and licensing out an instrumental outtake called "Fuji Moto San" (sometimes incorrectly referred to as "Fuje San Moto"). "The money is a useful thing," Bowie later said, also noting that he got more airplay via TV ads then he did with radio at the time.
Though often referred to as a Scary Monsters outtake, and originally intended to be the album's closer (a Japanese counterpart to "It's No Game (No. 1)"), it's likely that at least some of "Crystal Japan" was recorded prior to those sessions, possibly in Mountain Studios in Switzerland. (It's established that Bowie filmed the ad in March 1980, in a break between Monsters' recording sessions.) "Japan" sounds unlike anything else from Scary Monsters, too—it's far more in line with earlier ambient pieces like "Moss Garden."
While it made sense to cut it from Scary Monsters, where "Japan" would have been an even more anomalous LP closer than "Secret Life of Arabia," it's a shame that "Crystal Japan" has been generally forgotten, as it has some of Bowie's most gorgeous melodies of the period: the first childlike motif that begins at :25, the subsequent "choral" melody and development that follow it, and the resolution, with a rising-and-falling synthesized bass (almost gong-like), and the tiny three-note patterns that appear before the curtain falls. It's "Warszawa" in miniature."
Watch the video below:
For a long time, Nine Inch Nail's Trent Reznor was accused of ripping off Crystal Japan for his track "A Warm Place".
Trent himself recognized the accidental musical similarity in an interview with David Bowie:
Trent Reznor: There was one point when we were doing the record that I came up with this melody and I thought, "this is really good," and that I couldn't have written it myself. So I played it for Flood and he said "that's really good," and I said "that's gotta be somebody else's song.
David Bowie: It's from a gin advert I did in Japan!
Trent Reznor: So I played it for a couple of other people and said "I think this is something off Low, this just sounds familiar…I don't know what it is." So we did it, the record's out, & one day I was talking on the phone and I got Scary Monsters, which came out on Rykodisc finally. And so I put that on and it's got bonus tracks at the end. And I'm listening and this song comes on that, to my horror, it's the same…Crystal Japan.