Talk to me
Till nothing is left
Twist this knife
Do anything
Los Angeles-based darkwave duo Hallows return with a compelling video for their latest single, 'Talk To Me,' the debut track off their forthcoming new album A Quieter Life.
"Talk To Me" serves as a heartfelt journey into the precipice of a romantic narrative, teetering on the brink of dissolution. Love, in all its profundity, battles for survival amidst the whirlwind of this tumultuous saga. The track stirs the soul with the rhythmic throbbing of syncopated kick drums layered with the ominous buzz of a deep synth bassline, creating an eerie yet intoxicating mystique.
Echoing through the soundwaves, Vanee Dusoruth's ethereal vocals serve as the listener's guide, leading us through a love-drenched odyssey infused with a hint of melancholy. An intricate weaving of post-punk textures and sentiments, 'Talk To Me' is an exploration of love's complex dance, a testament to Hallows' evocative storytelling prowess.
'Talk To Me' is a harmonious blend of slow, dark melodies with art pop nuances, true to our roots in the underground dark electronic scene," the band reflects. "…It has a special place in our hearts, probably one of our all-time favorites."
Dusoruth's directorial vision teams up with an ensemble cast including Jessi Hildebrandt, Alex Noelke, E. Gorman, Anna Schmidt, Electric Eye, and Jinx in a viscerally mesmerizing music video that subtly translates the track's undertones of deep-seated yearning and emotional turmoil. The chilling aesthetic beauty of the video serves as a raw depiction of the song's themes.
Set in the gritty yet captivating atmosphere of a dive bar, the narrative takes a spiraling turn as we witness the unruly consequences of a drink too many. The protagonist's struggle with profound sorrow manifests in a recklessly defiant persona, painting a picture of intense grief. The narrative is raw, emotional, and unapologetically real.
Watch the video for "Talk to Me" below:
HALLOWS, the musical duo composed of Vanee Dusoruth and Dom Rolando, embarked on their artistic journey in the year 2019, starting from Minneapolis. After a period of creative exploration in Seattle, they eventually found their footing in Los Angeles. Renowned for their unyielding exploration of themes centered around unease, longing, and sadness, HALLOWS skillfully merges the evocative essence of traditional darkwave with a contemporary electronic approach.
"Through this project, our aspiration is to continually evolve and redefine our music," says the band. "We crave uniqueness, yet we cherish the unpredictability in our songs, leaving our listeners in suspense."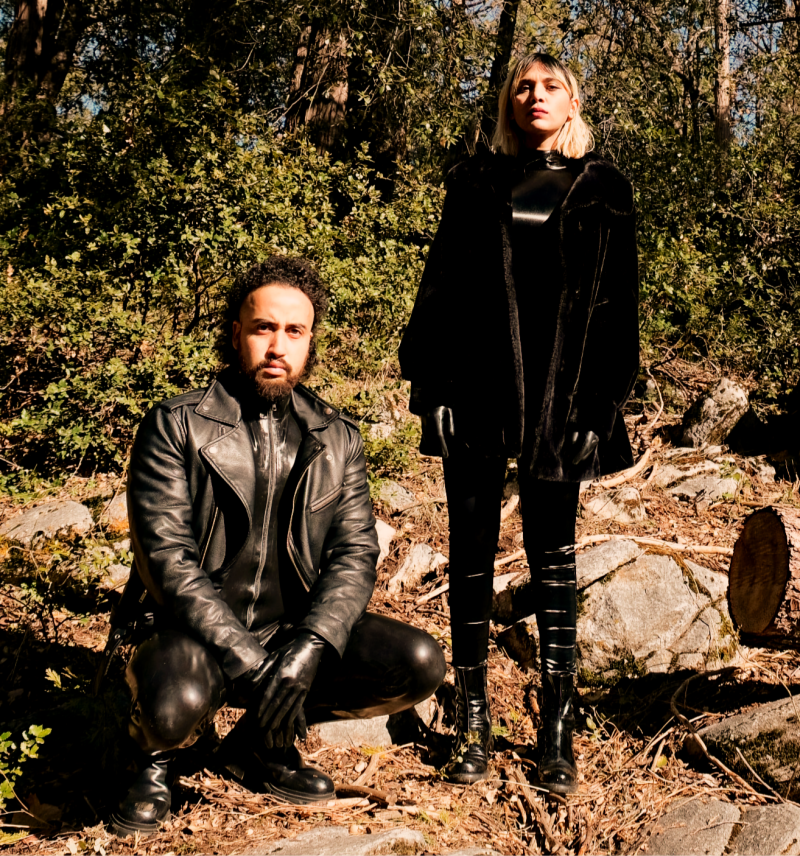 'A Quieter Life' serves as an introspective examination of the intricacies inherent within modern relationships. It masterfully delves into the prevailing sense of loneliness that permeates our lives, despite our constant connection with the world.  With this endeavor, HALLOWS embarks upon an artistic exploration of the overwhelming challenge of experiencing genuine emotions within a sterile, desolate existence.
Drawing inspiration from a diverse spectrum of musical luminaries, such as Scratch Massive, Lorn, Emika, Filmmaker, Show Me The Body, GGGOLDDD, The Mall, and Holy Fawn, 'A Quieter Life' encapsulates a multifaceted, captivating narrative. HALLOWS' musical oeuvre seeks to captivate the listener's imagination, transporting them to an introspective realm where shadowy nuances intertwine with haunting melodies, leaving an indelible mark on the soul.
'A Quieter Life' is set to release on the 31st of August. Order Here
Follow HALLOWS: