Cult post-punks act 1919 returns with Citizens of Nowhere: Their fourth studio album and their most formidable work to date.
It would be a fair assessment to state that the band is well-versed in overcoming tragedy. Having a strong association with the UK Positive Punk and early Goth scenes, 1919 achieved indie success in the early '80s with singles such as "Cry Wolf", their Machine LP, and two sessions with the late John Peel. Later the group would return after a 30-year hiatus to release the critically-acclaimed Bloodline LP (8/10 Vive Le Rock; 9/10 Rush on Rock) on Westworld Recordings. Despite this successful return, however, they would also lose their guitarist Mark Tighe to cancer shortly before the album's release in 2017.
By this point, though, 1919 had secured a following spanning countries and continents garnered through extensive European tours and festival appearances. Setting their sights on touring the US, the band, now with guitarist Sam Evans signed to iconic Los Angeles label Cleopatra Records to release their third album, Futurecide (2019).
Despite being scheduled to embark on their first tour of the USA that summer, the band could not secure visas following a shutdown of the Federal shutdown. However, they pressed onward with packed dates in Mexico and Costa Rica before returning to Europe. The album Futurecide featured Tighe's final performance, alongside an appearance from Cry Wolf-era bass player Steve Madden, who tragically suffered the same fate as Tighe soon after.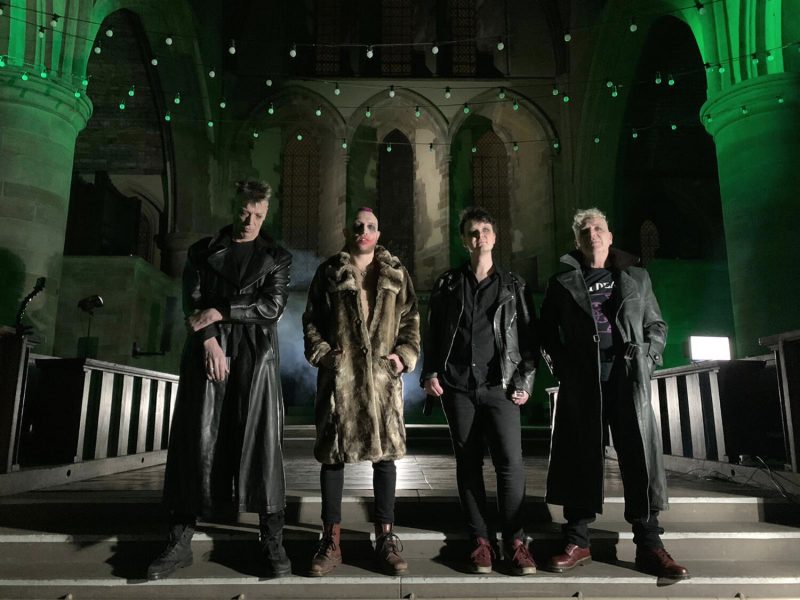 In 2020, before the global health crisis put their tour plans on hold, 1919 said goodbye to another close friend, and long-time crew member for drummer Mick Reed, in former Leeds United mascot Kev Holroyd (Yorkshire Evening Post). Welcoming new bass player Ding Archer (PJ Harvey, The Pixies, The Fall) to the fold, and following vocalist Rio Goldhammer's bid to become Mayor of West Yorkshire (NME), 
Now, the band ready for a new post-pandemic chapter the band debut an icy, dark, and melodic old-school goth ballad "Singing to the Universe", with jagged guitars cutting through delicately through shadows, bright lights, and fog machines.
Watch the video below:
1919's Citizens of Nowhere is out on 25th June on Manic Depression Records (Pre-orders from 4th June), on multiple formats including a "Brexit blue" vinyl. The new single, "Singing to the Universe", is out on 4th June in both English and French.
Catch 1919 on tour in 2021 and 2022, with more dates to be announced.
LIVE
2021
August 6 – Electrowerkz – London, UK.
August 13 – Parish – Huddersfield, UK.
+ More TBA
2022
March 3 – Gleis 22 – Münster, DE.
March 4 – LUX – Hannover, DE.
March 5 – HeadCRASH – Hamburg, DE.
March 7 – Backstage – München, DE.
March 8 – 7er Club – Mannheim, DE.
March 15 – Kulttempel – Oberhausen, DE.
(w/Then Comes Silence)
+ More TBA
Follow 1919: