Since their formation in 2013, Collapsing Scenery two fertile and febrile minds, Don De Vore (Ink & Dagger, Lilys, The Icarus Line, Amazing Baby) and Reggie Debris straddle the gap between music, art, film, and politics by soaking up experiences and immersing themselves in different cultures as they traverse the globe.
The Grey Cardinal,  remixed by Cold Cave, is a hypnotic chillwave track taken from their upcoming album Stress Positions, is a collision of futurist electro, glacial goth tones, techno, and post-punk, recorded using analogue electronics: samplers, step sequencers, synths, and drum machines. There is a Human League-esque vibe to the vocal arrangement and synth backing, if tossed ahead in the time machine a bit to about 1990.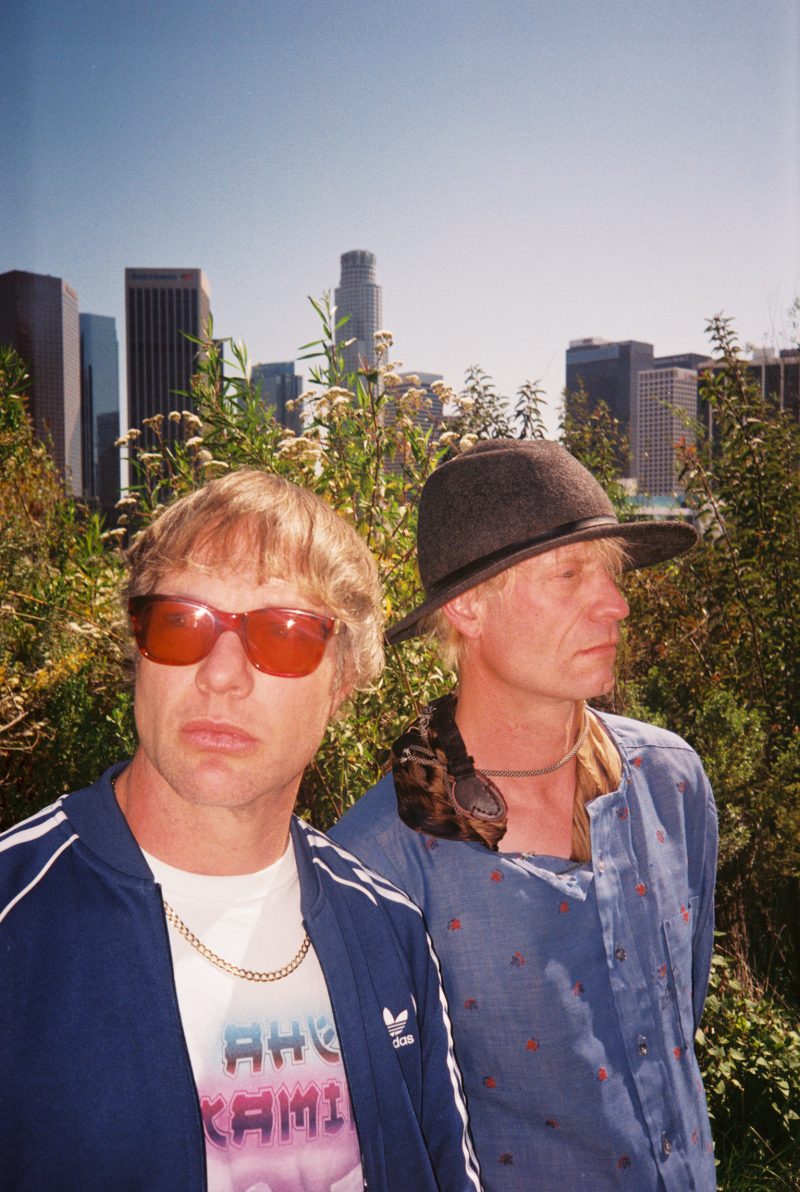 "Cold Cave is a kindred spirit," says Reggie Debris. "Wes's take on the track slices and reorganizes the vocals into an entirely new arrangement, all driven by a charging big-beat rave track that pulses and chugs along, conjuring images of strobing lights and sweaty dance floors."
Collapsing Scenery regards themselves as "curators of a series of planet-planning events, expressions, exhibitions, albums, installations, journeys, adventures and parties, all operating outside of the confines of the tired traditional industry."
Aesthetically recalling pioneering synth-punk such as Human League, Screamers, and The Normal, their lyrical content diverges from nostalgia, instead, unfurling an articulate and highly politicised collection. The band has done collaborations with Jamaican dancehall legend Ninjaman, Beastie Boys producer/collaborator Money Mark, and no-wave pioneer James Chance. The band also has remixes out or on the way from the late Genesis P-Orridge (Psychic TV, Throbbing Gristle), Jennifer Herrema (Royal Trux), Uniform, Youth Code, Brian DeGraw (Gang Gang Dance), and more. Stress Positions features contributions from UK grime artist Jammz, award-wining Palestinian hip hop group DAM, and several other like-minded collaborators.
Listen to The Grey Cardinal (Cold Cave Remix) here:
Pre-order the album at Collapsing Scenery merch shop here.
Pre-save the track on Spotify here.
Follow Collapsing Scenery: