Someone did someone wrong and now there's a frozen hell to pay! Chiffon Magnifique's latest single, "Ice Witch", is a fabulous new track from post-punk/minimal wave Jed A. Walters (Tesla Cøils, The Blackwater Fever).
The Australian musician offers up a fresh taste of his minimal wave sounds, along with a spooky new music video. Blending serpentine drum grooves, mechanical synth elements, Walters' gravelly German baritone emotes heartbreak and loneliness.
A lament on unrequited love, Ice Witch is awash in Moog bass, lush 80s synth pads and fluttering arpeggios against a truly mangled saxophone solo. There are strong elements harking back to Grauzone's classic cold wave hit "Eisbär" – particularly in the frenzied No Wave-style sax ending – but also in the idea of betrayal and the resulting icy freeze of emotion and PTSD.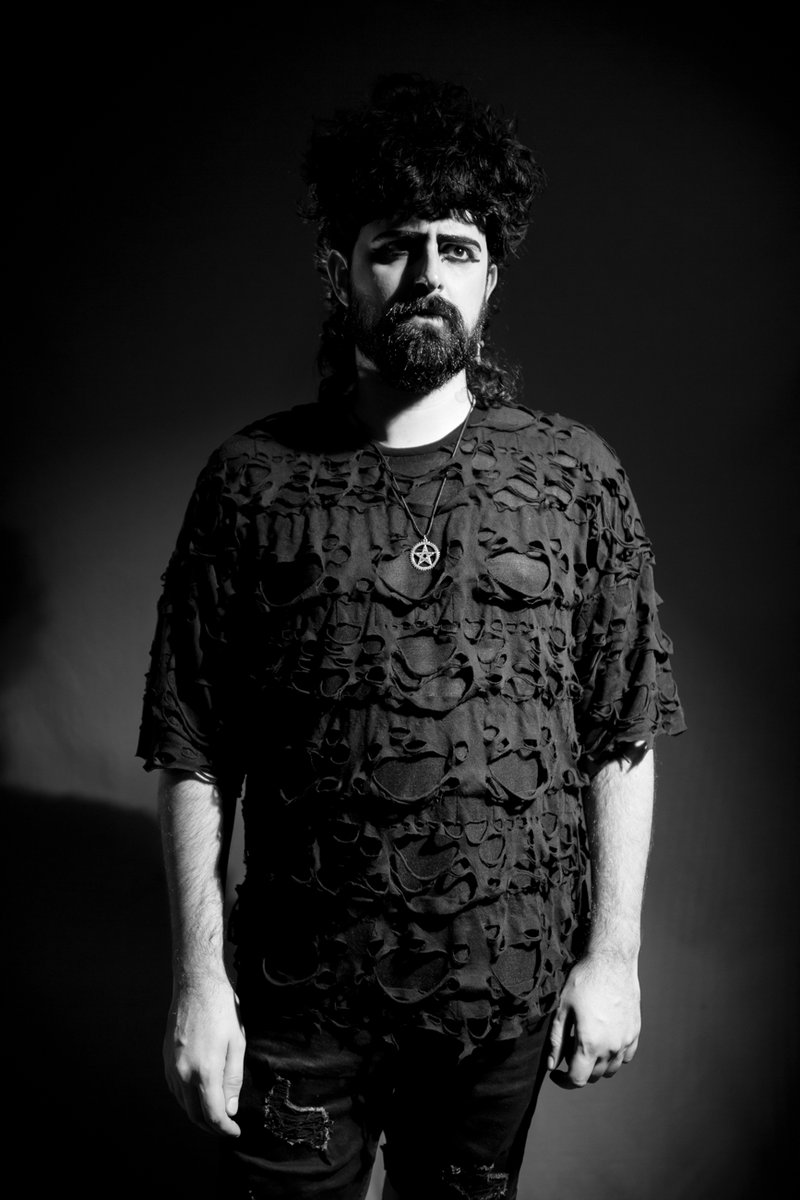 "The basis for Ice Witch came to me quickly, many years ago," says Walters. "Syncing up my drum machines to my synths and creating these strange, atonal phrases, I knew it was the perfect sonic backdrop to stage my personal tale of heartbreak and abandonment. I had recently gone through a separation with somebody who came from a very cold country. Whilst I was originally enthralled with her sheer beauty – that of some fairy story enchantress – ultimately her narcissistic nature turned out to be quite toxic to me. But it was too late. Her spells had been cast, the damage was done, and I was left feeling worthless and defeated by some sinister Ice Witch."
Walters paints the picture of a "dead-eyed woman from the tundra" who ultimately betrayed his trust and left him for dead. As the luscious synth pads enter in the chorus, Jed woefully proclaims his mental despair to this evil temptress, crying out "Done it now! You've done it now! And I will pay for you…"
Distorted analogue synths and drum samples serve as harbingers of emotion for Walters' songwriting, describing a tidal wave of frustration, anger and sorrow throughout the process in his home studio.
Ice Witch is accompanied by a playful self-directed music video filmed in Walters' own wetland neighborhood. The video sees gothed-up Jed exploring a bleak environment of tangled vegetation, concrete and graffiti, where he is stalked by a supernatural being dressed in white cloth, bringing to mind David Lynch and Sam Raimi.
Walters has been deeply involved with the passionate underground music scene of his hometown in the Gold Coast, particularly within the analogue electronics revival and experimental rock movement of his peers. Chiffon Magnifique is the current amalgamation of Walters' own musical passions and influences, owing much to post-punk of the late 1970s and the DIY playfulness of early 1980s minimal wave.
"When you're an all-black wearing, shy and detached individual living in my sunny and beachy hometown, sometimes you feel like you're leading a subculture of one."
His creative efforts with previous experimental synth/drums duo Tesla Cøils (2013-2020) helped pave the way for a greater freedom of expression within Gold Coast's left-field music community. Since finding a new voice with Chiffon Magnifique, Walters hopes to release much more new music regularly.  "This is just another one of the tracks I have been working on during recent lockdowns," he says. "I'm planning on releasing more and more, until I have enough for my concept album I'm working on."
Find Ice Witch on Bandcamp here.
Follow Chiffon Magnifique: