The creative minds of medical students can be a world of fascination as they experience firsthand life, death, and the human condition. For Boston's True Faith, comprised of Travis Benson and Quentin Moyer, the med school life and the unforgiving, despondent Boston winter shaped both the coldwave/post-punk trio's sound and emotion.
"Boston can be a cold and desolate place," admits Benson. "But I think the bigger influence has been us both being students and trudging through a dehumanizing career process. Burnout, depression, and suicide are all unfortunately common occurrences in our field, and our own experiences traversing this landscape have absolutely been the biggest influence in the writing."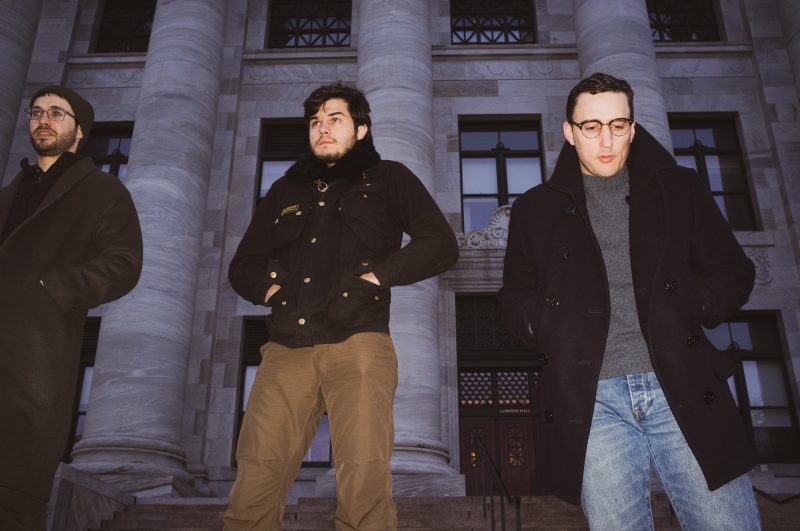 Ironically, a break from studies brought on by the COVID-19 pandemic gave the pair time to flesh out their January debut album, the As Much Nothing As Possible LP (à La Carte Records). "For a long stretch we had been working 60-to-80-hour weeks in the hospital," says Moyer. "Until one day — for some reason — we stopped doing that for several months in 2020, and thus we had the time to reflect and build what is now True Faith."
True Faith return with a new single, 
Leucovorin Rescue
. Its timing is no coincidence, arriving when Boston traditionally experiences a seasonal rebirth. The city beholds an endless supply of graduating classes tossing their mortarboards skyward; the salty populace shaking free the winter doldrums as the city explodes in colorful open-air optimism. Likewise, True Faith are emerging out of their own shadowy origins: 
Lucovorin Rescue
 references the administration of Folinic Acid to combat chemotherapy complications. An injection of hope in a bleak landscape. 
"The term…serves as a metaphor for having an outlet or release to save you from the unwanted side effects of life that we often experience," says Benson. 
True Faith originated as Benson's solo project, creating an outlet for bleak, desolate compositions that complemented the overall feeling of defeat and malaise in 2020. The addition of Moyer and Dylan Kotliar completed its lineup.
 As Much Nothing As Possible
 serves as a testament to where True Faith is at this moment in time, both as a musical project, and whom Benson and Moyer are as people: living in a new city, approaching, embracing and at times rejecting the guarded layers of Bostonians. As the stark exterior fades, the emotion hardens at its center, suggesting this is just the beginning of a larger, nebulous story.
"I think that many people can have the assumption that there is an inherent privilege that is experienced by many people who are pursuing graduate-level education," Benson says. "For the most part, they are right. But for us, we are very much out of our element. Each of us coming from rather humble backgrounds…attending medical school is a major culture shock. The rigours of medical school are already anxiety and depression-inducing on their own; you are constantly forced to work 80-plus hour weeks, made to feel that you are constantly at the bottom of a hierarchy, etc. It's just very demoralizing, especially for people who are not from the typical class that occupies that space. This has certainly influenced our songwriting and provided a cathartic outlet to escape that world for a moment."
"My hope is that it heralds bigger things to come," says Moyer, "while remaining timeless to what motivated us musically in the first place."
Watch Leucovorin Rescue here:
The Leucovorin Rescue b/w What Is Owed 7″ will be available 4 June from à La Carte Records.
Follow True Faith: