New York's Bootblacks are back, following up last year's highly acclaimed Thin Skies with a collection of remixes, simply titled Thin Skies Remixed. The collection, due out on September 3rd, celebrates the band's fourth record with a series of mixes by friends and label mates and serves as a reimagining of the LP from top-to-bottom, with each of the album's nine tracks represented in full. Listen to the featured remix and lead track "Parallel," as remixed by Nine Inch Nails/Tweaker's Chris Vrenna:
Vrenna's mix is true to form, featuring a bubbling synth shuffle and minimal electronic leads that explode in full with the song's sweeping chorus. The remix retains much of the original track's structure and key guitar and synth passages, trading in some of the menace for a more club-friendly approach that fits nicely into Vrenna's Tweaker output; a very modern perspective on electronic dance pop run through a nineties alternative filter.
As for the remaining tracks on Thin Skies Remixed, there are several exciting names on the roster, including fellow Artoffact artist KANGA, The Bellwether Syndicate/Faith and the Muse's William Faith, synth maestro Martial Canterel, and Montreal's Automelodi, who has a longstanding association with the band. Twin Tribes have also contributed a remix of the album's powerful title track, hot on the heels of their own remix record, which features a remix of "Avalon" by Bootblacks themselves.
In short, the majority of the remixes have been lovingly crafted by artists that have a close personal connection with Bootblacks over the years, keeping things all in the family, so-to-speak. The remixes run the gamut from heavy industrial dance workouts to slow, syrupy fever dreams. Vocalist Panther Almqvist offers these words on the record:
"One of the benefits of making music is the community of creative individuals you get to know. With everything being upside down for over a year now, this remix album was a way for us to stay connected with those people we admire and call friends. I think the remixes themselves speak to the unique sensibilities and styles of everyone on the album. There's a lot of creativity and surprises here if you're familiar with the original material. With this remix album each song now has a new and different life to live."
Thin Skies Remixed is available for pre-order starting today for all of your Bandcamp Friday needs. The album will be out on September 3rd via Artoffact records, in digital and CD format. Bootblacks have also put together a new t-shirt for the occasion, this time parodying the "glory days" of Tipper Gore and the ubiquitous RIAA parental advisory stickers while subsequently celebrating the band's Brooklyn heritage. Check below for the full artwork, track listing, and preorder info: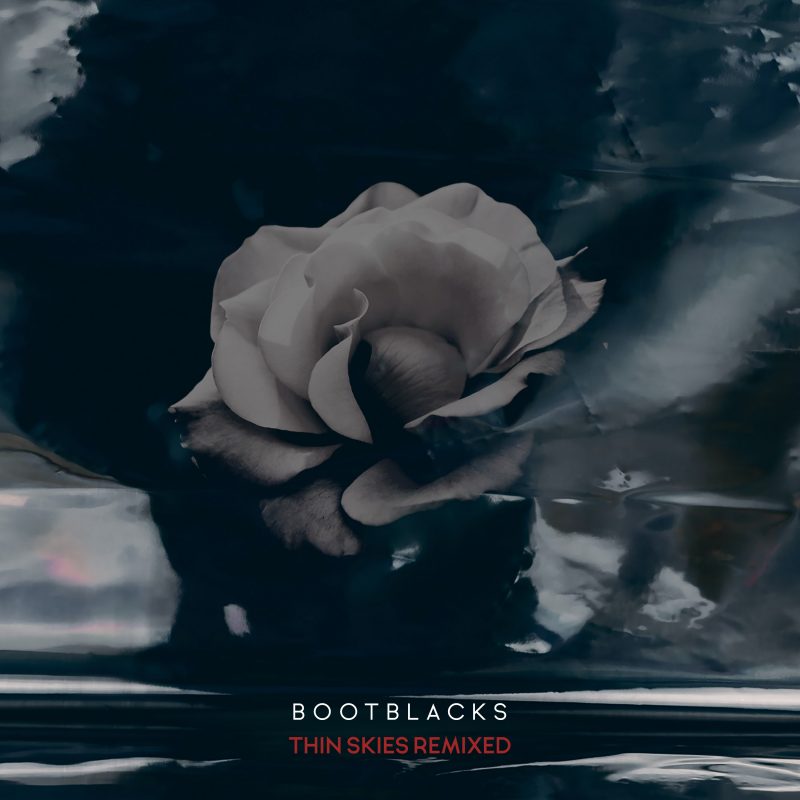 Bootblacks- Thin Skies Remixed
1. Parallel (Chris Vrenna Remix) 05:07
2. The Jealous Star (Automelodi Remix)
3. Nostalgia Void (KANGA Remix)
4. Brouhaha (William Faith Remix)
5. Traveling Light (Martial Canterel Remix)
6. Hidden Things (Visceral Anatomy Remix)
7. New Lines (Physical Wash Remix)
8. Thin Skies (Twin Tribes Remix)
9. Inextinguishable (Dogtablets Stardust Remix)
Pre-order digital, CD, and t-shirt bundles via Bandcamp
Photo by Drew Reynolds
Album cover originally by Jen Black, remixed by Barrett Hiatt