Brighton's own Dystopian gothic post-punk four-piece band The Academy of Sun has its next studio album The Quiet Earth looming on the horizon. Ahead of the release, we spoke to frontman and bandleader Nick Hudson about the album, the band, and the recently released video for "The Parts That Need Replacing".
This devilishly diabolical clip for this single was directed and edited by Hudson himself with cinematography courtesy of Samuel Horn. It features Wolfgang Storm with dinner guests Mark Walter, Gillian Rodgers and TAOS frontman Nick Hudson in what seems to be a red-brushed-culinary spread of grisly delight held in a gothic lair.
Prior to this TAOS issued the beautiful dark folk ballad "The House", a song which shivers, dips, weeps, and jangles its haunting melody across a dusky plain westward towards the horizon, and the bewitching and ominous litany "Rose Devoid Of Form".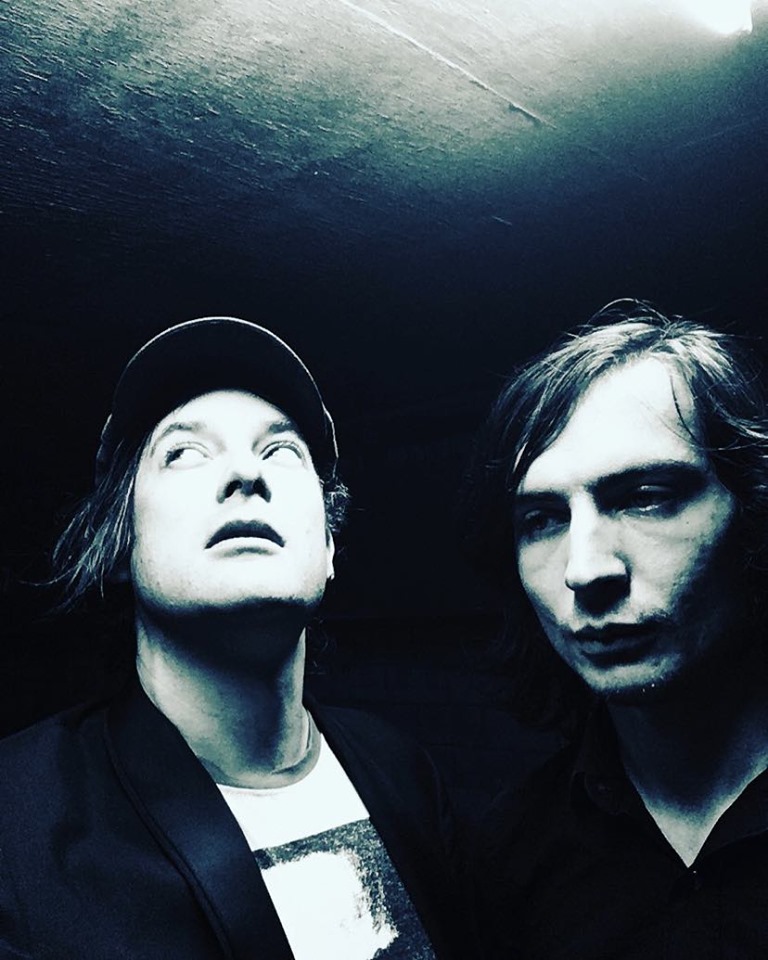 Hi Nick – Your first two singles from your forthcoming album are rather intriguing. We also look forward to see what comes next in regards to this LP. Thanks for speaking with us. Where are you writing from today? 
Hey! Thank you. Today I'm writing from my one-room abode in Brighton, England. I've gotten to know these unflinching four walls with great familiarity over the last few weeks.
Please tell us about your new release? Is there an overarching theme you are exploring on this album?
The Quiet Earth was conceived as a kind of jukebox-for-the-end-of-the-world. (Little did I know how prescient this would be, groan.) One recurring area of research for me is Soviet nuclear history and the sociological fall-out (no pun intended) of mismanaged and governmentally-suppressed atomic disasters. There's a historian at Maryland University, Kate Brown, who has written extensively (and with piercing scholarship and devastating compassion) on this in her books Plutopia and Dispatches From Dystopia, where her coinage for those communities who remain in irradiated landscapes is 'the last to turn out the lights'. This imagery permeates much of the lyrical and sonic texture of The Quiet Earth.  In fact, there is a song which was eventually left off of the record, with the title 'The Last To Turn Out The Lights', whose opening line is 'a Russian icon from Chernobyl'. Ash Babb (TAOS drummer) and myself had visited Derek Jarman's surviving partner Keith at Jarman's wonderful cottage in Dungeness, Kent and in Derek's writing room there indeed hung such an artefact. (Rest In Power, Keith.)
The record also touches on themes of self-exile, martrydom, kidnapped heiresses, murderous Renaissance painters, foreign bodies in the bloodstream, our inseparability from nature itself, cosmology, drug addiction. Oh, and cannibalistic Hungarian countesses, which brings us to…
The video for 'The Parts That Need Replacing' is intriguing. I'm betting that you had fun making it? Tell us a bit about this. 
It was a LOT of fun to make. The song is inspired by Elisabeth Bathory. Most Bathory-infused music tends to fall within the remit of doom and/or black metal, so being habitually perverse I wanted by contrast to couch my ruminations upon this most contentious of historical figures within a pop song. We also queered Bathory by having her played by a boy. The dinner party sequence was as deranged to shoot as it looks to be in the final video. I'm in eternal debt to Mark Walters and Gillian Rodgers for being so kind as to let us turn their beautiful home into demented orgy pad of cannibalism and mutilation. Samuel Horn, meanwhile, shot it – and the video for Rose Devoid Of Form, which is to follow soon – so damn beautifully.
Bathory was a fifteenth-century Hungarian noblewoman, whom history has painted as a serial killer, cannibal and practitioner of diabolism. My view, and I'm not alone in this, is that she was, alongside Jeanne D'Arc and Gilles De Rais, yet another victim of the Catholic church swinging its, uh, church candle around when it feels its power and wealth to be threatened by a non-adherent.
How did you come up with your band name? 
I think it was about ten years ago. I'd been researching and had rather fallen in love with the queer, teenage, pagan emperor of Rome, Heliogabalus, who famously wiped out an entire senate by releasing a net of poisoned rose petals during canapés. If only we could send him in to The White House. During his brief reign he converted Rome to a pagan sun worshipping cult. The band name came from there. "Academy" because I like the austere, formal connotations, and "Sun" for its juxtaposition to that!
What inspires you to create music, either musical or otherwise? 
As you may have gathered, one aspect of my approach is a tireless passion for Trojan-horse-ing transgressive and marginalised narratives into the medium of melodic 'pop' songs. I was raised on Dylan and Lou Reed, both of whom did similar. When I was younger I was hearing so many terrible lyrics and just wincing! I'd already been writing poetry and short fiction for years and I figured, why should song lyrics not aspire to the same ambitious and investigative complexity of form and content as, for example, a contemporary novel?
Musically, I heard film soundtracks before I heard songs. And I was trained on piano from the age of six. Later I discovered the US avant-garde scenes of downtown NYC and Southern California, and the first CD I ever bought was Mr Bungle's Disco Volante, which opened up vast vistas of 'oh my fucking god!' to a provincial eleven-year-old only child.
Key influences remain Andrei Tarkovsky, William Burroughs, Robert Wilson, Bjork, Coil, Scott Walker, Chris Marker, Werner Herzog, Kenneth Anger, Anthony Bourdain, Pier Paolo Pasolini, horror movies, chanson, HR Giger, Francis Bacon. Actually, if any of your readers pick up on the Herzog reference on the album when it's out, I'll buy them a pint (via PayPal).
I assume your city is under lockdown or heavily under the self-isolation recommendation? How are you dealing with this coronavirus crisis?
It is! And I hope you're staying well and able to keep relatively sane throughout it all!
I live on my own, in one room, and while I'm no stranger to solitude, just having the alternative deprived of you is a psychically irreconcilable, teeth-gritting clusterfuck. I'm keeping productive (and things such as this interview are helping distract me, so thank you). Otherwise, as time dissolves and every day wears the same walls, I'm watching tonnes of films, reading a lot, etc. But by GOD I'm missing playing with the band.
I understand that you had to cancel your UK tour over this situation. What are you doing to occupy yourself during this time? 
Yeah, and most likely a US tour as well. Sigh. And the album launch. And an art exhibition.
I'm actually working on a film which is an experimental travelogue, drawing together footage from my various expeditions of the last few years. I figured while I can't travel, I may as well edit together a work gathered from a time where I could. I'm also making a bunch of insane, very gay electronica music that I'll put out under a different name. I'm starting to write new material for the band, remotely, with my collaborator/bassist Kianna Blue. I've nearly finished a new solo record formed of emotionally-raw, obsidian chamber ballads. Sessions for that have stalled until recording studios re-open. I'm also cooking loads, and getting REALLY bored of doing so.  Largely I'm using this quarantine as a study period to hone and develop my production and arrangement skills, and as a crutch by which to not go fully Colonel Kurtz.
How would you categorize your music? 
Hmmm. We've been using 'gothic dystopian post-punk' but that does disservice to the chamber and prog and avant-garde bloodlines. But yeah, short of issuing fourteen adjectives with 'post-punk' at the end, that'll do for now, haha.
To a young person, "Let's go and dance in the graveyard with the astronauts!" To those who are older, "You like Scott Walker's sixties stuff don't you? Have you heard his later stuff?"
Have you always been involved with music? 
I have. Piano training from the age of six. At fourteen I was actually earning money creating wishy-washy new age synth music for a local crystal-crone. Then I was in a punk-ska cover band when I was a teenager. I only really started writing songs when I was around twenty-three. Now I've written over a thousand. I'm basically Dolly Parton.
I understand you're involved with multiple projects. Feel free to tell us more.
Yeah, in addition to The Academy Of Sun, I make solo work. I recently did string arrangements (and played piano for) Wayne from The Mission in his ensemble The Divine. I have an ongoing collaboration with Toby Driver from NYC's Kayo Dot. The amazing Seattle band Asva, of which I'm a member, has a double album ready to release early next year. And I recently made two records with an amazing artist called Oli Spleen. Then there's the aforementioned electronica stuff I'm hemorrhaging in quarantine. I'm currently working on two film scores too.
What's next for The Academy of Sun? 
We're gonna release a couple more singles and videos before the full album follows. Then hopefully we'll be able to play live in support of the record. We're all very much missing rehearsing and performing. In the meantime, we've just the last few days started working remotely on new material. We've spoken about following up The Quiet Earth with an EP of nerve-shredding, psychedelic, very weird metal. I think it's looking probable.
Keep up with The Academy of Sun
Facebook | Bandcamp | Twitter | Instagram | YouTube | Spotify