Ever-evolving music collective Beauty in Chaos has released a glorious, ethereal new remix of The Delicate Balance Of All Things (Rapid Reiteration Mix). The track was originally penned by Beauty In Chaos curator Michael Ciravolo and Wayne Hussey (The Mission), who appears on The Storm Before The Calm. Along with BIC producer Michael Rozon, Ciravolo set out to strip down the ominous tone of the original for this dreamy remix.
After hearing Wayne's wife Cinthya's rendition of "Everyday Is Like Sunday", the idea emerged for her to duet with Wayne on the track. Her gorgeous rendition of The Delicate Balance Of All Things is the fourth video-single from their new album Out Of Chaos Comes…, released via Los Angeles' 33.3 Music Collective. (Her exquisite painting also graces the album cover.)
"When we returned the track to Michael with Cinthya's newly-completed vocals, Michael's reaction was to declare he loved it and that we had to shoot a video for this version, remixed by the redoubtable Tim Palmer  (David Bowie, The Mission, U2, The Cure)," said Wayne Hussey. Michael Ciravolo also sings his praises: "One of the silver linings of this lockdown is that he has time to do this and two other remixes for our new album."
Beauty In Chaos, far from being a typical band with its revolving/evolving lineup, has a unique approach to their output: creating completely different music videos for each of their songs. The current roster is rounded out with Michael Rozon on synth and percussion, bassist Mike Mallory, and guitarist Nick Johnston playing the outro guitar solo.
Ciravolo recounts the creation of the video during the Covid Era: "With the option of travelling to LA to shoot out of the question, Cinthya contacted a few colleagues to ascertain who might be interested in helping us shoot a video in Sao Paulo. Enter the Antipodean Mark Bromilow."
Mark and Cinthya had previously acted together on a Kit-Kat advert and had remained friends. Bromilow's time spent as artistic director for Cirque De Soleil led to his association with the aerialist featured in the video.  Cinthya was set on filming in an old theatre or abandoned warehouse; Mark came up with the idea of filming in a Sao Paulo circus that had shuttered during the pandemic. "So, the Big Top it was. Using David Lynch as inspiration, we aimed for the video to evoke something otherworldly and magical. So, how did we do?"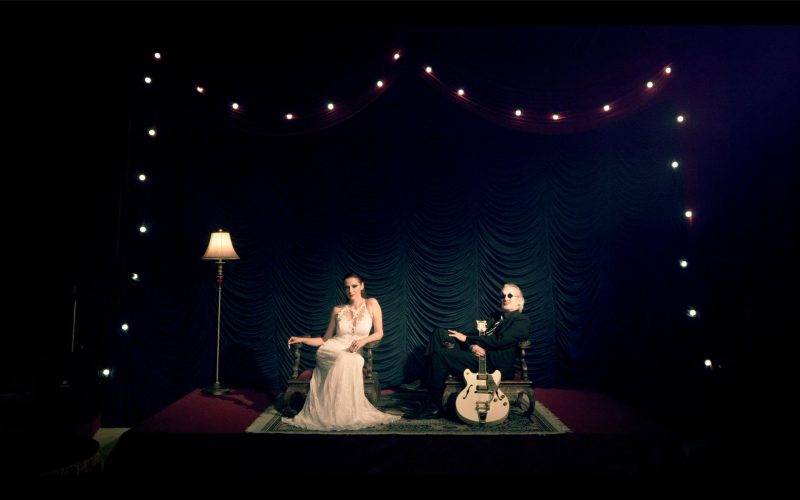 Quite well, in fact. Cinthya Hussey's sultry voice is straight out of a Lynch film, immediately bringing to mind the work of fellow sirens Chrysta Bell and Julee Cruise. The video also echoes scenes from Eraserhead, Blue Velvet, and the Twin Peaks Red Room, as the Husseys ("Beauty" and "The Beast") fidget about in isolated chairs upon a stage, interspersed with dreamy footage of a floating trapeze artist, Natalia Presser, suspended from a giant coat hanger.
The full 27-track collection of the Out Of Chaos Comes... LP (available on CD) is deep and diverse and comes with a few surprises, including Ashton Nyte's gorgeous acoustic version of The Outside, and an acoustic/mellotron drenched Memory Of Love from Human Drama's Johnny Indovina.  There are also some new and fantastic guitar moments from Simon Hinkler (The Mission), Richard Fortus (Guns N' Roses), Mark Gemini Thwaite (Peter Murphy. The Wonder Stuff) and Nick Johnston.
Out Of Chaos Comes… is now available on vinyl (8 tracks), CD (14 tracks), and digitally (27 tracks). The full digital version is included with an LP / CD purchase. Limited-edition coloured vinyl also includes an exclusive cover-art poster, signed by many of the artists involved. It can be ordered at the beautyinchaosmusic.com music store.