In today's musical climate, change is everything. Since forming a decade ago, Toronto's Odonis Odonis has evolved countless times, dipping into sleazy psychedelic rock, hard-hitting EBM, and melodic post-punk, each step forward as exciting as the last. With that in mind, we're honored to share not one, but two new tracks from the band in one fell swoop, both of which push the band's sound ever-forward. Listen below.
Both tracks are in a word, pummeling. "Salesmen" seethes with furious electropunk energy, with an aggressive bass-heavy beat and deep whirling groove taking hold immediately, providing the backdrop for a whispered mantra that denounces the evils of capitalism. "Get Out" is a bit slower and spacial, but no less assertive, channeling classic Revolting Cocks records with a powerful, sleazy energy, incorporating a razor sharp revved-up lead with a distorted call and response vocal. Both tracks have been paired with a series of visuals of the duo under burning red lights, driving the caustic energy of the tracks home, a powerful pairing of sound and vision that ties into the band's visceral live energy and a perfect statement of intent.
These songs are part of an ongoing release project – pairing together a series of tracks that explore different sounds and experiment with Odonis Odonis' ever-evolving sonic palate. Each upcoming teaser release will feature tracks paired with visuals that match their energy, culminating in a compilation release, aptly titled Spectrums. The compilation album will be released digitally and on vinyl via Felte Records with a targeted release of fall 2021. Check out the cover art and tracklisting for Spectrums below.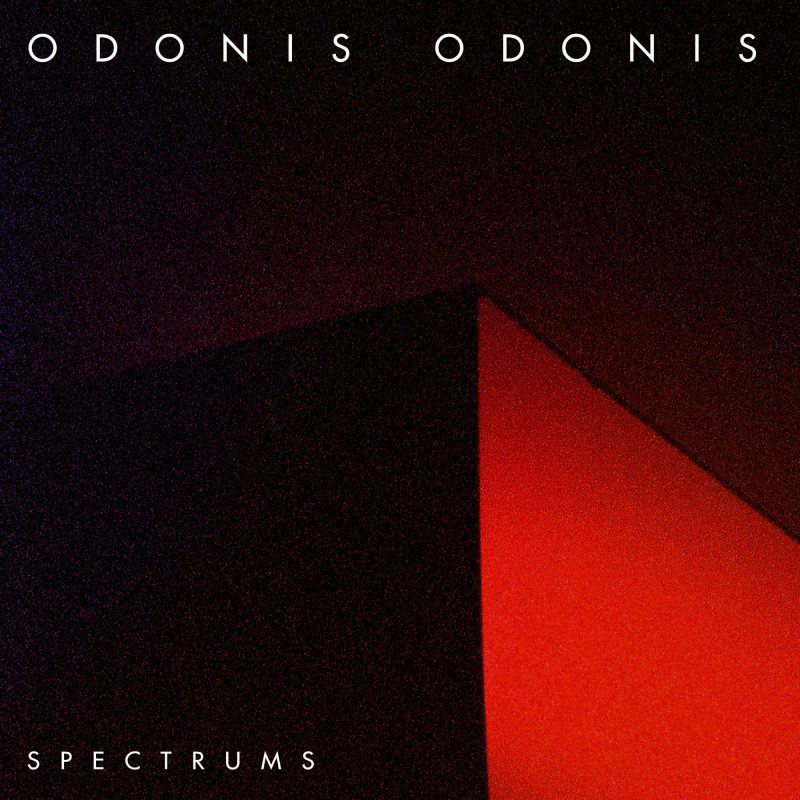 Odonis Odonis- Spectrums
1. Trust
2. More
3. Shadow Play
4. Impossible
5. Laced in Leather
6. A Body
7. Get Out
8. Slow Drip
9. In The Fire
10. Salesmen
Pre-order/pre-save the record here