No more casualties of war
Your reign of blood will go no more
So close your eyes and say goodbye
Time's up, line up, don't even try
Happy International Women's Day. Although there is much to celebrate about the life balance of the divine feminine, there is certainly much work to do on the seemingly endless road to equality…and especially finding autonomy as female artists. This is addressed in the fiery Weapon, a new track from dark pop musician/visual artist Sam Franco, aka Bara Hari. She has had quite enough nonsense, and she is out for blood.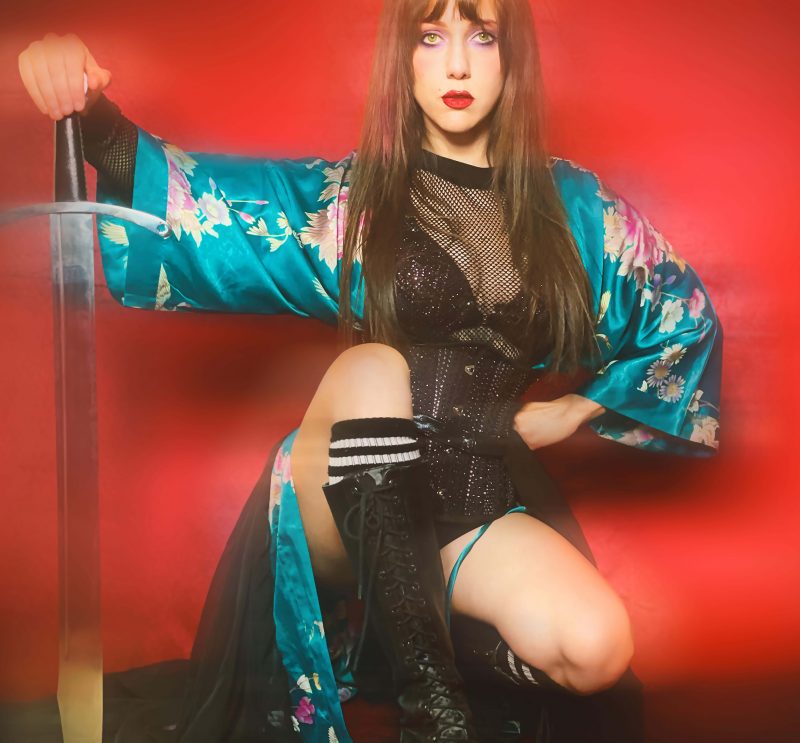 Inspired by her many experiences with psychological and physical abuse at the hands of abuse from men in power (specifically in the music industry), Bara Hari penned Weapon, a fierce anthem for women fed up with exploitation. After years of mistreatment and general bullshit from these losers, she's suited up and swinging flails, samurai swords, and vicious lyrics, and we are HERE FOR IT.
The music video for Weapon was inspired by the Kill Bill movie franchise. Bara Hari, a huge movie buff, adored how the protagonist is portrayed: not as the usual damsel in distress, but as a woman who takes care of business and exacts her revenge on those who wronged her. The costumes in Weapon, designed by Bara Hari, are reminiscent of the movie characters Beatrix and Gogo.
"…
I think the message came through loud and clear," says Hari. "We are often told that we are liars and threatened into silence at the risk of being socially ruined by someone with more power. I'm not about that life. I believe art is the strongest form of revenge. Making something good out of something really negative. Be loud. This scene is rife with predators and my hope is to empower womxn to speak up and BE BELIEVED."
Watch the video for Weapon below:
"Weapon" is out now. Order Here
Follow Bara Hari: