Here we go, another sideshow
All the lights and all the shadows
Three-and-a-half decades ago, high school friends Troy Payne and Rich Witherspoon joined musical forces in Columbus, Ohio and formed The Wake. Their early years were marked by an upward trajectory in the goth/industrial scene, cutting their teeth and wreaking havoc onstage in NYC and the UK, supporting the likes of Nine Inch Nails, Skinny Puppy, Alien Sex Fiend, and Rozz Williams's Shadow Project.
The band's influence on underground pop culture was seemingly cemented by the "Sideshow" single (Blaylox, 1992), when Neil Gaiman used the song's lyrics in an issue of The Sandman comic, depicting a character listening to The Wake in their bedroom. The Wake's steady rise within a then-burgeoning US goth underground prompted UK music journalist and novelist Dave Thompson of the Alternative Press (author of The Dark Reign of Gothic Rock) to coin the now infamous term "Gothic as Fuck" to describe the band. The Wake responded by using that solitary quote as the press statement introducing their debut album.
The highly influential Masked album appeared on Cleopatra Records in 1993. Throughout the 90s, the strain of recording and touring had taken its toll, with co-founder and guitarist Rich Witherspoon leaving shortly after sessions for Nine Ways were completed. More line-up changes ensued, beleaguered by continual setbacks, disappointments, and outright tragedy following the sudden death of bandmate JT Murphy. The Wake, at last, resolved to call it a day by the turn of the century.
Times changed, and by 2008 they regrouped, with Witherspoon back on board to reform the 1989-94 lineup, which created their definitive sound. It took another decade or so, but as 2020 drew to a close, the reunited core of Troy Payne, Rich Witherspoon, James Tramel, and Daniel C released Perfumes and Fripperies. The Wake's first studio album in almost 25 years.
Post-Punk.com interviewed Troy Payne about the band's history ahead of their two reunion gigs on October 22nd at QXT's in Newark, NJ, USA, and November 4th at  Nazca Music Live in Madrid, Spain.
Can you tell us about the formation of the band in 1986? How did you guys meet?
Rich Witherspoon and I met at an alternative high school where we were both students, Rich being a year ahead. We were drawn together by the same kind of unseen forces that pull two magnets together, I suppose. The two of us started playing music together in 1985. We played short stints with two different bass players, a drummer, and several drum machines between '85 and '87, but eventually recorded our first studio track, "Procession," using session musicians. Then we met James Tramel at a Jesus and Mary Chain concert in 1987. After observing James checking out, the "bassist wanted" poster we'd tacked up in the venue's foyer, we approached and introduced ourselves. Our first member drummer (Scott Rozanski) was fresh out of the Navy and working as a cook at a country club when he answered an advertisement Rich and I had posted at a music shop that same year. About a year and a half later, Scott was gone, and we were looking for his replacement. A bartender friend of ours introduced us to Daniel C. He was also a student at OSU on loan from Cleveland. Daniel was drumming in a Cleveland band called K9 Fire at the time, but was looking for a local gig and a new direction. We were impressed after checking out his chops at a K9 Fire show, and asked him over for a tryout. He didn't take his drum kit back home. Later, around 1990-91, Rob Brothers (keyboards), who was friends with James, was brought on board with the idea of filling out our wall of sound.
What was the goth scene like in those days? Or could you even call it that yet at that point?
There wasn't a goth scene in Columbus, OH in the late '80s. There was, however, a thriving music scene centered around the Ohio State University. Like many university districts (at least at that time) rents were low, bars and clubs were many, and there was a large, diverse group of people all condensed into a few square blocks of town. It made for fertile ground in regards to creativity. But yes, it was also gritty, grimy, smoke filled, and not altogether safe. Being part of the subculture, there was always a vague sense of danger outside of whatever sanctuary you gathered in. And sometimes that danger was not so vague…
What got the momentum going with the first few singles, such as "Harlot," the self-titled debut EP, and "Sideshow"?
The 7" singles were Rich's idea. He worked at a record shop on campus, and he saw that 7" singles were still a thing, especially as niche collectibles. They were also much cheaper to make and ship than LPs. Additionally, singles were also more appealing to the independent distributors (like Caroline), who would be our only hope for distribution. We worked up intriguing cover art for both records. If you were into dark-themed music at all and saw it in the record bins, it was hard not to pick it up and check it out. We then got on the phone and started calling every indie distributor and record shop that had a phone number and eventually sold all our records.
How did things come together for the recording and release of Masked, as well as being signed to Cleopatra Records? Who is Patrick Cusack, and how did he get involved?
Most of the songs on Masked were recorded twice. Rich and I got connected with the Recording Workshop (a recording school with multiple studios) near Chillicothe, OH, by the manager of Ronald Koal, who was a popular local act during this time. If you were any good, the Workshop would record you for free as part of "student sessions." It was a fantastic "in" for us as this is the place where we met sound engineer Eric "Captain America" Brown and were able to record all of our self-titled demo EP as well as 7" singles during these free sessions. We wouldn't have been able to afford the studio time otherwise.
Every now and then Lady Luck throws you a bone. Patrick Cusack was and still is a DJ in NYC and NJ. He was instrumental in bringing The Wake to NYC to play at the New Music Seminar 1992. After the NMS show, he was also instrumental in The Wake signing with Cleopatra Records. He turned Brian Perera on to "Sideshow," which is what I guess got the ball rolling. Armed with a recording budget from Cleopatra we were able to re-record all of the demo tracks that would become the Masked album.
What was it like touring in those early days of the band? Any great tour memories?
Touring as a club-level band mostly sucks. There's just no way around that fact. Of course, there is fun sprinkled in, and you play a half dozen great shows among the 30 or so dates, but most of it is being dog-tired, hungry, broke, hot, cold, or otherwise uncomfortable. And when you get home, you're still broke and now have to figure out how to pay the bills that accumulated while you were out busting your ass to play to three people in Albuquerque…All that said, sure, I have lots of great tour memories – hard times make for funny stories, once you are far enough removed from the pain!
Can you tell us anything about the filming of the music video for "Locomotive Age"? And the video for "Christine."
The Locomotive Age video was filmed by a couple of aspiring film students. They were kids. I mean we were kids, but they were actually like high school kids doing a project for school. We didn't realize that when we agreed to do the video, but of course, quickly caught on. Even so, Monte and Mike did a pretty good job. So, you never know.
The "Christine" video was filmed in and around Mexico City by Rhythm Victim Entertainment, which was David Glass (Pompeii 99, Christian Death) and another guy whose name escapes me. That was a fun time all around. The two shows we played were great and filming at the other locations was an experience. Our Mexican fans are really something to behold. They don't get cheated – they come to rock out and they do just that. Looking forward to hopefully getting back there in 2023.
Was the process any different in recording the second album Nine Ways? And was the scene changing at that point?
The recording process was the same, the experience was entirely new and different. We were in a different city (Chicago) at two new/different studios (Chicago Trax and Chicago Recording Co.) and working with a new engineer in Keith "Fluffy" Auerbach. It was also our first time recording with Steven Creighton, who was our "new" bass player. I'm thankful that we got to have that experience, but at the time, I felt out of sorts, and my confidence in my voice was in the gutter.
Yeah, I suppose the goth scene, as far as we knew it, was at the beginning of the end. One reason was due to the metamorphosis that was happening to music in general at the time, and the other more subtle, practical reason – people in the scene were getting older. For lots, if not most, when you reach certain milestones, pressure builds to make changes to your life and lifestyle.
What happened to The Wake following the release of that album?
The biggest thing that happened, actually happened right before the release, and that was Rich leaving the band. He had reached one of those milestones mentioned above, and decided that he needed to go down a different road. It was devastating to me at the time, but I was determined to press on. We recruited Mark Gamiere to play guitar. A childhood friend of Daniel's, a Wake fan, and accomplished musician – he checked all the boxes. And with a little help from Rich deciphering The Wake sound pallet, he stepped in and played on two national tours, another trip to Mexico, and a trip to the UK. He's a fantastic musician and probably could have played with anybody. We were lucky he chose us for as long as he did.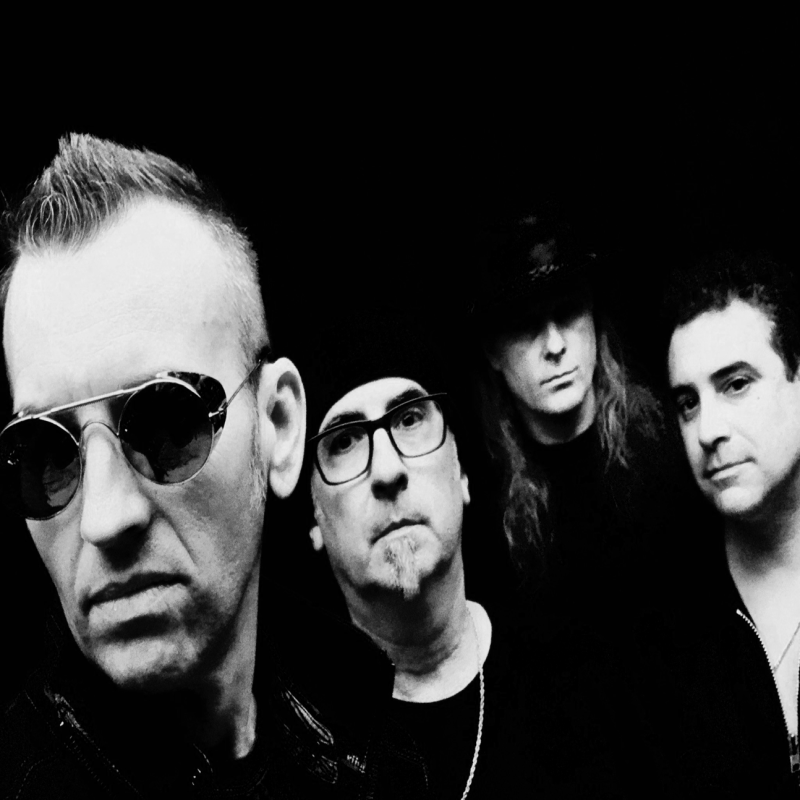 How difficult was it to get the original lineup on board to perform live as The Wake again after 23 years? What has changed for the members of the band?
The person that was hardest to convince to play live again was me. The other guys have all played shows with other bands – but I have not played live since '99.
I guess I agreed finally because I felt like time was running out for it even to be an option. And I also started to think about how it was going to feel when people stop asking us to play. Because that will happen at some point, too, I'm sure. All things die.
Or, maybe they just asked me on a day where I was trying Yes instead of No.
Is your approach to songwriting different now, and how did you approach writing, Perfumes and Fripperies after such a long hiatus?
In the early days, a lot of our songs were born out of the band just jamming together. That started to change during the writing of Nine Ways and has continued to evolve into what we have today. We don't have the opportunity to sit around and jam with each other nowadays. We write and record demos individually and then share with the group. For me, this is a much more preferable way to work. I can now write music that supports the vocal melody and vice versa, as opposed to trying to layer vocals on top of music.
Can you tell us about the Remix EP Mixers & Elixirs, and how you chose the bands on the record, and your thoughts on working with these artists?
Since we weren't able to tour in direct support of Perfumes and Fripperies in 2020 or 2021 – a remix EP seemed like a good way to keep the songs in front of fans in a way that would be fresh and new. Michel at UTM compiled a list of suggestions that he thought would be a good match, and I selected Andee Blacksugar, Kill Shelter, SINE, Agent Side Grinder from that group and also asked our mix engineer Matt Hagberg to throw one down. Couldn't have been more pleased with how each one of these talented artists graciously added their own unique flavor to the tracks.
Can you tell us about any upcoming live shows?
Yes, as I mentioned – the Now Of Never 2022 shows will be the first live shows from The Wake since 1999 and the first from the current lineup since 1994. They are happening: on October 22nd @ QXT's Newark, NJ, USA, and November 4th @ Nazca Music Live in Madrid, Spain.
Ideally, we would like to be able to do a couple of these shows every year going forward. But there is also the distinct possibility that these two shows might be the first, last, and forever shows for this lineup. Time will tell…
Given the collaboration with Agent Side Grinder and Kill Shelter on the remix EP, and that bassist James Tramel works with European musicians in the band October Burns Black, is there a possibility that The Wake will play any more European shows in the future beyond the one in Madrid?
We hope to play more shows in Europe at some point, but the devil is in the details. It's making the numbers work and making the schedule work. If anyone thinks that's easy – I have a job for you.
If you would like to catch The Wake live, tickets are available for shows in Newark, New Jersey, at QXT's promoted by BLASPHEMY, and Madrid, Spain, promoted by Endemoniada Promotions and All Waves Promotions.
Follow The Wake: