I have a fondness for Gary Numan that goes beyond sharing a diagnosis of being on the Autistic Spectrum.  However—despite his Aspergers, Numan, like Asimov's Bicentennial Man, seems to be evolving from his Android self.   You can see this with the release of his recent record "Splinter"  which showcases a tenebrosity and emotional deepness that indicates this is just the beginning of one of his most highly creative periods in decades.
I spoke to Gary Numan recently about Science Fiction, his score of John Bergin's animated film "From Inside", and when we can expect his next album…
---
Post-Punk: I am interested in your love of Science Fiction. Was the Graphic novel Valérian and Laureline really the inspiration for your initial pseudonym? What are your favorite science fiction films and novels?
Gary Numan: Actually, I love Science Fantasy far more than I love Science Fiction, in particular the High Fantasy genre. I prefer to read about places and times where there is no technology but where magic is very real. The name Valerian, which I only used for one single in 1978 if I remember correctly, and wish I hadn't, was something I saw written on a wall as graffiti when I was driving to work in the mid 70's. I haven't read a Sci Fi novel in over thirty years but my favourite novels from back in the day were I, Robot, and Do Androids Dream Of Electric Sheep. I do still love Sci Fi films though. Blade Runner, Star Wars, any and all. Eagerly waiting Interstellar at the moment.
Post-Punk: Speaking of the classic Philip K Dick story, I also think of the name Gary Numan as being evocative of an Android, like how your fanbase calls themselves Numanoids (in stark contrast to how you are now—on stage you are more raw and human than ever), so with your earlier incarnation of being Numan, I often make a connection to Lieutenant Commander Data on Star Trek.
GN: I do have Aspergers so the emotional side of me is perhaps leaning that way. No similarities beyond that though. I actually got the name Numan from an entry in a London copy of Yellow Pages. It was for a kitchen appliance company called Neumann. Not quite the 'new man' connection people assume.
Post-Punk: I am jealous of the outfit you wore for Warriors. Seems like a homage to Mad Max. Do you prefer post-apocalyptic stories?
GN: More a blatant rip off than a homage if I'm honest. I think Duran Duran had the same idea back then. I do enjoy a good post apocalyptic story actually. I really enjoyed the recent Planet Of The Apes film for example and I'm eager to see the new Mad Max.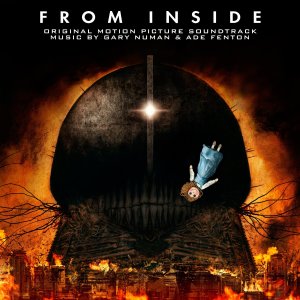 Post-Punk: With your score on From Inside, How did you come to know John Bergin?
GN: I had a meeting at Lakeshore when I first moved to the US in 2012 and let it be known that I was looking to get into film and TV music. A few days later I had a phone call that suggested working on a new version of From Inside. I met John soon after. Luckily he was familiar with my music, the more recent stuff in particular, so we had a base line reference to work from.
John is something of a genius in my opinion and yet was easy to work with. Very clear about what he wanted but equally able to see things from a different perspective when they were presented. It was an excellent learning experience for me and I'm very proud of what we created.
Post-Punk: The film seems to me to have similarities to Eraserhead, Rosemary's Baby, and Snowpiercer…have you seen that one yet? Did you draw any particular inspirations to create the score for From Inside? It's amazing how perfectly you convey the mood with a very subtle touch, such that you don't really notice the soundscapes and music, because they seem to
blend into one with the captivating imagery .
GN: I've seen all those films but they didn't play any part in the work I did on From Inside. I went about it in a very simple and straightforward way. I started at frame one and then felt it, felt the mood of the visual and let that guide the music. When that scene was done I just moved on to the second, did that the same way, and then onwards. I'm sure more experienced composers would laugh at that but it worked well enough for me.
Post-Punk: You provided narration to my friend Voltaire's animation Odokuro. I loved it! Do you see yourself doing another collaboration like this, or perhaps more scoring work?
GN: I enjoyed doing that and I would be happy to do more of that sort of thing in the future. Voltaire is, like John Bergin, a very clever man so it's an honour to work on projects that come from such talented people.
Post-Punk: I absolutely love the video for I am Dust. How was it working with Chris Corner? Would you like to collaborate with him again in the future?
GN: I love Chris and I'm a big fan of all the things he does. IAMX are on of my favourite bands, in fact they opened for me in Los Angeles recently when we started this latest tour. He's a great song writer, great singer and, as it turned out, a fantastic video director. The ideas just poured out of him and they were all fantastic. It was a real pleasure working with him on the I Am Dust video which, I think, is arguably the best video I've ever made. He works you hard though.
Post-Punk: Best video, and in fact, Splinter is one of your best albums to date, which is amazing given the length of your career, and the entirety of your body of work. Are there any plans or developments in progress for a follow-up record?
GN: I start the next album in January, as soon as the Splinter campaign finishes more or less. We have one show to doin London when this final North American tour is over, then I'll spend some time over Christmas with the family, but then it all starts again. I'm looking forward to starting it. I've been working on Splinter, either with writing, recording or touring for about three years now so I'm eager to move on. I'm very proud of Splinter though and it's done very well for me. It's certainly had the best reviews I've ever had and I've made a lot of albums so that's saying something. It's been pretty cool for me to read review after review that talk about Splinter being the best thing I've ever done, especially when you considerjust how heavy and non commercial it is. Most people that have been doing this as long as I have tend to have blanded out into safe mediocrity by now, I've just got heavier and darker. Quite proud of that.
---

Order "From Inside" – Gary Numan Special Edition (Original Motion Picture Soundtrack)
Tourdates:
Mon, Nov 3
The Garrick Centre
Wed, Nov 5
Blue Moose Tap House, Iowa …
Sat, Nov 8
Fun Fun Fun Fest
Fri, Nov 28
Eventim Apollo