Ian Curtis took his own life on May 18th, 1980.  He was only 23 years old. Perhaps we all remember this because it's often part of the rock & roll mythos to acknowledge an artist's day of passing instead their day of birth (Ian Kevin Curtis was born July 15th, 1956).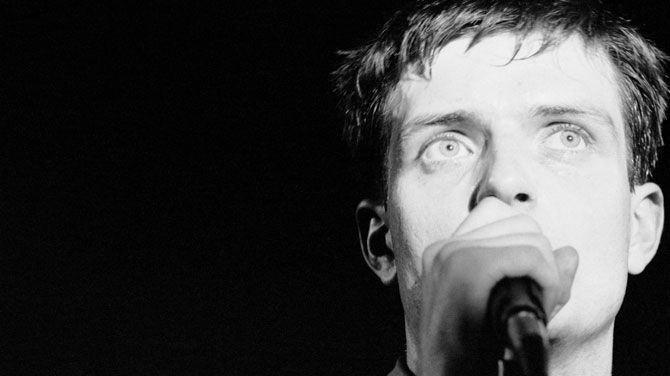 One of the reasons for this could also be that Joy Division's most popular song "Love Will Tear Us Apart"—released posthumously, actually became the epitaph engraved upon Ian's headstone.
Regardless, today is a day for many people to spend in memoriam of the late Joy Division frontman, and there are many possible ways of doing so. One way to honor his memory is by watching the Anton Corbijn directed film "Control", which is based on his wife Deborah Curtis' book Touching from a Distance.
\
You can also watch The story of Factory Records in Tony Wilson's excellent 24 Hour Party People.
Plus there is also the great Jon Savage written, and Grant Gee directed, Official documentary on Joy Division
You can also listen to (or order the reissues of) the albums Unknown Pleasures, Closer, Still, and Substance, perhaps dwelling upon the song "Atmosphere" as being an unofficial Eulogy (or for the more initiated, New Order's "Elegia").
And in addition to Deborah's book "Touching From a Distance" (and the recent official book of song lyrics and notes), there are books on Joy Division from Peter Hook, Bernard Sumner, Paul Morley, Jon Savage, and photographer Kevin Cummins (also worth noting is the book of Post-Punk photography from Philippe Carly featuring stunning photographs of Ian Curtis from The Plan K in Belgium)
Yes, you can do all these things above, but perhaps to truly remember Ian, you should look into experiencing some of the film, music, and literature he loved:
Like listening to side 2 of David Bowie's Low, especially the track "Warsawa" (this is why Joy Division was initially called Warsaw)
Or consider the idea that perhaps David Cronenberg could direct a fantastic Ian Curtis biopic, as two of his films are based upon works by Ian's favorite Authors:
Naked Lunch, from which the song "Interzone" gets its name.

And Crash, an adaptation of the book by J.G. Ballard, who also wrote the book The Atrocity Exhibition, from which Crash was originally a short story. (The Creatures "Miss the Girl", and The Normal's "Warm Leatherette" both take inspiration from Crash).
Also worth reading are Dostoevsky's Notes from the Underground, Hermann Hesse's Steppenwolf, and more works from Nietzsche and Jean-Paul Sartre.  Also lastly as far as books are concerned, let us not forget the novel from which the name Joy Division is taken, The House of Dolls, by Ka-Tsetnik 135633 (yes, that's the guy's real pen name).
And as far as music is concerned, besides the obvious choice of Bowie—you can listen to anything by The Doors, Lou Reed and The Velvet Underground, Iggy Pop, and Kraftwerk
Me, I think I will listen to Louie Louie…
Please remember that Suicide is never the answer—call the National Suicide Prevention Lifeline if you or someone you know are having thoughts about taking their life.
Additionally, there is an international list of Suicide Crisis lines via Wikipedia