Greg Fasolino is someone you may or may not have heard of—but he is one of the foremost Goth and Post-Punk historians in the world. As a New York City native, he's documented the city's underground scene for decades now. He's written and edited for several magazines (such as The Trouser Press, Reflex, CMJ, Big Takeover, and more) and wrote the liner notes for Peter Murphy's greatest hits.
Greg's only analog in music journalism is perhaps the UK's Mick Mercer, Chronicler of The Batcave scene—furthermore, while Fred Berger of Propaganda Magazine was integral in the initial covering of Gothic Music in the US (predating Greg by about 2 years), he is more renowned for representing the fashion aspects of the Gothic subculture in NYC (and beyond)—whereas Greg Fasolino represents the die hard music nerd fandom that in my opinion dwarfs High Fidelity's Rob Gordon by comparison.
In a series covering Greg's music fandom throughout the years, we begin with 1984. It was in this year that Greg started his own fanzine Heaven Down Here, as well as his first band "The Cave" (which would later be followed by The Naked and the Dead, and Bell Hollow). He has always been an avid photographer, and in 1984 he documented legendary acts such as Sisters of Mercy and Nick Cave in the Bad Seeds in their prime. We have featured Greg's pictures of many of these classic concerts here on Post-Punk.com in the gallery below.
Nick Cave and Bad Seeds at Danceteria.
June 8, 1984.
Blixa and Barry
Nick sits down to deliver "In the Ghetto
The Cramps at the Peppermint Lounge, NYC.
May 19, 1984.
Lux swallows the microphone
Lux grabs someone's panties.
Gang of Four "farewell" tour at the old Ritz, New York City.
April 26, 1984.
Andy Gill of Gang of Four enveloped in smoke
The Cure's classic concert at the Beacon Theatre in NYC.
November 17, 1984.
Lol Tolhurst
Phil Thornalley
Porl Thompson playing Keys
Someone threw this caterpillar doll onto the stage at the Beacon, and The Cure respond with a rare rendition of "The Caterpillar."
Robert Smith does the "Caterpillar" dance
The Cure closing out their Beacon show with an epic rendition of "Forever."
PiL at the Beacon.
November 2, 1984.
John Lydon tries to figure out who is taking his picture.
Anja Huwe casts a spell with Xmal Deutschland at Danceteria.
September 19, 1984.
Wolfgang Ellerbrock on Bass
Siouxsie and the Banshees dazzle us at the Beacon.
July 13, and 14th, 1984.
The Cult at Danceteria on their first American tour. They played in front of about 10 people and blew us away.
July 18, 1984.
Billy Duffy on his grand Gretch
Jamie Stewart on Bass
The Sisters of Mercy at the Ritz in NYC, opening (if you can believe this bill) for Black Flag. The smoke machine was stupendous.
August 9, 1984.
Wayne Hussey on Guitar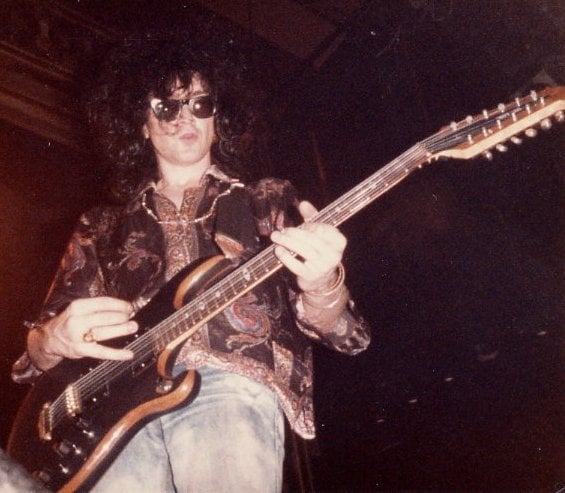 The Psychedelic Furs at Radio City Music Hall, NYC. November 19, 1984
Ramones at Final Vinyl Records in Baldwin.
October 18, 1984.
Dee Dee Ramone
Johnny Ramone
Joey Ramone
Richie Ramone

Joey Ramone walks the fan gauntlet after their record store appearance at Final Vinyl Records in Baldwin.

Stay tuned for 1985…