After years of performing in bands such as Julien K, The New Division, Moving Units, and collaborating with DJ Ten and Timecop1983, MATTE BLVCK delivers a soundtrack of sinister pleasures for an uncertain world.
Despite playing together for years, Alex, Bidi, and Daniel had never collaborated on their own music. In 2019 they forged together to produce a fresh brand of mechanical tinged dance music. I'm Waving, Not Drowning captures the band's affinity for dark synthwave complemented with epic, gritty industrial anthems and underground techno.
The record was mostly written and produced during the pandemic, spawning an introverted yet universal sound. The band understood that if they created an album in isolation that touched on topics such as pain, panic, and suffering they should also ultimately make it hopeful. To them, the title I'm Waving, Not Drowning isn't the end, but is in fact, the light at the end of the tunnel.
Simultaneously tense and euphoric, their debut single, Pure, is a declaration of the Matte Blvck aesthetic as well as reflection of the contemporary world.
"There definitely is a lot of influence behind being quarantined, feeling despair and uncertainty," says Alex. "We made it a priority to make sure we finish this album as we have nothing holding us back."
Post-Punk.com recently conducted an interview with the band, touching on their interests, their cover of Depeche Mode's Stripped, and methods of songwriting featured on the fantastic debut LP I'm Waving Not Drowning.
What were the other projects you three were in before Matte Blvck? What music did you guys tend to create before converging on this new project?
Bidi: We've all been in various projects together and separately. At one point all three of us were in The New Division. Alex and I were together in Julien-k (ex-members of Orgy), where Alex played drums and I played bass. We've also played in Moving Units. We've also dabbled in solo projects. Alex sings and produces By an Ion, I have DJ-ed under the moniker Cobra Kills in the past, and Daniel was PRGRM. For most of these projects we were support musicians, for some, we did some writing. In Matte Blvck, the three of us are founding members and do everything from writing, production, artwork, and marketing. We think that everything that we have done up until now has to lead us to create Matte Blvck. People who have heard us can't believe that it's our first album and that we've never played live. This was born in the pandemic and will see the light in a live environment by the end of the year
Can you tell us about the underground music and club scene in San Diego, and how that inspired the music you wanted to create?
Bidi: San Diego is a large-small city and yet a hub for underground music. Anything from House, Techno, and the darker stuff like Industrial, Goth, and Dark-wave. We enjoy all of it and we draw inspiration from all of it. Vice magazine came down to cover our goth scene. something that we've seen grows only within the last 4-5 years. They covered all the club nights, yet there were very few original artists coming out of San Diego. We are hoping that is something that is going to change quickly, there are so many talented artists in San Diego. We are also all of Mexican descent and we live and grew up near the border. Although our music isn't directly inspired by Mexican music, our lifestyle, humor, and culture are heavily inspired by our roots. We were not surprised to find out through our analytics in Mexico city is in the top three of our listening audience
Would you consider the music you make as Matte Black industrial, Synth-pop, Darkwave, or all or neither?
Alex: That is a good question and the answer is "yes" for the lack of a better word. We sought out to make music that we enjoy, want to listen to at the club, and would like to see performed live. Although we had somewhat of an idea, we left it open and we ended up creating what is now our debut album, I'm Waving, Not Drowning. We've had people call us "Dark-wave, Darksynth, Industrial, Dark techno, and Synth-pop". We just like that we can appeal to many tastes. We love to make people dance, and we'd love to paint a beautifully dark story with a light at the end of the tunnel.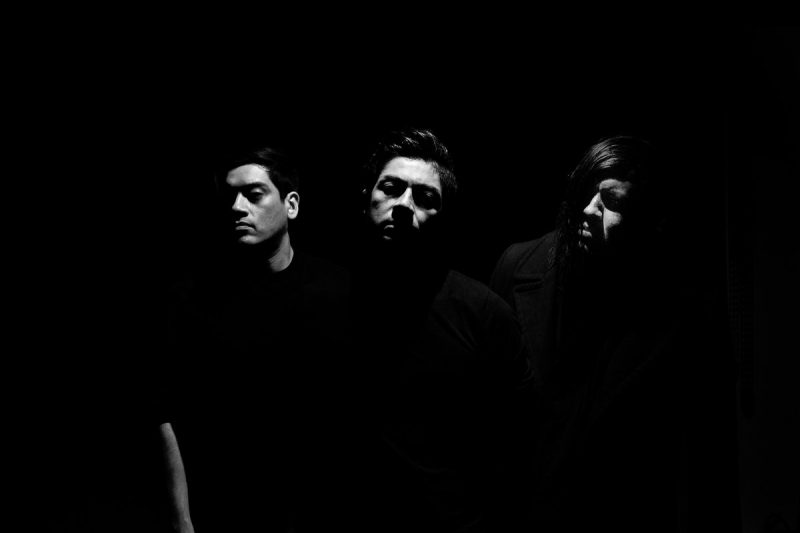 How did you guys first discover Depeche Mode?
Bidi: When I was a kid my sister had Black Celebration on tape, her favorite song was Shake the Disease and now that is also my favorite DM song. I didn't understand it at first and after on in life, I was drawn to it. It's some of the sexiest dark music that you can either dance to or hold on to someone you love.
What is your favorite album? It is Black Celebration?
Bidi: Honestly, I can't answer that, and I don't think anyone else can answer that. We are constantly told that we have a 90's Depeche Mode sound, although we enjoy their 80's sound just as much if not more.
How did you approach covering Stripped, and are there any other songs by Depeche Mode you would like to cover in addition to Stripped?
Bidi: We approached covering Depeche Mode by utilizing a couple of their different versions. We like what they did in 101 when they start hitting pipes, and we like how they played it live in the later years with a live drummer. We didn't want to stray away too much because we love the way the song is and we feel that it's timeless. All we did was use modern technology and our passion to resonate it with a newer generation. Since we released the album we have been getting a lot of comparisons, and that's fine, but we are also getting compared to Nine Inch Nails, Nitzer Ebb, Gesafflestein, and other newer artists. I think we won't be covering any other Depeche Mode songs since we are already being compared as much. lol. We can't complain though, its an honor.
For synths and songwriting, are you team Vince Clark, Team Martin Gore, Team Alan Wilder, or…team Fletch?
Alex: For songwriting, we are Team Martin Gore, for synths and programming we are Team Alan Wilder. I don't think he's given much love, but the real fans know how much of his style is in the music he was a part of. It's pretty obvious if you listen. His approach to programming and synths was more unorthodox than Martin's. Martin is very straightforward, and I think that's what makes Martin a better songwriter.
Can you tell us about your process for writing the songs found on I'M WAVING, NOT DROWNING? Do you have a methodology for creating electronic music?
Bidi: We all had been working on similar demos in the off-season from touring. Alex had started writing some dark heavy stuff and shared it with us. I had a couple of files that were similar and so did Daniel. It quickly became a band and since we have known each other since childhood and have shared many stages, we quickly found our sound and utilized each of our strengths in making this album. It usually started with a beat, bassline, and maybe a melody. It can be a 16 bar on loop and we start building from there. We start humming vocals and layering synths and keyboards. As soon and the music speaks for itself and points to a direction we start writing. Since I was a teenager I've been writing poetry and lyrics. Binders full of short stories, and poorly made screenplays. Alex and Daniel are great lyricists in their own right, yet they ask for my input and allow me to take the lead sometimes because of my flow of words and themes. It works that way for everyone else. Alex's programming is top-notch since he's been a drummer most of his life, and Daniel has been doing production longer than all of us. We are all in it together to make the best music we can make.
What kind of themes do you tend to orbit when it comes to writing music?
Alex: Since this album was written at the start of the pandemic, we wrote a lot about uncertainty. We also covered addiction, that it being either drugs, sex, codependency, or anything that people tend to hide behind. The daily masks we all wear and pretend don't exist. We talk a lot about religion and the nasty truths about the modern-day era of it all. Honestly, now that I think about it, we do cover a lot of ground. I believe that is what music should be.
Monumental is described as a song about spirituality versus the ingestion of organized religion. Can you tell us more about your thoughts on the subject, and how that relates to the song?
Alex: Monumental is a song about organized religion and how it's just like anything else that is organized, it's corrupt. We aren't looking down on spiritual growth or God, if anything we are talking about a story of self-realization, about finding your way to your higher power. We believe that in this song we capture the dichotomy of dark and light with our sound.
What is the song Western Fold about?
Bidi: Western Fold is the story behind Western Civilization. Capitalism, freedom of speech, church, and state. The birth of our nation was born from an ideology that came from somewhere good, yet we are back at eating a shit sandwich. You know when people want to move to a new city to start all over again, yet they bring their problems with them? It's that but on a larger scale
The song Bare seems to be a song that explores the Jungian shadow self, the darkness within. But do you think having that inner darkness is necessary for addition to the inner light?
Alex: Everyone has inner darkness, some of us choose to ignore it, we portray altered versions of ourselves so that we appear "whole". Some of the darkest years in my life were between 2016-2018, I was depressed and suicidal and taking anti-depressants. I still remember I had returned home from a 2-month tour with The Cult and Stone Temple Pilots and I couldn't bear to see my family not because I didn't love them but because the monster inside me was consuming me. Most people would be stoked to come home from a gig like that. I was miserable. I was close to checking out. It's quite frightening to think of my state of mind then. I lied to myself and everyone around me and I hurt a lot of people in the process. I had developed addictions of all sorts and only blamed everyone around me. It wasn't until I confronted the monster within, learned to understand it, and that I can become motivated by it or tackle it head-on. I wrote Bare in 2018, you can hear where my head was at the time, I had no idea that I was indirectly planting a seed of what would later become Matte Blvck.
What is the song Rye Fire about?
Alex: Rye Fire is a song about chaos and drugs. It was supposed to be instrumental. While producing this song, Daniel and I stumbled upon the drop of the song where you feel this ethereal chord change, it gave me old-school progressive trance vibes. While writing we always try everything to see if fits, in this case, we decided to add 1 random vocal part. Most songwriters would say this is stupid because the math isn't right and it doesn't follow the traditional verse, chorus, verse, chorus rule. We enjoy the way the song turned out.
Bare and Rye Fire have been used in indie films The Last Scan and Stay. Can you tell us about these films, and how their use in these movies came about?
Bidi: Bare was used for a short film named The Last Scan by director Joseph Dean-Martinez. I went to grade school with him and we stayed in touch throughout the years. We've had similar interests in music and film and when he asked to use the song we were stoked yet unsure of it because of how young he is in the game. He ended up winning Best Horror in the L.A film festival so we are very excited to see what is in store from him. Rye Fire was used in the horror movie Stay which is a full-length feature now on Amazon Prime. It's directed by my friend Brandon Walker. I knew off the bat that Brandon was going to do something great when he approached me. He is someone I really respect and he already has two Emmys in his back pocket for his work with photography. Brandon got to listen to the album before it was out and he quickly knew that he wanted to use one of our songs in the post-credits. We are stoked to work with him now and in the future
Can you tell us your approach to remixes? Did you work with Health on a track? What was that like?
Remixing can be exciting and stressful, there are times that we flow right through a track or times where it's extremely challenging. There have been times we've done 6 completely different versions, we want to make sure it fits us and the artist was working with. For example, we recently did a remix for Union of Knives feat Ladytron and they sent us a track with a bpm of 137 with a 6/8 rhythm. It was extremely tough working with such an intrusting time signature and vocal cadence, we had to get creative and figure out the puzzle to ensure we stick to our sound while paying homage to the original. That remix will be out soon and it's my favorite till this date. The guys over at HEALTH are a breeze to work with and if you follow them on social media you know they're hilarious. I'm stoked that we were able to work with them.
Can you tell us about some of the remixes of tracks on Pure, such as the New Division remix of Pure, and the Vaughn Avakian Extended Remix of Bare? How did these come about?
Alex: Remixing is a new marketing strategy for artists. We did a remix of Broken by The New Division, in exchange, they would do a remix for us. We get live in each other's worlds for some time, often we gain interest from each other's fans. Vaughn Avakian is an industry titan here in San Diego and we were honored that he'd be interested in remixing us.
You also worked with Clan of Xymox on a remix of their latest single. What are some of your favorite COX songs and albums, and How did this collaboration come about?
Bidi: I was able to meet Clan of Xymox at a show here in San Diego right before the Pandemic. Their tour manager Tuesday asked me to show them around town and have a good time. We quickly became friends and it was an honor since I have been listening to their music for most of my life and can say that they are an influence on our sound. Medusa is always going to be a favorite and Jasmine and Rose is a song that I always spin when I DJ. One thing is meeting people and enjoying their company, another is them asking to collaborate with you or ask you to remix them. It's a sign of mutual respect and we see it as an amazing opportunity to pay respects to those who were here before us and in return, they give their seal of approval to the newer generation.
Listen to the remix here:
Who are some of the other artists you have collaborated with on tracks and shared the stage with? Are there any bucket list collaborations you wish to come to fruition?  
Alex: We've shared the stage with a lot of incredible artists like Peter Hook and The Light, Peter Murphy, The Cult, Phantogram, Bloody Beat Roots, Alice Glass, and The Rapture. We have a lot of collaborations in the works but unfortunately, we need to keep quiet on those.
What does the future hold for Matte Blvck, and what are your touring plans post-covid? Any plans or inspiration to follow up your debut LP with more music?
We have a lot of music leftover from our last record and a lot of new music that is finished, we're leaning towards an EP before fall. We want to keep releasing new music but we have to take into account that we never got to tour and play our first record, a lot of our focus right now is getting our live set ready and polished. We have some dates lined up that we will be promoting soon.
Matte Blvck's I'm Waving, Not Drowning is out now.
Follow Matte Blvck: